Hello there… I have plenty of news today as I bring you some great spanking clips and pics to keep you all amused and entertained. Firstly, from my own site, a brand new film (which members can download in full right now) stars Jenna Jay and Taylor Richardson getting spanked hard on their bare red bottoms in their dropseat pyjamas! I know there are a load of you that dig this type of thing, I know I do… so check out this latest offering from AAAspanking.com – this really is the Triple A rated stuff you have to be viewing!!! *wink*
Check out Jenna and Taylor getting a good hard hand whacking!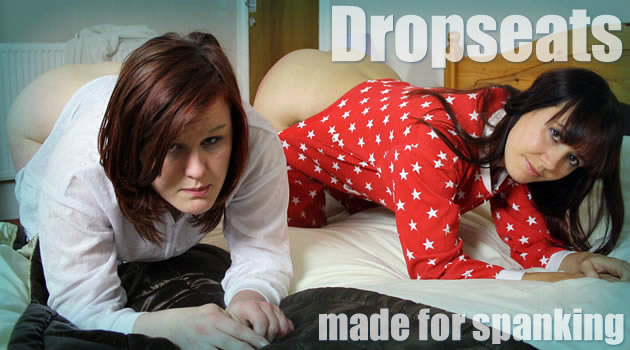 With their bottoms poking out like that, I felt that only a hand spanking would do, 2 pairs of burning cheeks got the personal touch as the girls got a rather harder than expected spanking. I remember this scene like it was yesterday, and considering it was filmed about 9 months ago… says a lot for me as I rather enjoyed this plot of a twisted bitter teacher fantasizing about how he'd treat the girls the way he could if it wasn't for today's overly zealous PC bigots! I hope you enjoy seeing some images from this movie, members get to see the improved larger images as well as a forthcoming HQ image set (I haven't actually edited those yet but they will appear on one of next week's regular updates and I'm sure you will be seeing a few example then!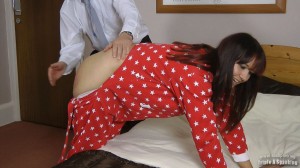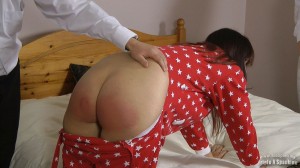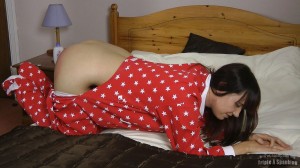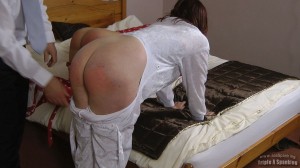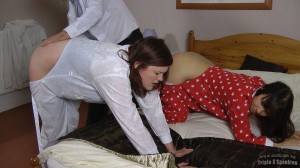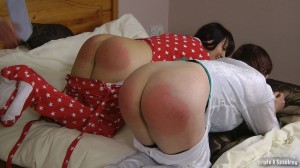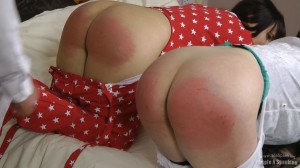 *****************************************************
Staying with Jenna for a bit, seems that Sarah has just uploaded a great film of her too, so you're spoilt for choice, "Jenna fans" as she is further treated unfairly in the "Unladylike manor" series where I think you get to see sarah rather enjoying herself a little too much… I can't blame her one little bit and of course it's yet another excuse to see this jenna punished in the buff, I particularly like the scene where her tights were ripped off before she was made to stand there bared and subdued (rather difficult, I might add as this is one madam that likes to quip back!)
Check out Jenna's latest film from SpankingSarah.com (images below)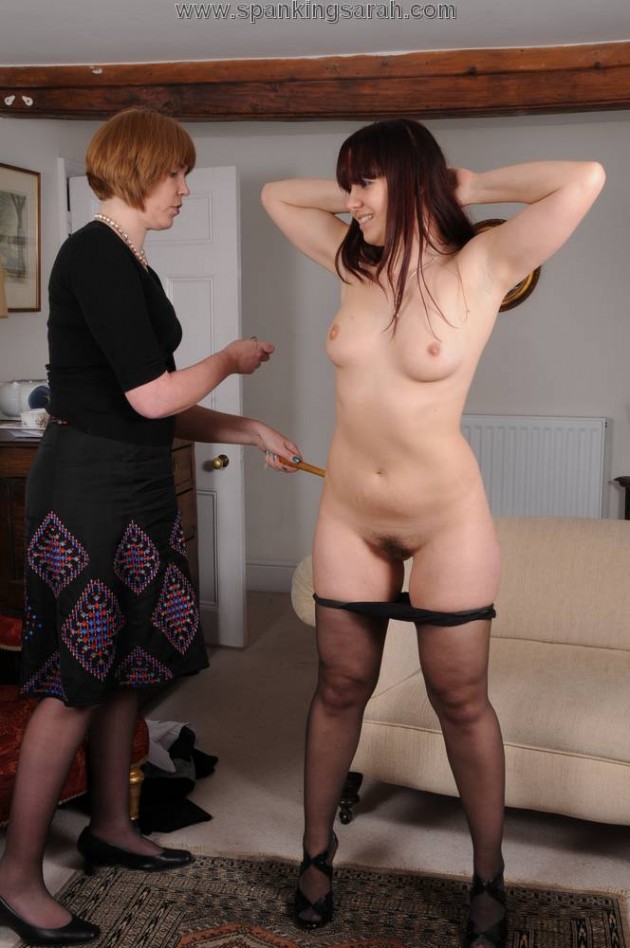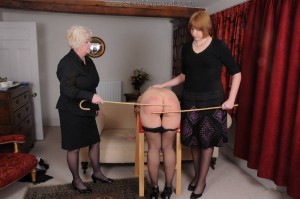 Poor Jenna, when she applied for the post as housekeeper at Unladylike Manor she knew there would be a fair amount of discipline and punishments when she did not do her job to the satisfaction of Sarah the lady of the Manor but, she did not think her life would be one round of harsh punishment. Her tights are ripped from her and she is whipped and paddled. No sooner does this end than Sarah and Katie Didit produce two wicked canes and after bending her over the punishment stool they beat her bottom without mercy. A real hard double caning for Jenna Jay.
********************************************************
What's new at Mike's 50's Diner? More naughty waitresses getting a good hard OTK spanking, that's what! I love the idea of Burgers, Shakes & Sore Bottoms as Mike so gleefully advertises this section of his infamous Spanked in Uniform site!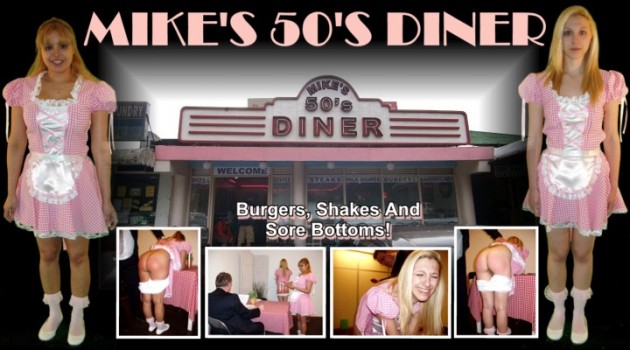 Check out the latest episode: the Part Time Waitress
Amy, one of the regular waitresses and no stranger to a good spanking, showed up with one her friends. Chef immediatelly recognised her as the girl whom he spanked not so long ago. She wanted a part time job so he gave her one. Amy was told if Monique slipped up in any way, she would also be spanked and she agreed. After diner that night Monique was ordered to sweep the restaurant and Chef caught her sweeping the dust under the carpet. After a good scolding she went over his knee for a long, hard spanking and Amy got exactly the same!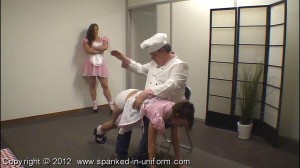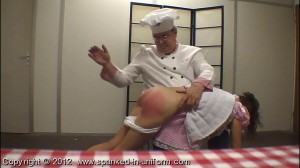 If you liked this then you'll love the latest Naval uniform spanking movie too! With the added bonus that these 2 Dutch girls have cute accents and very cute bottoms… I just LOVE those uniforms, don't you? Check out the images below and the latest storyline where Commander Johnson finds an excuse to thrash his cadets!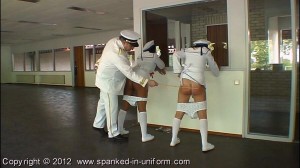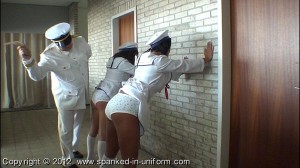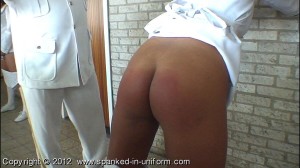 Cleaning day at the Academy. Cadets Jolene and Scarlett were put on window duty and they had to clean all the windows in the Academy. Soon the sounds of other cadets being caned and spanked reverberated around the corridors. Cadets Jolene and Scarlett didn't escape their officers cane either. They got a special caning for not cleaning fast enough. At the end of the day, all windows were inspected, and a few were not cleaned properly so the cadets had to bend over in the corridor and they both got a sound strapping. Then they had to hand in their knickers and clean the windows properly with their well strapped bottoms on dispay for all to see.
*************************************
OK, that's it from me for now but I will be back with some kick ass spanking films that not all of you will have seen, so don't be a stranger and pop back soon for more of what you come here for! Cheers…
Chief.