To those of you who adore the weekends because it actually means you have 2 whole days off, I'm very pleased for you! To the rest of the working population, I hope you get to chill out and not get jealous at your friends (tell yourself their 9-5 weekday jobs suck and pay less) – I suggest to prove this that you go out and buy a huge pointless car now that gas/petrol prices are much lower and will remain low for the next few years with any luck!
I had been toying with the idea of getting a larger engined car knowing the prices are likely to remain low… anyone living in Europe will know just how expensive it can be to run a car that greedily guzzles fuel. Mine is a Turbocharged 2 litre engine which I guess is about mid range and gets about 35-38 miles to a gallon (a UK not US gallon). Newer cars are being advertised as more fuel efficient with measly 1.1 to 1.6 engines maxed out to get better performance out of them and are taxed way less – it's all about the "emissions" (said the bishop to the actress!). Now… my car, being rather elderly, is pretty poor on that score so I get penalized severely when it comes to tax and insurance. Fuel is mid range and will make some difference but I will probably stick it out as if I do have things go to plan I will be spending far more time in the US than in my native country… so getting a newer car would be an expense I could do without and if I did it would be some cheap runabout until I would be counting down the days 'til I left! Anyway, I have waffled on long enough, you're here for girls bottoms getting spanked, not about engine sizes and other male machismo BS.
My fave spanking couple from FirmHandSpanking.com are featured first today from their "Truly madly Deeply" series – welcome Jonny & Stacy Stockton:
Going to a Bar with her bare bottom on show means a spanking for Stacy
Stacy Stockton dresses to thrill as she heads off to a bar in a bottom revealing skirt! Husband Jonny is not happy at her assets on show in Truly Madly Deeply. Will 100 smacks with a leather paddle on those jiggling bare cheeks make Stacy think again?
Stacy Stockton – OMG! No wonder she came joint 1st as the Hottest NEW Spankee last year. See why in ALL of her exclusive films to this site HERE
********************************
Here's something that is about to be released, I got a full film sneak preview off Greg at BunBeatingFun.com with his new troublesome model kicking up hell at Red Hot Video, Miss Charlette Webb. She's not protecting a piglet though… (sorry, couldn't resist) but she is one of those models that at first, my own prejudices would get in the way. I couldn't hire overly tattooed girls as a rule, though Sarah pointed out to me recently that a girl who I had first dismissed for having HUGE angel wings on her back (much like Charlette does here) looked incredibly cute when she was dressed up as a cheerleader and her tattoos were practically gone and only then did I realize just how strikingly pretty she looked. Well, the same applies here with Charlette. However, I soon warmed to this girl once she wore her second outfit, stuck out her bottom and I thought "there is more to this girl!". She had a very perky body and an ass that screamed out to be spanked… judging by what happened next, I am guessing she gets a spanking at home and is used to it! (I hope!) oh my – and she got a good OTK hand spanking as you will see!
The film typically starts with the model showing off lingerie (after arriving late!) but it didn't last long as TMS2 (Rick the mystery spanker) soon tired of her antics and ear pulled her over his lap and started to spank her in one of the cutest outfits I think I have seen a model start to get spanked in at this site!
The spanking is good and I was surprised at how submissive Charlette became, I think she was letting onto us more than the other girls in fact she could take the spanking, or so it seemed and, even… dare I say, suffered in reasonable silence (I think she was getting used to it once the endorphins were kicking in). By the end, her bottom was a proud shade of crimson and Rick had her go face the wall and stick out her bottom so he could admire his handiwork and take some pictures – while she contemplated her new found contrition after this hot spanking.
That's when there was a nice surprise at the end, which I hope they do more often… as Charlette's agent knocks on the door and freaks out when she sees what they have done to her bratty girl. I can guess where this is going for the next episode. I love these little story arcs. Well done guys, I can't wait to see Nikki getting what is coming to her! A brief end of film clip with the teaser for Nikki – with permission of Bunbeatingfun.com
https://spankingblogg.com/movies/nikkibrookssoon.wmv
If this viewer plug-in "needs permission" then right click where the video clip would be and choose the option to allow it to run… It should be available on most browsers, I know it works well on Chrome, IE and most mobile devices that I am aware of too.

**************************************
Sarah told me about this film… and how good it was and I can't remember seeing it as she said she had fully remastered it (so I'm not sure it was ever up before) but it was perfect for MommaSpankings.com – one thing I have asked her to do, after seeing how much unedited content she had was to get it together and get it out there edited to the best quality possible. I know for certain that she is now reaping the dividends of that as the Momma site has become wildly popular these past few months with some great spanking scenes with legendary Dana Specht… this film, for example, is an early one (in my opinion the spankings are waaaaaaay harsher too!) but after this editing job, looks like it was done last week! These were on tape, luckily HD1080 VT, so well done to sarah who i think edited this herself… this is another triumph and this site deserves to do well! (proud of you, baby!)
Spring Break Spankings (in Atlantic City)
Aunt Dana has taken her niece Sarah to Atlantic City for Spring break. In the first part of this long video, Sarah "borrows" a little too much money from Aunt Dana's credit card to go shopping. This spoiled girl will soon learn that a cute dress and fancy shoes are not worth the bare bottom spanking and strapping she will receive in punishment. In the second part of this video, Uncle Richard meets up with Aunt Dana and Sarah for dinner. First of all Sarah is not ready when Uncle Richard arrives, and secondly, she is being very rude at dinner. When the three of them get back to the hotel room, Sarah is in for three spankings. One from her uncle, another from her aunt, and a long and hard one from both together.
See why MommaSpankings.com has become so popular!!!

Or view it as part of the great value Sarah Gregory Pass (pay less for the combined sites and get to use the same codes) check it out and see what you get!

***********************************
Since I was showcasing Dana Specht it would be churlish of me not to remind you that her 4th and final installment of her scolding & punishment series is out for download at POV Spanking – this time, it's the dreaded cane. Dana is fearsome with this implement and will swing it wildly and severely at your bare bottom. She is mad at you alright… she is really pissed at you this time and is showing you EXACTLY what is going to happen and when she has you trembling and with your pants and underwear pulled down, she then cruelly swishes the cane a few times as you bite your lip bracing for impact! But nothing… she enjoyed tormenting you… some more legendary scolding before the dreaded "six of the best" are unleashed as you grip the side of the sofa and take what you had coming. This is totally filmed from your POV (point of view) perspective and you'll get up far too close (and uncomfortable) in this exclusive clip now showing. Images and a scolding scene are below.
Free clip of Dana's legendary scolding before she canes you!
https://spankingblogg.com/movies/danascolds2.wmv
Part 4 of 4 available HERE
*****************************************
& news just in… the 2 parter of Rosie Ann's punishment at Bars-and-Stripes.com is now available for members to download in full HD along with 2 image stills sets. Check out what happened to her when the Guv had her doing mundane lines as part of her punishment…
Inmate Rosie Ann was called in by the Governor to write a report but instead of writing, she doodled. The Governor soon noticed and told her to write 50 punishment lines while he strapped her insolent 18 year old pantied covered bottom. Then after that… Rosie has to lower her own knickers and the strap and small leather paddle continue to sting her bottom while she has to write the remainder of the 50 punishment lines.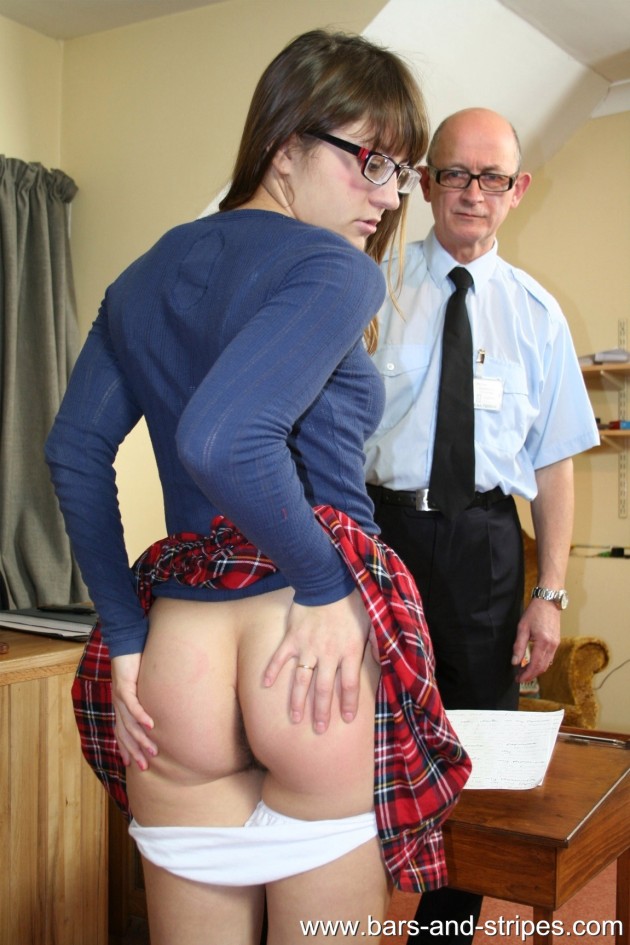 Check out the all new Bars-and-Stripes.com website for yourself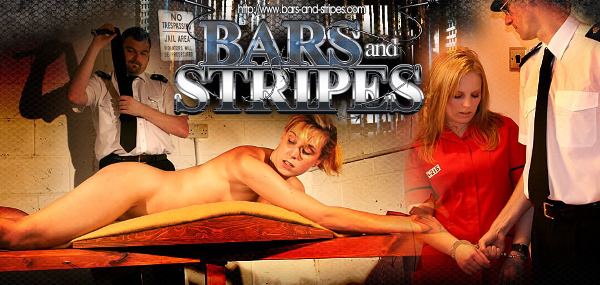 **********************************
If you STILL want to see more blogging content, then check out my other post earlier today featuring lots of sexy girl/girl spankings HERE