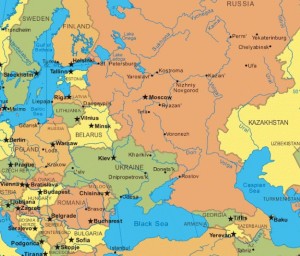 I often find Russian style and East European spanking & discipline productions to be hard on the eye. They also tend to be more brutal without much care at all for those who they are inflicting severe pain on. To me, it almost seemed like torture. However, I think over the last few years even Russian sites and those from the darkest reaches of Eastern Europe have realized that you can't just go on beating girls mercilessly… it becomes, dare I say it… boring to see girls hit hard with a cane time after time: especially with no regard with how to use the implement, nothing irks me more than seeing cane marks criss-crossed or someone using a cane way over the tip's edge, wrapping it or even splitting the end because of that… or the sight of blood. If I see blood, I will literally faint, that's what I am like (yeah, I know, I'm a wimp like that!). I know there are those that enjoy seeing this type of flagellation and utterly misogynistic cruelty… but that isn't what "spanking" is about, in my opinion… and this blog will rarely, if ever, cover or support the most brutal aspects of punishments like that. Personally I will "punish" or "spank" because I care about my girl (Sarah) – and of course there is the sexual side of it too – it turns me on. I love spanking a gorgeous bottom. I can't watch anything that wouldn't turn me on (eg… the sight of blood). So here are some more thoughtful discipline films from that part of the world, they cover humiliation, submission, tears and of course a well marked sore bottom… which also happens to be on some of the cutest girl next door types (who most certainly are from these countries!) Remember if that's your thing to see more extreme punishments then these sites will often cover that too! In any case, check them out, these are some that I have enjoyed watching recently!
From Russian Discipline – A secretary is humiliated and spanked to tears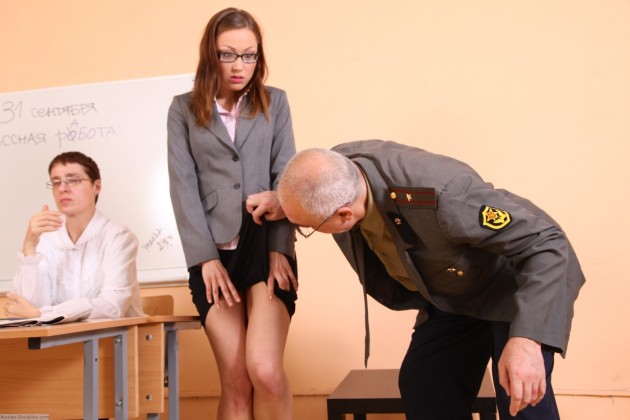 Civilians work alongside the military and in Russia you had better be prepared for extra disciplinary procedures when things are your fault. It wasn't long before this poor girl endured a near naked spanking punishment in the office, quickly bringing her to tears at the shame of it all… but worse was to come when she was stripped of her dignity and spanked naked until her bottom was glowing dark red and the Duty Officer was assured that she would not be making the same mistakes again!

From SpankingThem.com – this young teacher, Natayla, earns a spanking punishment in the Dean's office for letting down her pupils who all got lower than expected grades. In Russia, discipline is swift… and in this case, painful & humiliating too!
23 year old Natayla, a new teaching intern learns what happens when mistakes are made!

From HerFirstPunishment.com – an interesting period piece as they recreate a "Stalinist" era discipline from the 1950's with strict Soviet style spanking punishments.
Detentions in the Soviet era were serious affairs… so when these 3 girls were caught performing lesbian acts on each other, the punishment was going to be swift and severe! In this case, the perpetrator was made an example of in front of the other 2 girls as they watched her caned… then they were all stripped of their clothing and left to spend the rest of their detention shivering in shame and tearful inside that austere cold classroom!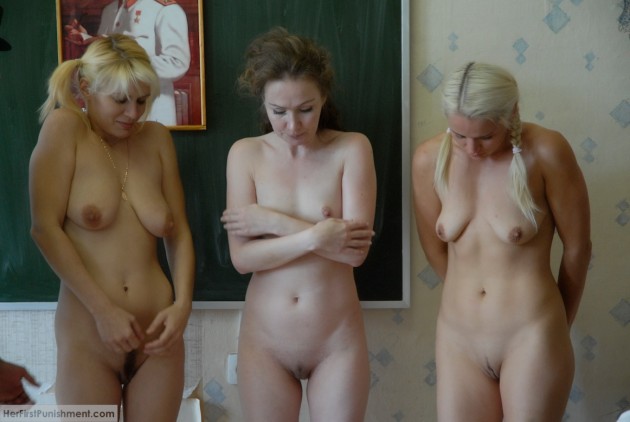 Next from Girls Boarding School – I just wanted to showcase one of their most popular girls, this would be Angie (without a doubt). A very beautiful naughty, young girl from Poland. Here we see her gorgeous doe eyes looking mournfully at us due to her freshly spanked and strapped bottom (which is on display).

Finally from Spanking Server – my favorite East European spanking site – they have some of the prettiest girls getting many traditional spankings as well as the ones where they use their ingenious tools on the girls, strapping them into their benches, beams or whatever and cross over into whipping and flogging as well as more traditional OTK spankings (like this here). Welcome Bianca… a recent new girl to Spanking Server
Bianca (below) gets a short sharp shock OTK spanking over the lap of Peter. The images below are taken directly from the HD spanking video. This is one of two Bianca videos you can see this week at Spanking Server

For those who haven't seen Star Wars VII yet… DO IT! 🙂