I have 3 sites from the Clare Fonda Pass network to start with that all have some amazing new updates… and I also have a link elsewhere which features another site of theirs showcased yesterday with another most recent line up… so all in all, between the 2 blogs you should be able to see what is currently on offer at the individual sites, or via the top value Clare Fonda Pass – OK, I would rather just get you the news update to you today, so no more waffle from me today (hoorah!).
Spanking Sorority Girls – I have 2 updates from them today as I had not brought you the conclusion to the last film with stunning Veronica Ricci (the main star of this site) and new pledge, Missy Martinez, who got to try out the Frat Paddle on beautiful Veronica's behind on the stairs and landing… a visually appealing finale, that I think you will all agree was worth me posting first!
Veronica is tasked with giving Missy Martinez, who is visiting from a rival school, a tour of the sorority. Well of course that means Veronica must show Missy all about the spankings that take place their regularly, and even demonstrates the pledge paddle on Missy's bottom. Missy agrees not to report Veronica if she can spank her too… & does so while Veronica crawls up the stairs and bends over the railing for a taste of that dreaded paddle.
This week at Spanking Sorority Girls – Sadie Holmes spanks Riley in the Nun's Office
Sadie Holmes and Riley are waiting in the Nun's office for her to arrive so they can talk about how Riley spanked Sadie. Riley offers Sadie a few dollars to not tell. But it's not enough and it makes Sadie even angrier. Only one thing will satisfy her, and that is to put Riley over her knee of a sound revenge spanking. Riley has no choice but to agree to let Sadie turn her plump bottom bright red. She even gives her a wedgie.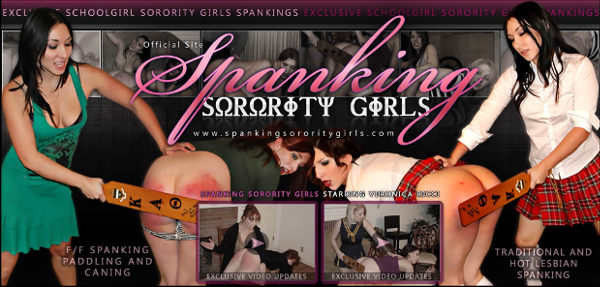 ************************************************
Next up at Spanked Callgirls (one of my fave sites) a nice double sleazy and sexy spanking pair, Lana & Darla, squabble and spank it out at the brothel, so a good bitching catfight spankfest is in order!!!
Lana Lopez and Darla are fighting over who is scheduled to see a client. Darla warns Lana to leave. When she won't, Darla puts her over her knee for a sound bare ass spanking. When Lana gets up, she still won't leave, so Darla spanks her even more until Lana is totally compliant and her perky bottom is stinging oh so much!
Welcome to a world of hooker babes and lady pimps, of johns and hoes, of jealous men, slutty women and the madam who spanks them. Spanking training is a part of life for these call girls, on the job, in the bedroom and at home. Barebottom spanking, OTK spanking, strapping, paddling and all the best in adult spanking starring the hottest spanking models on the net. Girls spanking Girls, Men Spanking Naughty Prostitutes in fun and edgy spanking porn. SEE MORE HERE

**********************************
Clare Fonda reprises her role as the pervy Swim Coach – this time she gets to punish and spank her unsuspecting new assistant, as you'll see… Clare usually gets what she wants in the end!
Swim Coach Clare has a new assistant named Tiffany (played by spankee newcomer, Cupcake). Clare pays a visit to her office and decides it is time to teach Tiffany a lesson. She puts her young assistant over her knee for a no nonsense, hard hand spanking and finishes off with a heavy wooden hairbrush that Tiffany doesn't much care for at all after Clare has finished blasting her cute behind!
See the many varied and LONG PLAY spanking films that makes Girl Spanks Girl one of the best F/F websites out there currently. This site is awesome on it's own with 3 sections of Sensual, Erotic and Discipline Spankings… you will enjoy them all and this is the home of every "Exclusive Education" series ever made too!
The Home of Exclusive Education
All these sites can  be viewed as part of the Clare Fonda Pass – giving you access to Terrabytes of spanking content for a fraction of the combined site costings – check it out for yourself!

Also check out the other recent BLOG POST on this network HERE
**********************************************
I wanted to finish today with another of my fave sites – Firmhandspanking.com – and feature a new girl, a fellow Brit, who I have taken quite a shine to, as she has a lovely posh accent and a rather fabulous bubble butt that is starting to take quite a lot of punishment, as evidenced by the obvious speckling she got in the 2nd part of this new series with a leather strapping (there's usually around 10 so I hope she made it!!!) – It was released at the end of last year (well, last week, lol) but I have only now got round to showing you this film update! See for yourself…
Deleting an interview from the newspaper's archive costs Portia a strapping!
She may be a new reporter on Richard Anderson's tabloid newspaper in "The Big Story". That doesn't prevent Portia Marlowe having her posh bottom bared and belted 64 times for deleting an interview from the newspaper's server and trying to lie about it when caught out. You will see her bottom jiggle and redden before your eyes as this delightful newcomer takes her strapping in the second part of this series!
Click here to view all the latest updates with new free HD style spanking clips

**********************
**********************
Just to let you know, the latest film at AAA will be available later today and I will let you know more about it then… but for now, here is a teaser image of the lovely Rosie Ann who I have to say, anyone would LOVE to hang out with, she's a fun girl! I'd love to spend more time tanning her behind… oh yes, he he… anyway, it's a quirky no nonsense spanking film in a strange "COCK"tail bar that has weird seats and Xmas decorations up after the 12th day in which she she was repeatedly asked to remove them! Oh dear!!! Any excuse, eh?