Time to catch up again… so here are some select updates from around the spanking world. Oops… unannounced rant ahead! As usual, I'll be showcasing what has been available recently (that I may have missed out on bringing to you!)
This is a valid request: Please, please support the sites you love with a membership, these help keep producers "producing" – without financial support via memberships or clips on their stores etc. then all this creativity disappears! & we don't want that as we'll all end up being stuck one day looking for new content that has not been "pirated to fuck" via destructive siterips of sites that the uploaders and content thieves use for their own selfish profit based in shithole, authoritarian backwaters where a few hundred dollars a month means they live like kings from the stolen content they had no effort in making.
Of course, these people they provide content to "for free" (unless they force you to buy a membership to a file sharing app or website, "sigh!" – are critical of what it is they are stealing too! That's laughable, considering these experts on the subject (with so many crossovers in our niche core of spanking) why don't they do their own stuff and see for themselves, eh? Sigh (again) – anything nowadays is possible in this crazy fucked up world of authoritarian regimes and so called leaders of democracy of the "free world" and such, but enough of that, you know how I feel, right? LOL.
I've already waffled on so check out some useful and helpful images, descriptions and where to find more free clips or links to the awesome content that these spanking companies have taken time to produce. edit and place online for us all. Enjoy!

An Interactive Self Spanking – from POV Spanking
starring YOURSELF & cheerleader Katie Brown
We're back after a brief hiatus and the POV Spanking project continues. We have lots of new films coming and will be using more new techniques not used elsewhere to enhance that real POV experience! Like this far more interesting "instructional POV style clip!" Say "hello" to Katie Brown. She is dressed as a super hot, sexy cheerleader. It's one of your favorite cosplay fetishes with this hawt, naughty girl. You've both had a lot of spanking fun and you're both up for more!

You direct Katie to show her reddening bottom, only you know it can get much more crimson than that. So you watch her self spanking, encouraging her to slap her bare bottom harder. You take a seat to watch her but can't stay put for long and check how warm her cheeks are feeling up close and personal. Then you spank her yourself, you feel the warmth of her reddening bottom close to your face. OMG, this is so hot – literally! You tell her to spank herself some more, looking into your eyes. You're admiring this beautiful girl's red glowing cheeks. Finally, you instruct her to stand in the corner while you take in the sight of her fabulous red spanked bottom!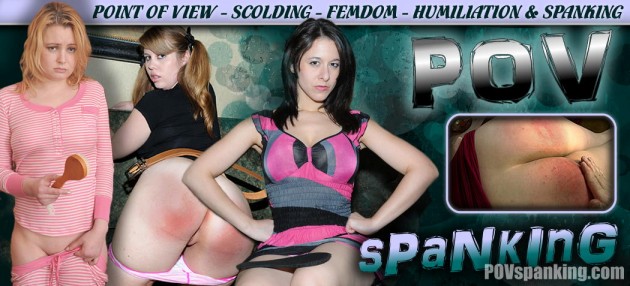 Adjusted Status from Northern Spanking
Starring: Linny Lace, Alex Reynolds & Paul Kennedy
Everyone in their town knows Alex Reynolds as a formidable business woman with a short temper and bristly attitude. Her brothers wife, Linny, however, is known for being quiet, sweet and demure. There is no one in town who dislikes like Linny…except for Alex, who has always suspected that no one could be quite as pure and innocent as everyone seems to think Linny is. When her brother is out of the country on a long business trip, Alex goes snooping around to see if she can find any dirt on Linny. She feels vindicated and enraged when she discovers evidence that Linny is trying to sabotage the family business for her own gain.

Not one to be messed with, Alex calls her sister-in-law over to confront her. She will not tell her brother whats been going on, but only if Linny accepts the punishment Alex feels she deserves. A bare bottom spanking over her knee is just the start of things. Alex has decided that, at least until her husbands return, Linny will suffer some more. She has to serve as her maid and wear an embarrassingly diminutive maid's uniform, complete with a little hat.

When Linny fails to pay attention to these details when serving coffee to Alex and her husband, she is once again spanked hard. Poor Linny is further punished with a riding crop.

The Student must learn – from Spanking Sarah
starring Lulu Lamb & Sarah Stern
Lulu Lamb is the newest teacher at St. Justs and on "World book day" she comes into school dressed in a far too provocative way. The boys from the Upper 6th have been trying to look up her skirt all day. Miss Stern calls her in to see Headmsitress for some much needed discipline.

The School Leaver – from English Spankers
Starring Hellen & Agean
Hellen has just left school and this is her first job, she is a secretary to a publisher of spanking books and films. As you might expect he has his own unique way of punishing his staff, especially the young and pretty ones. It is not long before Hellen finds herself over his knees with her bottom being spanked hard. This is the very first time in her life that she has the pain and humiliation of this type of punishment.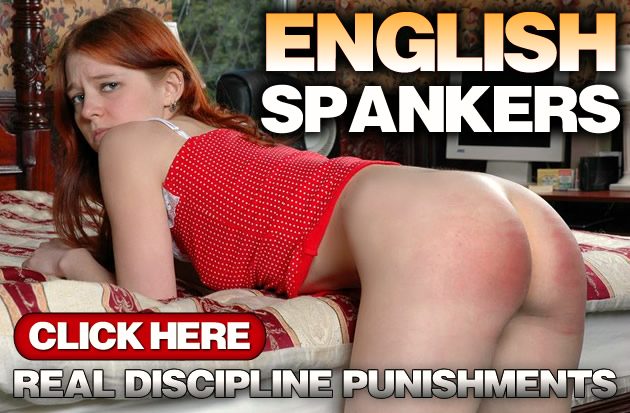 The Best of Cadence – now at Punished Brats
"Cheaters never prosper" – starring Cadence Lux & Veronica Bound
From the film: "Cheaters never prosper" – After being caught cheating on an exam, Cadence was summoned to the Headmistress' residence. As soon as she entered, Cadence apologized and asked if she could re-take the test. She was granted that wish; she was informed that while she was re-taking that test she would be doing so on a very sore bottom. Cadence was taken over Miss Veronica's lap and spanked on her bare bottom with the leather paddle. Cadence's cries could be heard reverberating throughout the campus.

More updates will be out tomorrow HERE and at Teen Discipline & Spanking Blog – have a good night and to all those attending the Crimson Moon Spanking Party near Chicago – enjoy!