Every now and then I like to view something a little more gripping, a little more nasty, just a little more edgy at times and with the punishments and/or humiliation/tears that follow… well today is such a day and I wanted to share with you what I have been watching, mainly institutional stuff today, so forgive me if this isn't quite your thing… there will be plenty of other days where I will post my usual offerings and reviews!
So without wasting any further time, one punishment I watched again this morning was that of Caroline Grey (I seem to be watching a lot of her recently…. not that I'm complaining as Caroline has pretty much experienced all the highs and lows of spankings and incarceration, which is partly a theme I have today and where better to show some of her most tearful work than at Bars-and-Stripes.com where she is dragged out of bed at night, half asleep and hauled over the lap of a masked spanker and his accomplice and they proceed to thrash the living daylights out of Prisoner Grey until they leave her a blubbering mess to contemplate their actions…. it's quite a grim film but one which I thoroughly got into and Caroline's tears at the end looked quite real after that ordeal! there's a great long play clip below and I have managed to find some (ahem) security screen stills from the entire gruelling 15 minute ordeal she went through (shhh… don't tell the prison about it!)
 A selection of CCTV shots taken from the moment they woke her up until they left her in a heap on the floor…
I had also managed to sneak in a few images, especially at the end where Caroline is back in bed and a mass of tears… something something "dark Side" indeed, eh?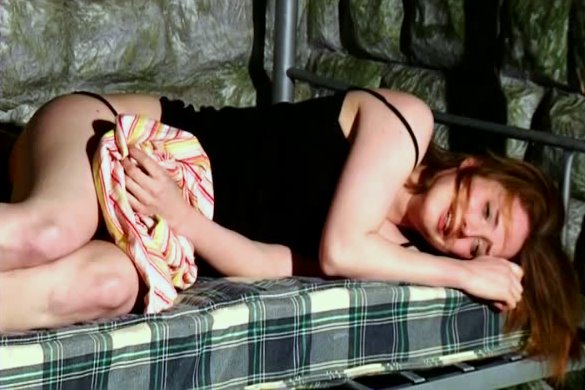 This episode is just one of many with Caroline at Bars-and-Stripes.com
**********************************************
Cripes… how do I follow that? Well, Mood-Pictures.com have something a little more interesting than their usual "flog em to death" routine which I'm pleased to report (yes, not all their movies are so mind numbingly severe, thankfully). & now we can download the HD versions online of many of their top selling films at one new membership site – & as an example I particularly enjoyed this film (below) as they had put a lot of thought and effort into a Roman/Slave type scenario!
Women were bought and sold like cheap throwaway commodities as slaves and sexual objects back in the heyday of the Roman Empire… so as you'll see from the images below, these girls are 1st used and groped by the various males of the household withtheir new purchases but are then thrashed by the new mistress who takes a dislike to the new attractive girls fearful that her husband will use them for his own sexual pleasure! Although some of the canings are really severe (they leave the trademark "Mood welts", as I'd call them) they aren't blood curdingly awful as some of their films which is why I actually "enjoyed" watching this film. I know there are those that "get off" on seeing a girl thrashed to pieces… but that's not me, I still like to see spankings as somewhat sexual in nature and I just couldn't "get off" personally seeing a girl thrashed beyond her levels and in obvious distress… but each to their own, I guess.
There are also additional options at the new site where you can choose just to download a movie of your choice or perhaps purchase a DVD for a one off fee, of course. Check out their new look if you haven't already.
*********************************************
I had to sneak in at least one institutional schoolgirl type punishment and as I had missed the very recent update of Pandora Blake and Amelia Jane Rutherford I thought it best to check out the second part of their ongoing punishment for daring to defy Mr Johnson…
Schoolgirls Amelia Jane Rutherford and Pandora Blake have been given detention till the end of term every Wednesday afternoon untill they give the Headmaster the names of the other 2 girls involved in their online magazine which was forbidden. This is the fourth detention and both girls had to write punishment lines and were both given a sound paddling. When Amelia threw a tantrum, she was soundly tawsed on her bare bottom and Pandora was given the same when she comforted Amelia while the Headmaster stepped out for a minute.
You can also check out the other uniform niche punishments being updated this week HERE
**********************************************************
& to finish today, something a little different, it's not spanking but covers the aspect of humiliation of females in the context of medical examinations. I have been asked about this before (why I liked this)… maybe it's me imagining myself as the Doc or knowing how embarrassed the girls might feel as they go through a variety of intimate and unwanted examinations? I loved playing a Doc recently in an Examination Room Set… although I actually spanked the patient/nurse (delete as applicable) it just seems rather erotic and pervy, maybe harking back to the days of playing "Doctors & Nurses" perhaps… but here there is a dark side to these examinations, I think. Being from Russia, I can only imagine these (admiteddly gorgeous girls) are doing this purely for the money… why else would they do this on film? Anyways, I have some of the latest galleries below which should show you just what they get up to… and I have a link to an old established gallery that has a whole ton of further very naughty examination content!
The below galleries courtesy of SPECIAL EXAMINATIONS
CLICK HERE TO VIEW A SPECIAL FREE GALLERY PAGE OF MORE EXAMINATIONS!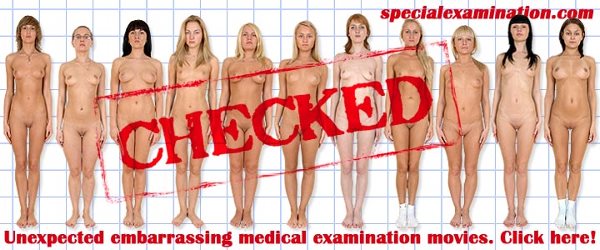 *******************************************************
Readers of one of my other blogs might have seen me review a great film from Lupus Spanking – it's, ahem… set in an Examination Room, click on the image below for the full blog review I did and a further look at the movie with free previews/images you'd expect etc…
Hope you enjoyed the darker side of what I'd been viewing recently, comments and such are always much appreciated
Regards, Chief.
PS. Tomorrow I will be reviewing some damned hot spanking entertainment which I'm looking forward to downloading later this evening in a darkened (locked) room, with some fine wine and a big fat cigar & loose fitting trousers as I decide on what to review! It's a hard life, eh?