Rachel Adams is one of our favorite models that we have worked and continue to work with when we can. She can take quite a spanking and genuinely cries and snots her way through her punishments. To a "Dacryphiliac" like myself I knew there was no faking her sobbing as she cried her way through various punishments – it's her way of coping with what is obviously painful to her. But… she finds it cathartic and would never work with any of us if she didn't want to, naturally! Rachel is very well known in the bondage niche, but nowadays, she is really earning a name and fabulous reputation as a memorable and much loved spankee too!
So check out the latest sob-fest at AAA Spanking featuring the much loved Rachel in this traditional scolding and schoolgirl spanking punishment scenario.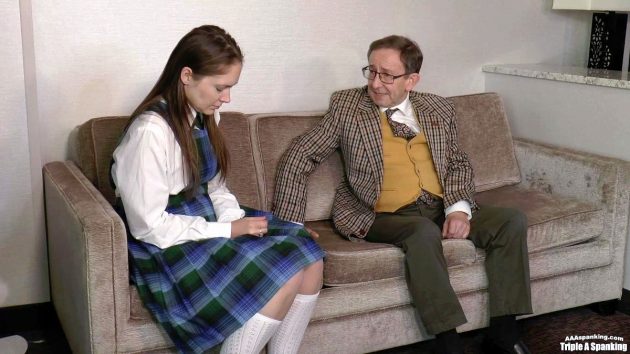 Rachel Adams has a last chance meeting with headmaster, Mr. Johnson, in his study. She has been sent to him for corrective discipline for her continual poor behavior in the classroom. Talking back to the teaching staff and disrupting lessons once again means he has no choice but to reprimand her severely. This involves a scolding and a more hands on style of punishment. Anxious Rachel is warned that this is her final disciplinary meeting in the Headmaster's Study, with a warning that another spanking by him will also result in her expulsion from school. She is spanked over his lap and her tight regulation bottle green knickers, revealing the traditional white gusset, are pulled down as her bare bottom is turned an angry red. Rachel's tears are very real as they freely flow whilst she is placed over the couch for a leather paddling. It is a most  painful paddling which has her sobbing… promising to not be disruptive in class. This tearful, schoolgirl punishment compliments many more traditional spanking films available to add to your growing library of spanking erotica from our website.
The AAA membership site has over 460 HD videos to download to your PC, laptop or tablet device, along with extensive galleries of content. Or alternatively, if you only want to view a few videos, download and keep the ones you see that pique your interest, then the AAA Clips4Sale store covers this too. This latest film is availanle in full at the link below (just click on the image and it will lead you to the page, with the free previoew too!) – it's your choice.