Here's part 2 of today's update, and I promise that I have some hot and naughty spanking films, some sexual scenes and some good hard honest punishments that make you want to see more! So no more waffling, I'm delving straight into the first update of the day from a site I don't often promote here, but should really do more of as it's part of a great little network, I'm sure you will know it well… it's called Spanked Cheeks and I just loved this most recent full film update (yup, I'm a member of it… heh heh) so you will also recognise one of my older fantasy ladies, Red XXX – a very womanly redhead cougar Milf that has appeared at many fetish sites, after I provide the links to this great F/F spanking film (with a naughty twist) I'll let you know where you can find Red getting up to no good on her own site and elsewhere!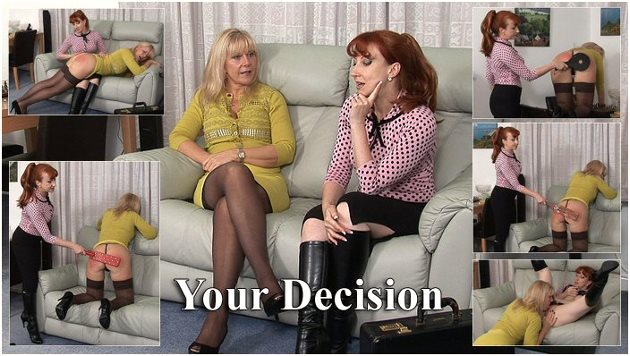 Red plays a horny rent officer who first of all arranges an alternative method of payment for this hapless tenant (who just happens to be an incredibly sexy MILF (and YES… I would really love to!). She's not used to being spanked and punished as you see her cheeks turning red very quickly… but if this helps her keep a roof over her head, so be it!
Red feels kind of sorry for her client, but she is also incredibly turned on and so makes another proposition, hoping that this hard up sexy lady will eagerly take up her offer of something far more sexual… you can see how that turned out (below)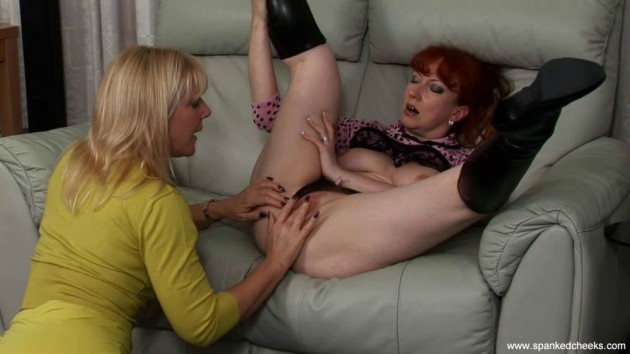 You can see much more of this red hot spanking & sexually stimulating movie series HERE
***********************************
As I said, you can find Red at her own site below, one of Britain's naughtiest ladies who thankfully doesn't know any better. I have been thinking about older ladies for my own site and she'd be right up there, let me know what you think as I found the sight of these 2 featured at SpankedCheeks.com very, very erotic!
& Click images below for some special galleries of this very sexual cougar, Red.
You might also want to check her and some other of the very sexiest fetishistas in the UK at Lady-Sonia
I might start promoting more of Lady Sonia too as she has worked with many prominent spanking models and has made some excellent films alongside her dominatrix style and cuckoldrix films that I find rather addictive (I have signed up to her site several times over the past years… and felt quite sorry for her hubby, Charles) there's also some spanking punishments as I said but her niche covers much more… you'd have to go check out this site for yourselves! 🙂
*****************************************************
OK, as I featured something a little different, I wanted to show you what Amber has been up to most recently on her website AmberSpanks.com – it's now part of her 3 sites you get as one complete package (I think there is STILL a Trial option but you'd be amazed at just how much content there is and she offers some of the best sign up deals for a month and more in the biz – so to be honest I'd take that as you'd be really pissed off if you couldn't get what you wanted on a trial offer and might have to sign up again? Bollocks to that!
Amber films her latest clutch of naughty girls!
My favourite American redhead spanko doesn't disappoint as she plays with her fellow web cam girls on a jaunt to LA (I think that's what it is, I'm sure she'll let us know if it's not) … but I've shown you some of what she got up to, lots of spanking and very naughty sexual foreplay before with slinky blonde Aly (see above muff diving Pixie in the foreground)…. this time Amber is joined by MORE girls as she directs them to lick each other out and also get to spank them one by one… as you'll see from the images below, my underwear went totally nuclear with "fallout" everywhere (ahem)… see why as we get to see bespectacled brunette Pixie and buxom Ely to join in the fun!
WARNING: Yet MORE Trouser Arousal images appear below!
I will get back to you and let you know about a great punishment that Amber's Daddy carried out on her recently for being drunk and messy around the house, bringing her to tears! However, if you sign up to AmberSpanks.com – then you can see that at her original site, SpankAmber.com (sign up at either as you get BOTH these sites AND her bonus nude site for free too with lots of webcam data which I urge you not to miss!)
******************************************
Finally today, as I seem to be on some sort of redhead theme… why not stick with it and you can see one of the latest girls at the Clare Fonda group of sites (or is it the Big C sites now?) – In any case, check out SpankedSweeties.com as gorgeous porn and fetish model Phoenix Askani goes over the lap of the Big C as she re enacts a growing up spanking memory…

A tall red-headed beauty, adult model Phoenix Askani has many interesting stories about how she was spanked by her mother and father while growing up. Her porcelain skin turned bright red and speckled while she took very hard re-enactment spankings from mom (Clare Fonda's last scene playing the mom) and from dad as you will see below.
Check out more of Phoenix's burning butt from her intro spankings at SpankedSweeties.com
Remember that new site Spanking Sorority Girls is now part of the CLAREFONDAPASS so with this site above it makes a hell of a multi site network pass to have at a vastly reduced price, good… innit?