Hello everyone… Here is the latest set of film reviews, featuring classics from the past and the very latest videos from the sites below. I trust that you all had a great weekend, this blog review is for you all on the start of yet another week as this year passes so quickly, we're already halfway through August and summer is nearly at an end… where did all that time go? Best not to ponder on how time flies, I guess… just stay safe out there and enjoy some films I have not featured before until now, along with some of the very latest website updates!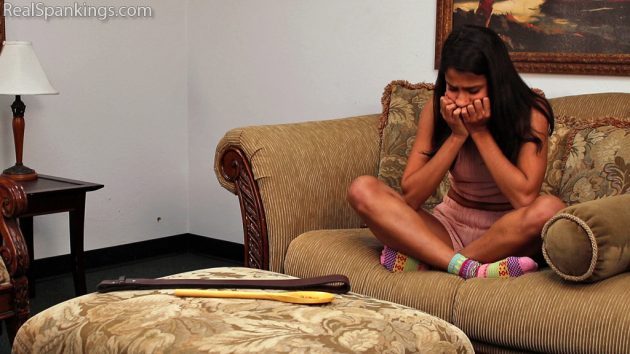 Cleo is asked to pick which implement she wants to be punished with, the spoon or the belt. She tells Mike that she doesn't want to be spanked with either. Quickly she learns not to smart mouth him, and is taken OTK for a wooden spoon punishment. After letting Cleo's bottom cool off, Mike returns to apply the belt to her already bruised bottom.
More films featuring beautiful Cleo Divine can be found at Real Spankings
This site is part of the Real Spankings Pass – giving you access to 8 premium sites within this network
For a fraction of the combined cost of them all!


This is the first film from the "Spanking Mansion" series. These films will take viewing of CP, spanking, and discipline to a new level. This is "The Journey"… It's a dark story about Suzanne (a cheating wife) and her descent into a kind of Hell. She will suffer pain and humiliation at her husband's hands and the hands of others. This first episode recalls the story of her remorse at being caught out, the punishment decided upon and administered by her husband. This comes hard and fast and without mercy. Once Suzanne starts on this journey into pain she has no idea where it will end…
After Suzanne's punishment by her husband, she is surprised when he sends her to see a professional disciplinarian. It is made clear to her that she is to be punished further and more severely than ever before. It is with a certain amount of fear that she agrees to submit to whatever is planned for her. The discipline starts and she has to remove her black lace panties and bend over in her stockings and high heeled shoes. A wooden ruler warms her bottom before an extra large and heavy leather paddle smashes into her bare bottom. From then on the punishment gets worse as, spread-eagled, she is given a thrashing with a leather thronged martinet and a leather strap. All the punishments are designed to inflict the maximum pain and humiliation.
The Journey continues for Suzanne, it's a journey into pain and humiliation and eventually self-realization. It's now time for the next part of the punishment ordered by Suzanne's husband and this promises to be the fiercest yet. Despite her protestations, this lovely housewife is to be given at least 30 strokes of the heavy cane. Her bottom is made ready, dressed in just her black stockings she kneels in just the right position and prepares herself for the searing pain she knows will come from the full strength cane strokes which will be applied to her already sore bottom.
Suzanne has come to a sort of realization; she needs to be punished, this may be the reason for her bad behavior. She craves the pain and the humiliation that she knows will come with the punishment. She contacts The Disciplinarian and asks that he come round. Once together, she describes the type of punishment and discipline she needs. What happens next is more than she ever imagined. This is real life hard discipline as requested by Suzanne herself. Nothing is held back… nothing is hidden.
Accessing this site for a month costs $24 with the choice of purchasing a membership to another of their sites at the same time for far less than the normal cost of membership – CLICK HERE to view the extensive tour pages and check out the join page for the above offer.
Amy Fox is a maid who gets more than she bargains for in this latest film from Spanked and Diapered. Alex wastes no time scolding and humiliating Amy before spanking her over the knee on her tight panties. However, this is far from over for Amy as she is then diapered like a little girl before further spanking punishment is given for her infractions.
More films featuring my good friend Amy Fox can be found at Spanked and Diapered
Tyron is yet another East European beauty exclusive to this site where she has been spanked many times before. In this featured punishment, Tyron is placed on the examination couch, kneeling with her bottom stuck out as she is spanked over her cute panties. Then, her bottom is sprayed with water for the next part of her punishment, a hard no nonsense caning across her pert glistening buttocks! Amazing!!!
Tyron is one of many stunning East European girls you will only find at Spanking Server
That's it for today's post, stop by soon for more updates and remember I will also start updating my other blog HERE – go check it out as it has LOTS of spanking material to keep you busy as well!