Hello again… This is a purely "update only" post today, nothing behind the scenes, just what has been released this past week from some of my fave sites that you ought to be checking out! This post was brought to you by the "Spanking Information Council of the Outer Hebrides" (SICOH – Scotland) – in association with the "Spanking & Awareness Wellbeing for All" (SAWA) society from Northern Ireland. Thanks to both for sponsoring this post with their suggestions as to what should be updated and so we start today with those from Lewis who suggested the following new film update from the good people at Northern Spanking
Percussive Therapy with Jenni Mack & Miss Chris
Jenni begins her first day at a new and apparently progressive clinic. First, she meets the Nursing Director who, upon conducting a basic medical, detects an elevated pulse rate, blood pressure and temperature in her new recruit. Luckily, there is therapy available to reduce these evident signs of stress. It involves the application of her hand, them a leather paddle, repeatedly to nurse Jennis bottom! It seems to work!
See the full HD film only from NorthernSpanking.com

Another spanking site with past Scottish connections and getting a nod from the Outer Hebrides team today is FirmHandSpanking.com – however, they too prefer the American domestic discipline series that is currently showing with the luscious Stacy Stockton & her now impoverished hubby, Jonny. here is the latest series of Truly Madly Deeply – Spanked for Extravagance – with Stacy & Jonny Stockton.
When you've no money and your husband has just lost his job, you don't buy new clothes – unless you're Stacy Stockton! Her curvy bottom pays a high price with a spanking and belting in Truly Madly Deeply. But will it stop her spending?
Check out the entire series only from Firmhandspanking.com

The 1st nomination from Northern Ireland today is to their European neighbors, Holland and a buxom blonde new girl spanking video that has recently appeared with a very spankable bubble butt. Check out Mila featuring at Real Life Spankings
Meet the lovely 25 year old Mila
Mila is a charming, lovely and bubbly young lady who has been fascinated by spanking for a while now. She saw the RLS website in Holland and decided to give them a call. Make added, "She loves playing the naughty little girl!" – Indeed… you will be able to see much more of her!
Check out the first of new girl Mila's spanking films only from Real Life Spankings

The Scots love a good caning (usually at the hands of the English in various football shaped sports, lol) so it came as no surprise that this English Spankers website update this week, featuring Rachel Leigh's first painful caning, should be on their list of "must watch" this week!
Rachel Leigh's 1st caning – with Sarah Stern on hand with the cane.
Rachel Leigh has just had her bottom well paddled, she was using our house to put on dirty web cam shows and I do not like that. The punishment did not seem to have the effect I expected and so I have decided to cane Rachel. This is her first ever caning and I will make sure that she does not forget this is a hurry. Some good hard strokes of the thin whippy cane on her bare bottom will do the trick.
See MORE of Rachel in this full film update only at English-Spankers.com

You can always rely on our Irish cousins to nominate a good Sarah Gregory film update (even if she is not starring in it as her influence is all over this one… and this latest epic feature, courtesy of MommaSpankings.com – it received a very notable inclusion and was awarded "Do not miss at all costs!" (Northern Irish waffle-eaze for this is top priority!!)
Sister spanks for Momma – starring Joelle Barros & Lily Swan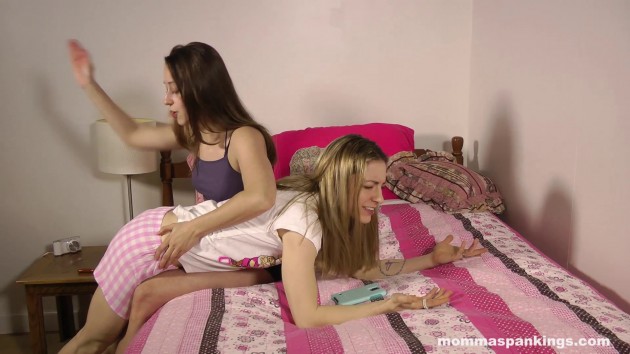 Momma is out of town and Lily is being an absolute brat. Mom has given older sister, Joelle, permission to discipline Lily by spanking. Lily is such a rude brat to her sister. She not only earns herself a bare bottom hand spanking, but she also get the wooden hairbrush and rubber spatula.
Click HERE to view this latest long play MommaSpankings.com video update
This site can also be viewed as part of the better value Sarah Gregory Pass


This post was also brought to you by the following good companies!
*********************
Check this out… you'll be seeing a whole lot more of this email service.
I have signed up and will probably be using it rather than my Gmail accounts!
(thanks to the likes of Google & Yahoo etc reading your emails & advertising to you!)
A modern, robust, fast web-mail client with user-friendly encryption & privacy feature
So who are we?
We are YOU, the people of our nation who have been hijacked and spied on by our very own government. We decided to change the game and eliminate the threat of big corporation data mining.
Fact: Many free or low cost email solutions are fronts for the marketing of their providers. That is how they can afford to provide you a free service. They scan and index your emails looking for ways to target you with marketing.
Our solution doesn't need to do this. We protect your privacy because our system is not open to being scanned. No one needs to know what you are writing, or based on what you receive, what you might be interested in purchasing.
This is YOUR life, and you deserve the ability to take your power back. Let Hide My Email Account help you.