I am all "caked out", I have one more chocolate cake to devour "apres anniversaire" and intend to see that one off tonight… because I have been allowed to! So…, in no particular order today… please delight in the following images from various websites for your fine perusal before I stuff myself with 3000 calories worth of nom noms… all approved by none other than the almighty "Spank Cat" – all seeing and all knowing feline that has replaced even Ceiling Cat in all that was known by kitteh-kind! Spank Cat is a feline fetishist, a marauding moggy that isn't satisfied until he (or she – we dare not ask!) is satisfied that the human females shown on this 'ere veritable spanky blog have had their rear ends well and truly tanned! "me-owww!"
So it is with great pleasure that I bring you some cracking images courtesy of Spanking Server – I have always loved their use of implements and contraptions, I guess that the girls here, including the gorgeous Sandra Sanchez… would disagree!
Check out the very latest wicked punishments of East European girls from SpankingServer.com
******************************************************
An oldie from Northern Spanking as this schoolgirl is caught touching herself instead of studying… she is quickly punished for her filthy behaviour!!! Part of the VAST archives of spanking material from over 10 years of non stop spanking updates!
Click here to see more naughty and excellent punishments only from Northern Spanking
************************************************************
Ok, a little reminder treat for you as you get to see this great OTK spanking of Veronica Ricci over the knee of a twisted nurse played by Asphyxia Noir… check out the clip and a few reminder images (and Veronica's revenge) – I liked this as it had a genuine good hard OTK spanking as you'll see!
Or if you are viewing this on an Android device, Flash doesn't show so click link HERE for the WMV clip
Veronica goes in to get tested, but the nurse behaves rather strangely. First, she takes Veronica's temperature anally. Then she begins spanking Veronica super hard, lecturing her on how to change her ways. She even breaks a large paddle over Veronica's ass. Finally, Veronica has had enough and fights back, getting Nurse Asphyxia over her knee and teaching her just how tough and strong call girls can be. Both ladies leave with very sore and red bottoms.
Check out one of the best and naughtiest sounding spanking sites that lives up to its name – SPANKED CALLGIRLS – it is also part of the Clare Fonda Pass network giving you access to 5 of their best sites for a fraction of the total cost. If you have never considered this option then do take a look, it will save you a lot of money but it's an addictive hobby as you'll be downloading content until the cows come home!
******************************************************************
Have a great weekend… and today's final spanking aftermath image was 100% approved by Spank Cat! Enjoy!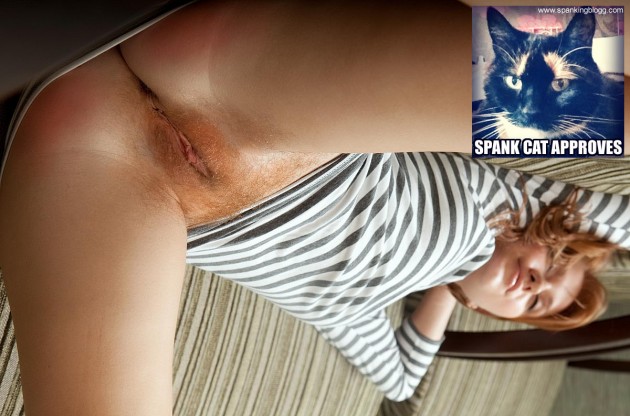 Spank cat also approves of the naughty POV angles and spankings at the site below 🙂