I have been busy behind the scenes upgrading the websites quietly and… slowly. I have a stinking cold that came out of nowhere which is making me feel really miserable, so I won't bleat on about it, just get you these amazing new films and some recent updates I have missed so you can check them out for yourselves!
Sarah Gregory's site had a mini revamp recently with a new header (above) – we'll get some new banners out too (soon). I think when I have more time I will work on the header some more but for now I think it looks better than the previous one which had been there for some time. Sarah's latest film stars 2 good friends of ours, Adriana Evans and her real life partner, Dom King. I love these guys so it was heartbreaking that we couldn't all catch up together and "do shenanigans" at the last BBW Party in Atlantic City – but I'll see them soon enough. This was an awesome spanking film that Sarah made as it was from a real life scenario that had some meaning to them both and the resulting punishment released a flood of tears from Adriana. It's pretty intense… images are from the new film at SarahGregorySpanking.com
This is a real life punishment between a real life couple. Adriana had royally screwed up. She has embarrassed her dominant by taking drugs and drinking at their house in front of company. He teaches her a lesson by giving her a hard spanking and strapping until she is crying real tears of remorse.
Wow! Check out those images of Adriana's tears! You can see the full HD film HERE



A gorgeous brunette called Renata gets her spanking and strapping discipline punishment across her bare bottom at Spanking Server (next up) the images (like above) are taken from the film itself so you can capture real moments of action as you'll see it.
See MORE of naughty Renata exclusive to SpankingServer.com

This time of year means it's Tennis at Wimbledon – I can't stick it personally… I don't mind the little tennis uniforms and those traditional white short skirts the girls used to wear though (that';s all ruined by advertisin… and I certainly approve of how Paul & Alex did their little homage to "Tennis Season" with this recent update from NorthernSpanking.com co starring Alex Reynolds and Pandora Blake
Don't miss this and many more excellent spanking shenanigans – CLICK HERE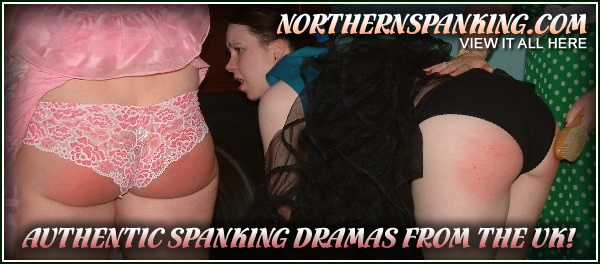 Finally… a brand new film with Satine Spark… she is an epic stunner and loves being spanked. I was due to film with her early this summer but we couldn't get a date decided on before my next American trip so will now have to wait until I get back… I can promise you that at the SG Group of sites there will be plenty more of what Sarah Bright did to her at Spankingsarah.com  – that is for sure! Check out this film and the archive of excellent films starring this gorgeous British girl available from this site already.
Taking care of Satine Spark
This is what Sarah Bright had to say about her latest film: Oh dear, I can be very wicked sometimes especially with my flat mate Satine Spark. She is such a beautiful girl and in reality is quite well behaved, so I have to invent reasons to be able to punish and play with her. I am inventive and it does not take long for me to have her agreeing to be punished anyway I wish with some new implements I have purchased. I give her a quite gentle, loving pussy spanking and then a much harder whacking whist she is in the wheelbarrow position on my bed. I do make up for this by rubbing cream into her bottom. I am a good girl really!
More naughty girl girl spankings of beautiful Satine can be found HERE

Stay tuned when I will bring you the latest news of "The Spanking Therapist" – the Casey Calvert and Sarah Gregory film coming next to AAAspanking.com – it's well worth the wait! 🙂