Whoah… 3 blog posts, 3 days in a row… I have decided to try and find time and it's easier to show some recent updates before I use this blog to highlight what Sarah or I have been up to. For example: such as attending the first Oasis Spanking Party in Las Vegas (last week) – or our subsequent trip to Los Angeles where we have been filming a lot of content including many customs at our Airbnb. Once I have time I'll sit down and catch up on that very soon. It's been hectic, but before I go to sleep, here's what has been updated most recently for members of the Sarah Gregory Pass which includes 2 premium sites for a fraction of the combined cost.
I have showcased the individual site and of course, each site is massive in its own right, but combined as part of The SG Pass… well, oh my, that's a lot of viewing material for y'all!
Willow has been called to Headmistress's office to have a little discussion in showing off her wares to the boys. She was caught at hockey practice lifting her skirt to show off her knickers to the boys. This is very unladylike and of course inappropriate. In this school, the staff take matters of discipline very seriously and Willow is about to receive one of the harshest school punishments from Headmistress yet. First, she is to have the wooden ruler taken to the palms of her hands which so easily lifted her skirt for all to see. When she breaks eye contact after being reminded several times, she gets her poor little face slapped. Now, if she is going to show off her thighs to the boys, she will have those punished with the cane. She is given 6 hard cane strokes to the fronts of her thighs and the backs so she won't want to be showing off to the boys anymore. Willow is left a sore, sorry and sobbing mess to think about her behavior and reflect on how she will be less promiscuous.
Click below for the free preview clip – Full Film is available HERE
Mommy is very disappointed with her precious girl as she has noticed money missing from her purse. When confronted, Ash finally admits that she took it to buy cigarettes. This is very naughty behavior and is told that it will be dealt with before bedtime. Ash knows that when she is called downstairs, she will be punished… and punished severely. Bedtime approaches… the call is made and Ash feels the dread of walking slowly down the stairs, one step closer each time to her deserved spanking. Another scolding is given by Mommy before she is spanked over her pajamas, and… of course on the bare bottom by Mommy's mean hand. As her cheeks turn red, the final part of the punishment is with a Mason & Pearson hairbrush, delivered without mercy across the thieving girl's sore backside. The walk of shame back up the stairs is watched by Mommy as Ash is sent to bed with a sore, aching bottom.
Click below for the free preview clip – Full Film is available HERE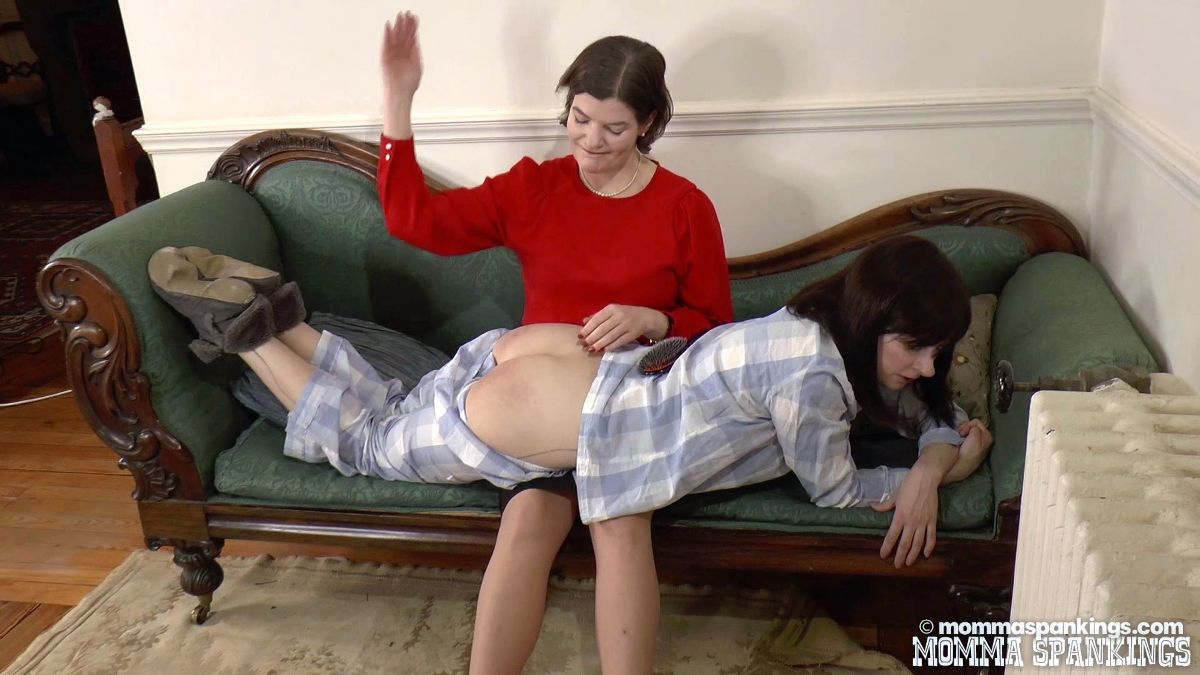 These films can be viewed as part of the SARAH GREGORY PASS

*Strictmoor Academy – The 1st 2 Years & associated mini-series only.