It was a Saturday night… I just got back from a quiet evening out at the cinema… I watched a rather disappointing film (I won't bother saying which one) needless to say, it was unfulfilling and I trawled the wonderful interwebz for amusement and this "beaut" of a vid (which is starting to go viral here in the UK and worldwide) is some sort of "serious" advertisement about a travel agency from Scotland…  now I know the saying about any publicity is better than none, but this video is hilarious for all the wrong reasons. Check it out and I think you'll understand why, they have disabled the comments section (quite wisely) on YouTube – all I will say is check out the staff AND the guy in the white captain's uniform… OMG! I think I need diapering, I have peed my pants laughing so much, lol!!!!
& so to a few different spanking & fetish updates which are far from inept & might pique your interest this weekend! I will be writing a 2 blog posts tomorrow with more traditional stuff I usually write about
So if this is not your thing, I understand… come back later 🙂
*********************************************************************
I wanted to tell you about a new F/M punishment site FIRST OF ALL… It's very good and is produced by someone I know AND I most certainly would NOT want to be ending up over her lap as she spanks the guys and punishes them HARD! Who is it? Why, it's Sarah Bright, of course… the brains behind SpankingSarah.com now has her own F/M punishment site and she told me that far more severe stuff is on the way for the very naughty gentlemen she has been punishing… but I thought this punishment below was "ouchy" enough, don't you agree?
Punished for cheating on Sarah's Sister! at SarahSpanksMen.com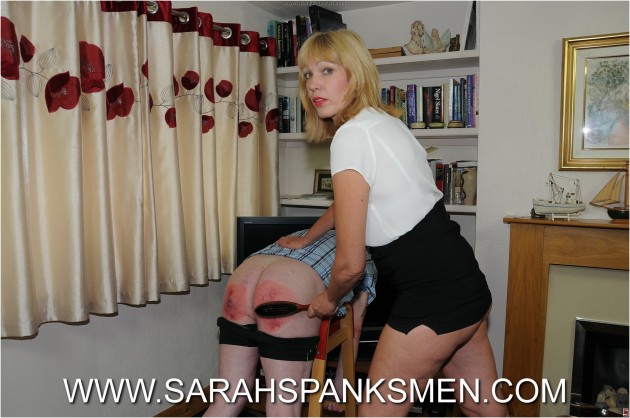 This is what Sarah had to say about this lowlife she punished for upsetting her little sis! – "It does not take a lot to annoy me and for sure one thing that is certain to make me boil with rage is someone who upsets my sister. This pathetic specimen cheated on her, yes… he went out with some cheap bitch from his workplace and fucked her. She asked me to deal with the situation. I was only too pleased to thrash this cheater, I beat his bottom so hard with my wooden brush he started to cry but that just ensures he gets a lot more to come!"
Check out a free vid preview of this cheater getting his just desserts!
Members will also get to see him caned to tears as well! Talking of caning, there is also this nice little feature where Sarah cold canes this foolish gentlemen… just check out his poor bottom – ouch!!!
This is what Sarah had to say about David's caning: "It was a most unusual request. David came to see me and what he required was simple and very straight forward. He wanted to be cold caned. That means that he wanted me to cane his bare bottom as hard as I could and without any warm up spanking, as is usually the case. I have to admit this was a first for me but it was quite exciting knowing that I was giving David exactly what he wanted in the way he wanted it."
Check out the free preview vid of David's caning (below)