Okay, sorry for the delay… I'll not waffle on. Let's just get you the naughty and sensual/erotic spankings you want to see… maybe if you like something you will help support those sites with a membership option, most sites here are very reasonable, I wouldn't promote any site here that I wouldn't or haven't joined in the past or present so they all get my seal of approval and need our subs to continue making films. Contrary to what forum and filehosting uploaders would have you believe… the best way of supporting any of our sites is to purchase a membership – everyone counts right now, trust me, I should know!
Here's a great start with the lovely Sarah Gregory getting a girlfriend spanking a few years ago from Sinn Sage.
Taken from the archives… this film is called "The Cheat" (co-starring Sinn Sage in a girlfriend spanking movie)
Sarah's strict beautiful girlfriend, Sinn Sage, is very angry when she finds out that Sarah has been cheating on her. Sarah is working, earning money letting guys touch and spank her at clubs and hotel rooms but Sinn doesn't like that she has to do that behind her back… so when she returned, Sinn makes Sarah strip down and get across her lap for a hard bare bottom spanking with hand, strap, and leather paddle in more than one sexy position that Sinn gets off to, watching Sarah squirm with real shame and embarrassment before the girls both get turned on and make out with Sarah's bright red burning bottom a reminder that she should be a better girlfriend in future!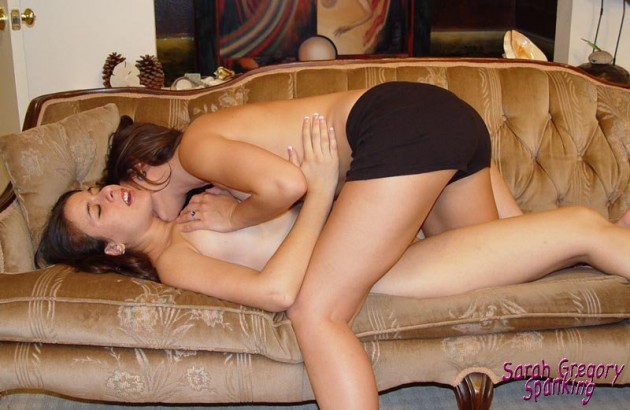 This is one of the many HOT films from the archives of Sarah Gregory Spanking
or view as a member of MommaSpankings.com too & save money with the Sarah Gregory Pass (see below)

***************************************************************
I found some original screen images from a naughty girl/girl movie at my site AAA Spanking … no one has seen them this size as they are taken from the raw data and the film was originally edited at a very reasonable 1280×720 resolution – all new films at my site are now edited at their original screen size of 1920x1080HD – at a future date I will most probably re edit some older films, so they will be started from scratch (essentially slightly different from another editor's eye using the same raw data and with some suggestions and input from me with musical scores, credits, split screens/slo-mo shots and more). However, I have to PAY a decent editor to do all that for me… without membership sign ups, that isn't gonna happen – period … but imagine if this film was one of them, eh? #schwiiing!
Webcam Hustlers – Starring Ashley Graham & Nyssa Nevers
Nyssa's English uncle had bought her and her best friend, Ashley, matching pyjamas from 2 of the biggest soccer teams in England. The girls were unaware of the animosity between the supporters of these 2 teams which was no doubt part of their wicked Uncle's plan! They decided to make some extra money again on their webcam so sign in & an English guy sees them in their PJ team tops and quickly paid for a private show! he wanted to see the girls playfight, wrestle and get up to all sorts of lesbian and spanky stuff and see who or what team would come out on top! Who wins and who gets the most money from the webcam show?
Check out the movie and see for yourself who won!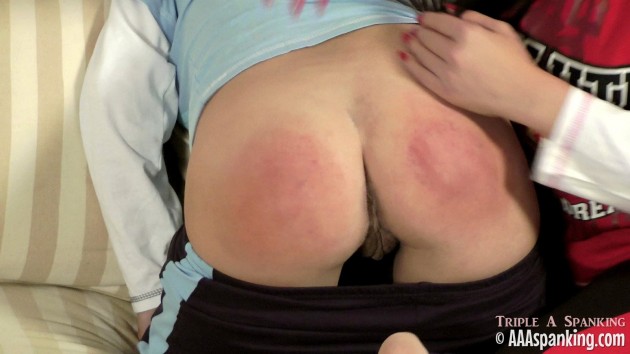 These girls had such naughty chemistry… they knew each other outside of spanking and actually travelled up together at the time for that film shoot… so felt more comfortable messing around with each other, which showed. I thought they were great and it's a great spanky sensual and erotic girl girl spanking fest! I hope you liked the added touch of the football shirts of the 2 Manchester teams (City & Utd) from the English Premier League – they had no idea who or what they were (LOL!)… Nyssa pronounced it "Man-chess-terrr" in her cute (to my ears) American accent. In recent years, Manchester City (in sky blue sported by Ashley) have had the upper hand on titles – in England the teams are often referred to as "Man City or United" but I think that year that Nyssa wore the shirt, the Reds of United had won it.
This is your last chance to grab the trial membership – It goes before the end of the month!

*************************************************************
Here's a reminder of a fantastic sultry Christy Cutie pleading with YOU (playing her daddy in the POV perspective as the spanker… we're witnessing everything through YOUR eyes!). She's pleading for you not to give her a spanking! She's just so adorable, and too cute to spank, she's telling you that again, but you're having none of it. Here are some reminder pics of this popular POV style spanking! #cute #adorable #POV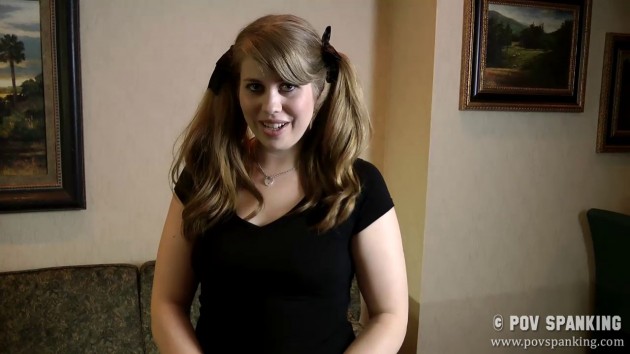 YOU are Christy's Daddy and you are far from pleased with her inappropriate attire. She shows you her tight Daisy Duke shorts and pleads for you to let her go out, but those big doe eyes and sexy pout don't get what she wants this time… oh no! She looks shocked as she watches you remove your belt and gesture for her to take off her shorts AND panties as you bend her over the sofa to take a look at what your baby girl is made of before giving her some reminder strokes with your leather belt who is in charge! Christy's smouldering looks, and adult babygirl attitude make this an even sexier spanking experience. This is definitely one spanking POV film you should check out as our project continues and we improve each and every time we make these challenging films! This is what real spanking POV should be from YOUR perspective when you imagine spanking a brat… go on, enjoy… we know you want to!
The Clips are in either WMV or MP4 HD 1280×720 playback – VIEW IT DIRECTLY HERE
All the latest POV spankings, scoldings sub/dom perspectives can be seen HERE
************************************************
Finally today, a fantastic self spanking reminder from English Spankers with American fetish model, Ludella Hahn. Enjoy watching this self spanking and an interesting intro shown earlier this year.
Top American model Ludella Hahn loves the English way of spanking and punishing girls so much that she wants to try it on herself, so she can spank herself when she is back home. She works her way through our nastiest implements including a large wooden bat, a loopy and some of our thick leather straps. She sets out to really whack her bare bottom till it's a bright shade of red. Just to make her day Sarah Stern comes along and finishes the job. A good hard whacking film with this beautiful lady taking her very hardest ever punishment.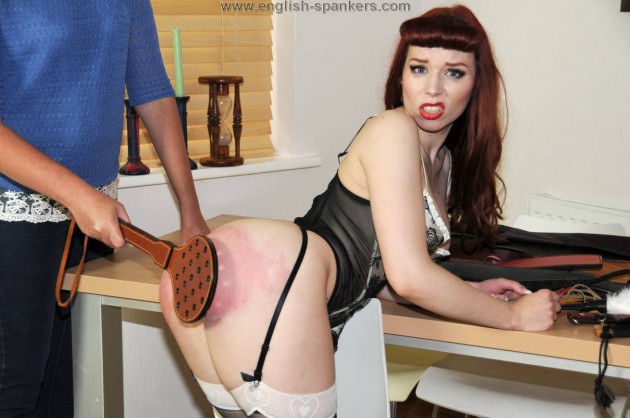 You can see this film and more of Ludella right here!

*************************************************************