There's lots to let you know about today so I won't get on my soap box and have a rant about this or that… though I feel like a good moan today, I'll save that for another (lol). "Thank God" I hear you sigh in relief… so instead, you'll be happy to see me dive straight in without any more waffle to what you've all come here for: The latest spanking updates hot off the interwebz including my own latest F/F spanking film * "FFS! Get on with it, Chief" * which I at first was unsure about, but after playing it back a few times (and viewing it in HD) I really loved it and I will let you in on a few behind the scenes goss after you click on the image below that leads to a special 24 image gallery of the film!
This was the very 1st film of the day between Emma and Taylor, they knew each other but this film was a first in so many ways! Emma is an experienced dominatrix and only tops men as a rule… & young Taylor is a switch but wanted to explore her submissive side (especially being spanked and punished) & this was a first for her too as she had only been a sub to a male before this day! To add to a little apprehension, the lights and cameras got the better of them as the intros took a fair few takes. However, as they both relaxed and realised that we could retake this as many times as we wanted, I was impressed with both ladies professionalism and determination to make their day with us work… and from humble beginnings – as this short film showed… we got some great content. That's not to say this film is not any good, far from it! If it wasn't, I would not have put it up on the site. No, it was rather personal for me… and I suspect, for the ladies too…  this was a hurdle they overcame in style, and I know they will be reading this blog and seeing this film come out… I just wanted to say "thanks" again – and I hope to get them both back, either together or seperately to work with us again at some point if they still want to… as we had a blast filming them. I also wanted to get this film out now as I have a great Headmistress/Schoolgirl film coming up at the site in a few weeks that will knock your socks off, Emma was so f*cking stern… and seeing Taylor (& co star Jenna Jay) stripped and humbled after their punishment… yikes… am I teasing? (heh heh) That'll be coming soon, I promise! 🙂
CLICK HERE TO SEE A FREE HD PREVIEW CLIP
Don't forget that Triple A now have a Special Loyalty Price Deal
That's effectively giving you access for a measly $8.50 a month!
****************************************
Hmmm, I had also just mentioned the lovely Jenna Jay, hadn't I? How about seeing her as a naughty inmate, thrown in a Reform Institute and put through all manner of humiliation behind bars? Sounds good? Damn straight it is.
I had only recently viewed Jenna's intake at Bars-and-Stripes.com and it's cracking… (good job we filmed her before she is serving 5 years!!!) She is as feisty as ever but soon learns to keep her big gob shut as it gets her into trouble when confronted with Officers Stephen Lewis & Zoe Page who have seen it all so many times before and take great enjoyment out of teaching this madam a painful reminder of her place now that she's "banged up" inside!
Images below are reduced in quality and size – but members have extensive image sets as well as the films of Jenna to download; But I hope you get an idea from this film series as I loved it!!! (Then again, I'm a big fan of Jenna – as well as Miss Page & Mr Lewis too!)
See MORE Previews of Jenna's intake and the other unfortunates – CLICK HERE
********************************************
Here's a recent fantastic film from Sarah Bright's great site spankingsarah.com with the beautiful but disgracefully thieving nurse, Sally (played by the luscious Satine Spark!) – It also stars Paul Down, I love this guy, he filmed with us and he's as bonkers about PJ's as me (lol!) Well, here you'll see him in his own PJ's – being taken advantage of by Nurse sally! I also loved this storyline, it's a great plot and an excellent spanking film as Sarah gets to the "bottom" of this conundrum!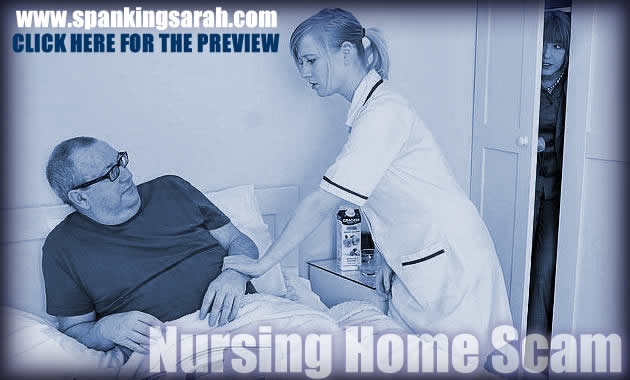 Matron is none too happy, there are some funny goings on at her nursing home and she needs to get to the bottom of it. Enter Sarah Sly Private Eye, she is set to find the guilty party. It does not take long and young nurse Sally is apprehended doing the naughties with poor Paul. It's the police or an instant punishment from Sarah Sly, nurse Sally chooses the punishment and finds herself over Sarah's knees being soundly spanked, first on her uniform then her panties and last of all on her bare bottom whilst bent over the trembling knees of poor Paul. Her spanking is hard enough to mark her tender bottom and leave her in no doubt that she has been well and truly thrashed!
You might also be interested to know that Sarah gets a damned hard thrashing, one of her most severe paddlings ever on film, and it has just been released! Thoughtfully, she has provided a fantastic free gallery which you can see (with the full movie explanation) as it's the aftermath of her spanking the beautiful stable hand, Kiki in that barn, which you will remember I covered in some detail in a previous post! Seriously, go click on the image below for the Free Gallery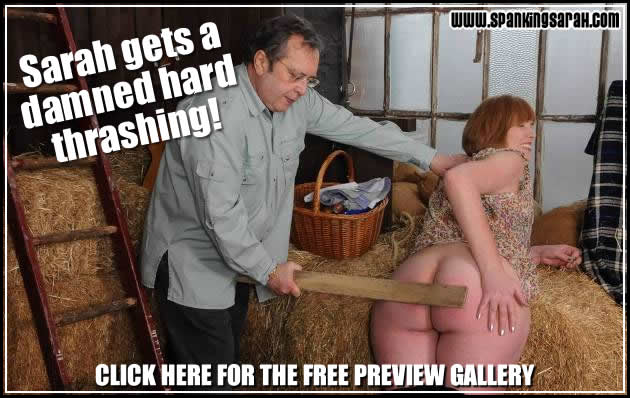 Having met Sarah – I can safely vouch that she is the perfect switch: Fantastic Sub & a wicked Top!

*************************************
Another Sarah I love to bits is one Miss Gregory… who at the moment is showing a film at her site – SarahGregorySpanking.com that she and her Daddy, Paul "Tubaman" Rogers filmed with Paul Kennedy & Amelia Jane Rutherford. This particular film shoot was made just before my own that I made with Sarah last year so I have to smile when I see the location… it brings back happy memories (and also the one of my near fatal car accident on the way back from that filmshoot) – anyway, let's enjoy this excuse to see the lovely AJR dressed in a school uniform getting a real tears thrashing as you'll see below!
English schoolgirl Amelia Jane is on exchange at school in America. She is a very, very naughty girl who thinks she can get away with it because spanking is not allowed in her American school. Well, think again Amelia! Little did she know that her headmaster has brought in a disciplinary consultant and he will be learning these new methods on this naughty school girl!
CLICK HERE TO SEE THE FULL FILM OF AMELIA THRASHED IN HER SCHOOL UNIFORM
& of course you will see sarah punished too in her oh so unique and expressive way! 🙂
Take a look at these sample images below that I have from Sarah's last explosive film
(spanked by brother Preston! Yikes!!)
****************************************************
FirmHandSpanking.com continue to show us stunning girls getting what they deserve and also feature some of the best girls to get some hard spankings like Allaura Shane, Alison Miller as well as new tearful girls like Kelly Morgan & Aleesha Fox (from the UK!)
Check out these latest films which members at FHS are now able to all download in full!
The board of education teaches pretty student Kelly Morgan that going camping and not reporting for work carries consequences in The Intern. Ten swats from Earl Grey across tight jeans with a school paddle has the teeth-clenching cutie bawling after five, and very sorry after ten. Ouchie!
be the 1st to see Kelly Morgan's Free Preview Film HERE
FirmhandSpanking.com wouldn't be the same nowadays without appearances from Alluara Shane and Alison Miller – 2 very popular girls and so I won't disappoint, check out their latest exploits in these images (below)
Staying out all night and wearing Alison Miller's clothes earns brat Allaura Shane a bottom tanning to remember – 24 with a leather prison strap. After making out with the pool boy, Allaura takes the lunge position for a tough 18 strokes on her bouncing bare booty in Houseguest from Hell.
You can see a free preview clip of this punishment on the home page HERE
& Finally, below is a special free preview of another new girl to this site, Aleesha Fox!
It's the job from hell, as Aleesha Fox finds out when she's spanked by Mr Partridge (played by Earl Grey) in Au Pair Trouble. 56 with a hairbrush turns her bottom crimson and splits the wood too! Not doing her job properly and upsetting Mrs Partridge (Amelia Jane Rutherford who plays the mad stressed wife) is fatal…
See the rest of this brilliantly amusing, wonderful OTK extravaganza at FirmHandSpanking.com

*********************************************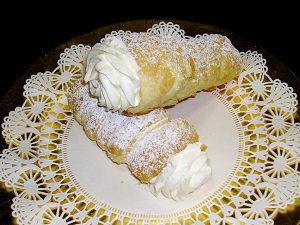 & before I go, don't miss out on the return of my once popular "Cream horn Spanking Special" which means I shall be finding some super sexy updates for you to gaze at and scoff in the sight of a cracking brat or 5 getting their just "desserts" – I am sure Clare Fonda will be helping out with this as I have noticed some new stuff appearing at her site, so I shall… ahem … be perusing at leisure, some of her fine ass spanking sites as well as a few others I just know you will want to see that only I feature here on a regular basis! (Come back tomorrow and you'll see it all!)
Have a good one and hope you enjoyed my little update today! See you all tomorrow here! Chief.