This week's Freaky Friday event at AAAspanking.com continues with a full film release with approx 100 screen images of gorgeous Jessica Jensen getting a soapy sud spanking punishment… poor Jess, it didn't take much for me to elicit some great reactions from her. She forgot how painful the wet friction of a spanking in a hot bath tub could be… no respite from the warm water either to cool down her reddening bottom and I had the fortune to spank her lovely round firm rump one more time! That'll teach this naughty young madame… read on for the full story and also what else is being updated today at the site… remember, this film is IN ADDITION to the normal updates…. my reward for my loyal members! Have a great weekend everyone, I intend to here in America. Will let you know more when I have a chance!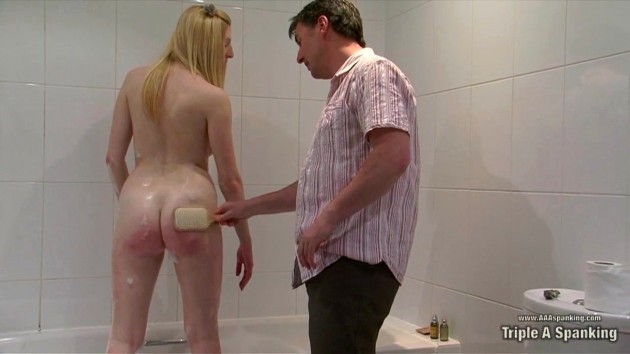 What do you do with your beautiful young wife when she takes her time in the bath tub, soaping herself up and enjoying herself? Well, it's a nice distraction, but it's Saturday night and John had agreed to meet their friends for a fun evening out together. Jessica promised she wouldn't take much longer and John called his friends to say they'd be a little late but when he returned to the bathroom to see her still playing with the bubbles he did the decent thing and called his friends to advise them they wouldn't be there so to enjoy the night without them both. This left John with the task of creating his own entertainment with the very sexy Jessica as he playfully spanked her naked bottom and fondled her soapy buttocks the way they both liked it – but then her cheeks started to redden just sufficiently to ensure that this was not a good girl spanking that she so enjoyed in their bedroom… those soapy sud spankings were deceptive and stung more than you'd know if you hadn't tried this at home yourselves!
This full HD film is on top of this weekend's completion of the "Foul Mouthed Au pair"
with Adriana as the potty mouthed Brazilian Au pair who can't stop swearing and giving me grief in Portuguese as she is spanked! This is a HAWT spanking punishment movie with a most jigglesome ass that craves correction!!!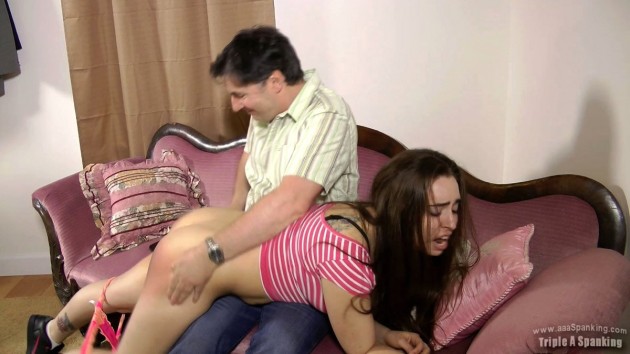 CLICK HERE FOR THE LATEST UPDATES – ONLY MEMBERS CAN SEE THE FULL FILMS!

Don't forget taht you can watch these films in FULL as one off downloads in various formats such as MP4 WMV and MOV – check out the full listing of films HERE