There are some more updates planned for later today and to add as a bonus for shutting off early yesterday, I thought I'd post a tribute to one of the sexiest girls that I think Mike from Real Life Spankings has been lucky enough to have over his knee, one young madam by the name of Sofia. There is a lot of her stuff featured at Real Life Spankings, (I think Mike enjoyed working with her, who wouldn't?) You can see the earlier work she did with her red long hair and then after a sad absence she made a return a year or 2 after that with a new look dark hair bob. One thing was constant! Her perfect rounded bottom, made for spanking, the way it moved, I swear it could hypnotise me! I am also not ashamed to admit I'd need some sort of kevlar trouser covering to protect me and her from any unwanted shots being fired off with her squirming and writhing over my knee if I was lucky enough to be spanking her, I can tell you!
Mike admirably takes control on many occasions and this girl is a gorgeous brat – which reminds me, I must get back to the Netherlands again soon, not just to avail myself to their wonderful, ahem… "Coffee Shops" but to once again admire the butts and the beauty of the Dutch ladies, who, as I always remember – are impossibly tall compared to the rest of us in Europe! (why are the Dutch so tall? Answers on a postcard to "The Chief")
First clip is new style Sofia, just listen to her cute Dutch accent as she pleads with Mike to stop the spanking!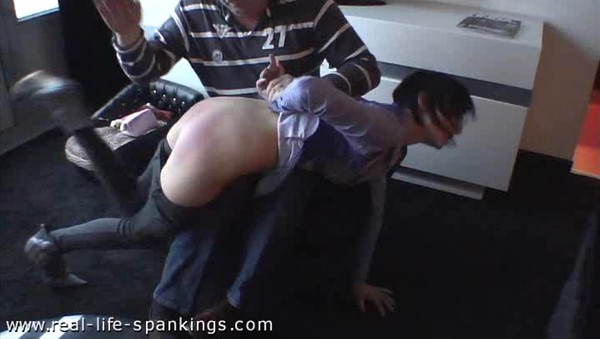 Below are some images of the new look Sofia from various films and I have also got some older images of her after the 2nd clip
The below is not a spanking scene, but some of the unspeakable humiliation that Sofia will put up with, here, she's been faking an illness and Mike is having none of it, he's got a rectal thermometer and he's not afraid to use it! The clip below features the insertion of this object – I'll let you guess where, but it's a cracking movie clip and the spanking later in the film does NOT disappoint at all, one of my fave Sofia films, for sure!!
Sofia really is photogenic and a real beauty (as I said) but please check out some images of her in her red hair phase, a real stunner, I'm sure you'll agree, these were all taken from various films that she starred in at Real Life Spankings
ALL OF SOFIA'S MOVIES & PHOTO SETS CAN BE VIEWED IN FULL HERE
Finally another naughty girl with red hair I enjoyed seeing punished at Real Life Spankings was the lovely Yasmine! All the thumbs below you can click on to get her full size images and she has the most amazing pout and gorgeous big spankable bottom!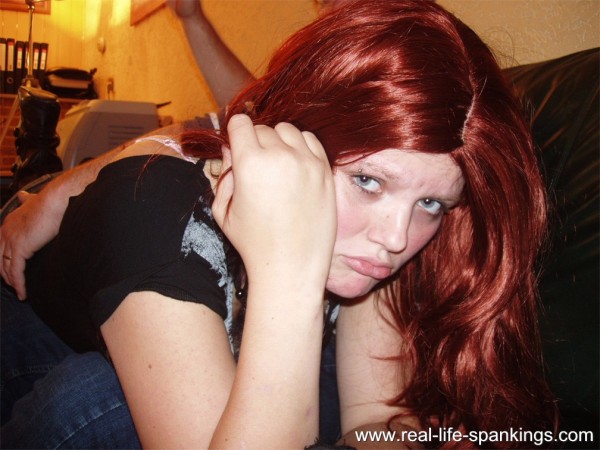 This was what Mike had to say about this sulky teenager….
It has been quite a while that I heard from Yasmine so I thought I would give her a ring. I made an appointment with her to come and see us and she almost forgot! When she was here I decided that a reminder spanking was needed so I put her across my knee and gave her a firm spanking which was long overdue.  After the spanking she did some corner time with her sore red 18 year old bottom on full display.
If you want to see much more of Yasmine or Sofia – CLICK HERE