There's a special 2 parter today – so do come back later when I have collected the images I need for my second post, I promise you will like this if it is your thing 🙂
I have devoted part 1 to one of my favourite spanking models – Amber Dawn – and as it's getting more wintry here now… watching these set of movies with stunning redhead, Amber and Sophia Locke on Amber's fine Site Network HERE – I was amazed at just how addictively good watching Sophia and Amber together was! There's another movie which I haven't had time to cover here… it's all about Amber sneaking up on Sophia in the pool that you will see below in the dark and abusing her for her own selfish pleasure – it's HOT. However, these 2 films, one in the pool… and the other with Sophia in a split screen movie over Amber's lap will more than give you enough idea as to what you can see recently!
Warning: Will most definitely cause severe #TrouserArousal for gentlemen with unruly nether regions… & ladies, those of you inclined to be turned on by girl/girl play and spankings please ensure gussets are not ruined! Thank you.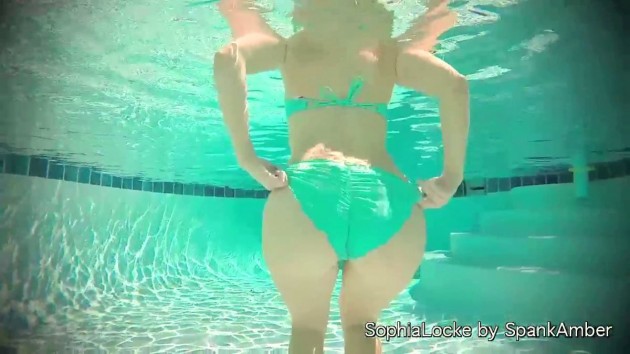 Sophia is filmed with Amber's special underwater cam which is intensely cool… the actual film footage is much better and fluid (pardon the wording) but you get the idea as Sophia teases us with some hidden underwater play and Amber catches some great angles of Sophia's bare bottom, pussy and feet as she swims to the side to reveal more. Amber is then filmed play with and groping, making out with gorgeous Sophia in the pool… I have to say, Amber has got by far the best out of Sophia in any spanking situation… she looks absolutely gorgeous in these films… this is one girl I now desperately want to work with on one of my many visits to the states next year!!! Thanks to Amber's sexy footage!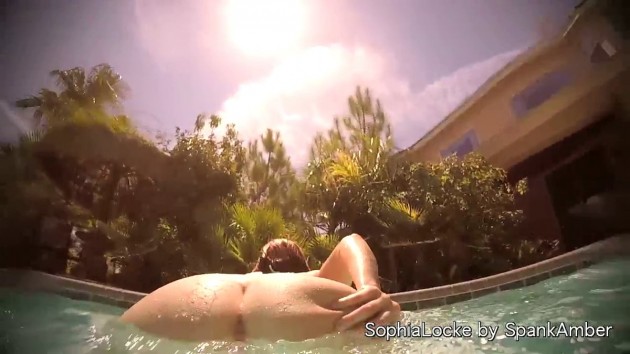 Check out footage from this film by looking at SpankAmber.com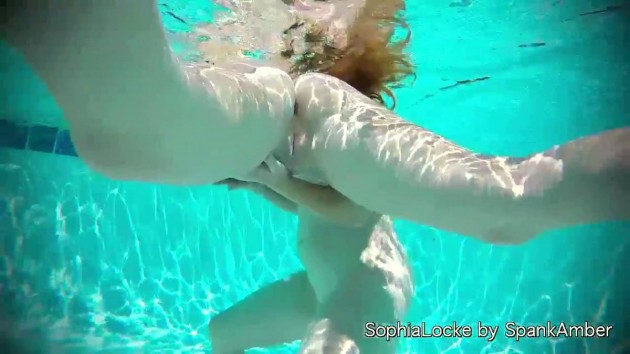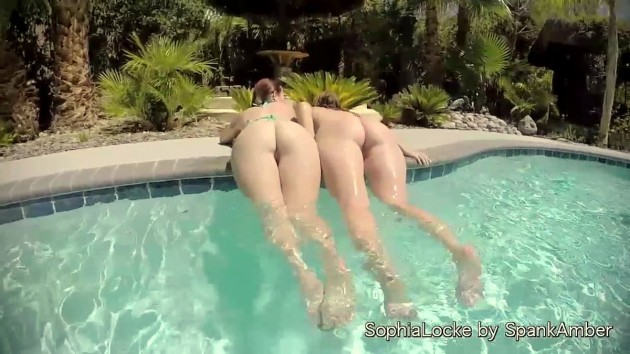 I haven't seen a split screen film in entirety before, but in this case, it works. Sophia appeals to my love of redheads, of course… and it's a double delight for me as she is spanked by Amber… Sophia has a fantastic spankable butt as you will see and Amber enjoys slapping, smacking and kneading those tight cheeks… bringing out the redness from a nicely spanked bottom! Check out the face cam and butt cam split screen angles, they work perfectly on close up… You can see Amber getting up close and personal to Sophia as well… a nice touch with the sex toy makes this a super hot girl on girl erotic spanking film!
Oh my… isn't this a smoking film? Just some of the many typical hot unique girl girl discipline films Amber has worked on to her style over the years, all filmed by her daddy – they know what's hot and what is not, don't you think? #schwiiing!
Join up to SpankAmber.com and access to all 3 sites in her network – I promise you will NOT be disappointed!