Oh my… This film hasn't been out long (24 hours) and I already had some nice emails about it) – Yes… Isobel is featuring in more films and "yes", you'll be able to see more of her at AAA Spanking or Sarah Gregory Spanking throughout the year! & "no" I don't think she does 1-2-1 sessions as someone asked but I will give you her Twitter account (it's not that active but you can see what she is doing via that social media if you so wish).
Fun times from Fetishcon last year! Sarah with Isobel…
I first met her at last year's Fetishcon in Tampa and she is one of the friendliest fetish models I had ever had the pleasure to come across. Add to that she is extremely kinky and loves filming in between her hectic life outside of this… she is a real asset and my pleasure to introduce you to her alongside my good friend, Johnny, who helped make this an interesting film since they both came up with this 22 minute something plot that had LOTS of varied spanking with other kinky action that they both loved! What better way to showcase Isobel's glowing talent than a "Spank Casting" – A perfect scenario considering we were in the confines of a Hotel hosting a massive Fetish Convention… so as the title suggests…. Johnny wants to find out if she is a "Player or Poser" – (we saw far too many of the latter at this event which is how they came up with the title name!)
Isobel Wren is a beautiful and well known fetish actress, so when she answered a call for a spank casting, she met Johnny Lake, one of the many producers at the hotel event they were attending. Johnny was well known in the biz as a "Pleasure Dom" – taking time to ensure that his ladies and ultimately his membership got the most from filmed content that was being made! Isobel was not a complete stranger to spankings and some similar core kinks. However he wanted to see if she was a Player or a Poser! So she was given a warm up OTK hand spanking followed by a harder cropping to test her reactions. Isobel admitted that she wanted to experience more pain & pleasure derived from a session and so Johhny used his trademark deer skin Floggers, expertly caressing her with just the tips of the flails before she experienced his preferred Reformatory Strap and canes… used not to punish but to continually give Isobel a buzz whilst ensuring her bottom turned a dark speckled red without her even knowing! This is the 1st film featuring the alluring Isobel Wren, who had great scene chemistry with Johnny Lake.
An OTK bare bottom spanking & riding crop & stripped to see if she was shy (she was not!)
Deer skin floggers were used with varying intensities across Isobel's bare back and bottom
The Reformatory Strap used differently here, not just used for severe punishments…
Johnny was impressed and Isobel got the job with flying colors!
SEE A FREE CLIP OF THIS LATEST FILM HERE
(The members area 1080-MP4 at 50fps is even better!)
This film is already available in full (in 3 formats of your choice) at the Clips Store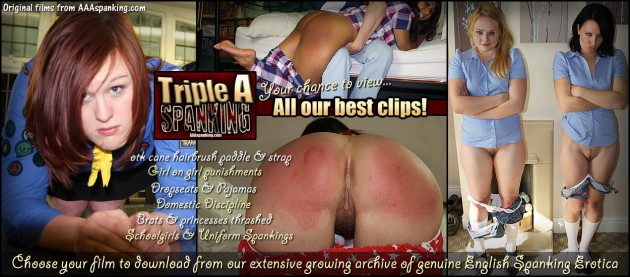 Isobel Wren's Twitter feed can be seen HERE
*************************************************