The asbestos abatement crews were in our basement today… cleaning up tiles that had remained on the floor until the shitwater damage got the carpeting and walling removed to reveal what was below! Asbstos tiles from the 1930s or so! Great… more expense and time to see this removed! We also had the sewer outlet outside our house briefly repaired so it can be used until Spring when the ground isn't so frozen and they can come back and dig up our front yard once more! Joy! This is heartbreaking stuff… and both Sarah and I are rushing things to try and get an important custom shoot ready and prepared in some way in the basement, already the clean up crews have been in and sterilized the area and it looks better than being under 4-6 inches of dirty water. We have girls flying in, all with tight schedules and COVID testing/isolation as well as at least one young lady hoping to catch up with her family whilst back in New England. To let them down or our esteemed client, we can't! Anyway, costs are spiraling out of control and Sarah gave in and started a Go Fund Me – she hated doing this as it admits some defeat (temporarily) that we need additional help… but we know the insurance is not going to cover a lot of this and we have paid a lot out of pocket already. Her Go Fund Me is HERE, if you have ever been a fan of Sarah or know her work ethic, it is second to none… and I hate seeing her so upset. She was genuinely surprised and heartened by the response so far… so "thank you" to those who have helped her so far. If you can donate, no matter how small an amount,  I know this would help her immensely. Of course, you could also just join her websites and support her that way and get something back yourself 🙂
Anyway, today… I thought I'd feature other folks' work until I do the next big SG feature later this week.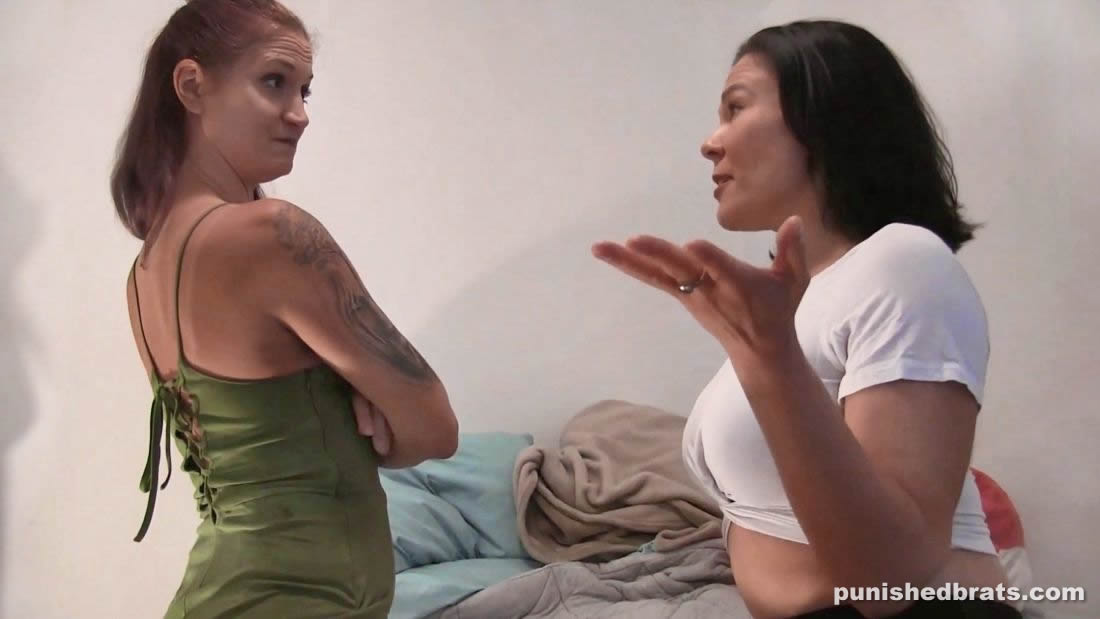 with Autumn Bodell and Audrey Sugarsmak
Audrey came home to find the apartment that she shares with her roommate to be in total disarray. She quietly waited for Autumn to come home from another of her numerous "dates". When her roommate arrived Audrey confronted her not just for the state of the apartment but also for her lascivious behavior. When Audrey saw that her roommate had not taken this matter seriously enough Autumn found herself bent over the bed for a spanking. Autumn's bare bottom was spanked until she agreed to keep the apartment clean and be more thoughtful in the manner in which she behaved with her boyfriends.
As well as offering cheap membership options, there is a current promotion for a 3 day non-recurring "looksee" membership, giving you full access to the site for about 5 Bucks! That's less than a java Chip Frappuccino from Starbucks! Check out the website for the latest movie updates like this cool film featuring fan fave Audrey Sugarsmak and sexy redhead, Autumn Bodell.
with Elori Stix & Miss Elizabeth
Schoolgirl Elori keeps her regular weekly appointment with the school Counselor, Miss Elizabeth, religiously. Wondering why she is so dedicated, Elizabeth discovers that the appointments negate one of Elori's two French lessons each week. Claims of bullying and a French teacher that doesn't like Elori do not wash with Elizabeth and she determines that Elori needs to learn a stern lesson… across Miss Elizabeth's desk, with her panties taken down and a wooden ruler smacking her bottom!
Check out the FREE preview clip of this film from the extensive tour pages of Northern Spanking
Finally… because, who doesn't like to see ladies spanked in jodhpurs? Here is the super sexy Jentina Small (who I have a serious spanko crush on) from an archived film at Spanked In Uniform – she can take a spanking and looks stunning doing so, my favorite combination! I know that once I finally am able to leave the USA and return to Europe, I intend to see if Jentina would film for our websites… oh my, wouldn't that be something? But until then, check out a lot of her spanking fetish work below. This feature is taken from the Lowood Riding School series:
with Jentina Small & Mike Johnson
Little snobbish riding girl, Jentina, took Raven out for a run and she put him back in his Paddock thinking someone else would dry and feed him. That is not how things work at the Lowood Riding School as she was soon to find out… begging for forgiveness across the owner's knee. Jentina did not dry Raven sufficiently and he was not fed after his run. The owner checked and confronted her in the stables. She was soon dragged back to the office where her own Riding Crop had very painful things to say to her quivering, bare bottom.
See more of gorgeous Jentina getting the spankings she deserves in many uniform style spankings CLICK HERE