I have had an absolutely horrendous day at my workplace… I'm shattered and remembered that I had promised to upload and show you this POV spanking film. So I will be brief and get this to you as it is now 2.15am as I start to write this and I am working at 7 am (up at 6am so better hurry!)
I have taken some images from this unique scolding and spanking experience in the POV style from YOUR perspective as the spankee… if this appeals to you, read on… I have a future film of sarah as the spankee in this POV style… but today… YOUR ass is hers! 🙂
Welcome to Sarah Gregory at POVspanking.com as she attempts to scold you but you're being naughty as you keep looking at her amazing cleavage! Sarah is NOT impressed with YOU and was going to just give a "naughty boy" spanking over her lap… but now she's going to spank YOU harder and with a small leather paddle that will sting like hell! Enjoy this POV spankee perspective as YOU go over Sarah's lap. This is filmed with the camera being YOUR eyes and it's the closest you'll get to being punished for being a dirty breast peeping pervert over the lap of Sarah without seeing her in person! Filmed in HD-MP4 1280×720 playback for a clearer viewing experience!
Here is a free teaser clip as Sarah is displeased with your poor attitude while she is taking to you… she is fed up with you staring at her amazing tits and *that* plunging cleavage… *tsk tsk*
Check out the full film – only available from POVspanking.com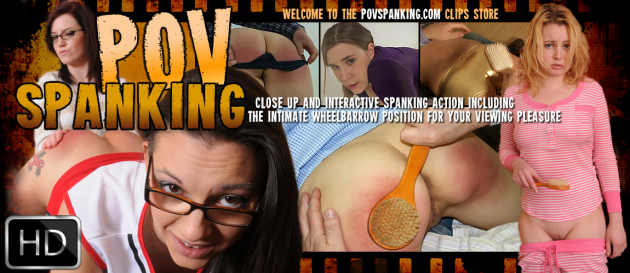 *****************************************
OK, it's now 2.30am… I need sleep. Good night!