Hi everyone… sorry I haven't been here as often as I'd like, but with Sarah being here in the UK… I have been helping her see the sights of the country. On top of that she has some private customs/commissions as well as a great film shoot we did recently with Rosie Ann for the SG Group of sites (Momma, Gregory & AAA). I will definitely blog about that next time as I still have to catch up with a few behind the scenes images from various phone cameras… but today I wanted to quickly catch up with some spanking industry updates you should know about from other sites that you may not already have seen.
At Real Life Spankings – Mike went outdoors to the woods (it's a good time of year to film this content… as I did some more outdoor scenes too!) – Check out naughty Angel's bare bottom switch punishment (below):
Mike got a phone call from Angel and she desperately needed a spanking. He got into his car and picked her up. As he couldn't spank her at her place, he took her into a nearby woody park and gave her a sound hand spanking followed by a good bare bottom switching punishment!
Check out the full spanking video HERE

New girl Ami Mercury is proving a "big hit" (literally) alongside Veronica Bound in this home discipline video now out in full from Punishedbrats.com
Rent a Mom – now featuring with Veronica Bound & the bubble butt of Ami Mercury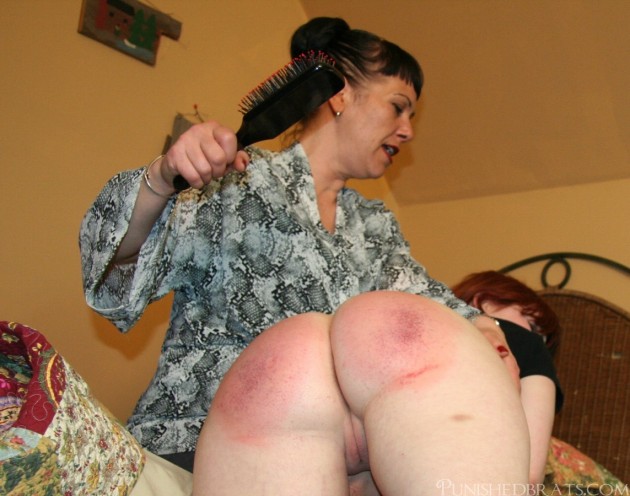 After their rocky start, Veronica sat down with Ami to go over the rules. That night, Ami was supposed to have attended a study group but went out drinking instead. The next morning the nerdy college freshman was awakened by a hairbrush wielding rent-a-mom. A dazed Ami didn't know what to say or do as she was taken over Veronica's lap until the hairbrush began finding it's target over and over.

With the hairbrush landing repeatedly upon Ami's exposed and rapidly bruising bottom she could do little but promise to be good and beg Veronica to end her punishment. After her spanking was over, Veronica instructed Ami that she had less than an hour to get to class and she was not to be late. All Ami could think of was the pain of sitting on the hard wooden chair and suffering through a two hour lecture on photosynthesis (thermodynamics would have been a better class that day).
Check out the full video of Ami's hairbrush punishment HERE

A few excellent and very hot spanking updates from the Clare Fonda group of sites – all of which can be viewed collectively via the CLARE FONDA PASS or at the individual sites (they are all massive in their own right!)
From Spanking Sorority Girls – Snow Mercy directs Veronica Ricci on how to spank and punish naughty student Koko Kitten
Teacher Snow (Snow Mercy) recently spanked Veronica Ricci to instruct her in the ways of spanking as she is now sorority leader. Snow wants to see how Veronica does and has her sit on her sore bottom to put Koko Kitten over her knee and practice spanking Koko hard. She also shows her how to use implements on Koko, including the large wooden pledge paddle and wooden yard stick.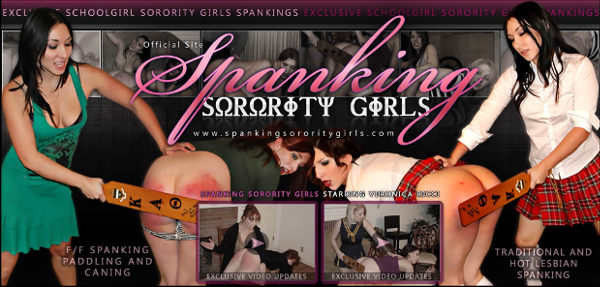 The "Visit Home" is a new long play video from GirlSpanksGirl.com with a new debut from 2 very pretty ladies spanked by Snow Mercy.
Snow Mercy plays mom to Emily Parker and Jenna Ashley (in her first ever spanking scene). The two sisters are home from college when they start fighting about who took mom's car back in the day. Mom gets fed up with their constant bickering and when they spill her wine, the last straw, she puts them over her knee, one by one, and gives each girl an old fahsioned spanking. Next morning, Snow finds out that the two sisters, Emily and Jenna, took her car back during the day without her knowledge. The angry mom gives them a second spanking for it on their already sore, spanked bottoms. After their second spanking in two days, the naughty girls spank each other in the sexy finale.
See more of these girls getting a good hard sexy hand spanking HERE

What do you think would happen if Snow Mercy and Madison Martin ever became housemates? Well, you are about to find out… these 2 switches will be spanking each other til the early hours!!!
Snow has gone through so many roommates she is looking for some stability. Madison also needs a new roomie. They agree to give it a try, but Snow insists on giving her new roommate a spanking to seal the deal and Madison must return the favor. Two spanking legends together for the first time ever is electric.
See the full vid update in this ongoing spanking soap opera HERE
These sites are part of the Clare Fonda Pass – giving you full access to up to 5 sites for a fraction of the combined cost!


Finally… Luna gets her 1st spanking for English Spankers – see how this turned out (below)
Luna was not new to being spanked when we got to interview her, she had already made a couple of films with Spanking Sarah so she was quite well aware of what a good hard spanking was. We wanted to know a bit about her and how she got into the world of CP and spanking and think you will also be fascinated by just what turns this lovely young lady on. Despite all the chat she did end up being well spanked, you will see from her reaction that it was a painful experience even if she did want it.


Have a good ass grabbing/spanking weekend! 🙂