Hi everyone, it's another new week, edging closer to the end of this awful year. It's great to see that vaccines are starting to be rolled out and I know that as soon as I can, I will be getting it. Hey, for those that don't want it, believe it's a hoax, or just refuse to be vaccinated (thank God these people weren't around when Smallpox was finally eradicated by 1978 thanks to the global W.H.O. efforts). I hope that those who refuse to help/understand are unable to travel, as I intend to, and I don't want to be put at risk because they believe in baseless Q conspiracies. Getting vaccinated will provide that bubble and the security we would need. Anyway… there is a lot to look forward to next year, but right now… spanking updates go on in a relentless manner! What I have enjoyed seeing are all my favorite spanking sites still able to keep up with new movie updates on a regular basis despite most of us unable to film due to the current risks. From clever remasters of older content, or finding unseen content filmed years ago, having it edited as new… to even having other producers film for them (we have done both sides of this coin – filming for sites and approaching those in their COVID bubbles who can produce content for us). The spanking biz goes on… So here is a selection of the latest spanking updates that I am showcasing for you all. So without further ado… let's get on with the spankings!
Once again Amelia finds herself in the physics detention class and the master is not pleased with her supposed improvements. He now has permission from the headmaster to deal with her in the most severe way. Her punishment starts with a hand tawsing with the school strap. Amelia did not take this too well and is not looking forward to what is to follow A bare bottom thrashing with the school cane. It is not often a girl is caned in this school so when it happens it has to be a real deterrent, which means it must be well laid on; Accurate and hard. Her bottom is soon marked and painful.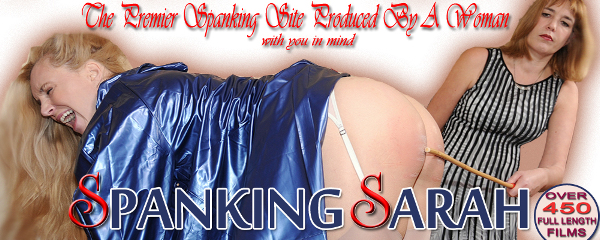 Nurse Olga was supposed to take care of a patient at her home but the little madam decided to take a nap, forgot to give the patient her medicine, and did not have the required uniform on. Her bottom pays dearly for that. In part 1: she gets a sound spanking. Olga, still laying on the couch with her bottom bare, gets a sound bare bottom paddling before being sent back to the corner to wait for her next punishment. In part 2: Olga, still laying on the couch with her bottom bare, gets a sound bare bottom paddling before being sent back to the corner to wait for her next punishment. The final part of this series sees Nurse Olga getting a sound bare bottom spanking in the diaper position before she is sent to the corner, bottom out, to reflect on her behavior.
Opal and Fae are having a fun afternoon at Fae's house, but now it is time for the playdate to end and for Opal to go home. They don't like this and are very loud and bratty when told that it's time to finish. Between the talking back, whining, and plain rudeness, they earn a long overdue spanking. Mommy won't have this bratty and childish behavior in her house. If they are going to act like babies, they will be treated as such. They are each taken over the knee for a good hard hand spanking. Next, the brats are placed, side by side, over the edge of the bed as Mommy takes the family strap to their bare upturned cheeks. Their bottoms turn a dark shade of crimson as they cry out in pain. Their punishment isn't over yet though, Mommy has one more final humiliation for them: A diapering! She diapers the two naughty girls laid out on the bed, bared, legs parted and exposed next to each other. They can only cover their faces in utter shame and embarrassment with this humiliating part of their long punishment. Those who act like naughty petulant little girls get treated as such.

This site is part of the Sarah Gregory Pass (click banner below for access)
Casey, Britney, and Ashley are trespassing private property that is vacant and listed for sale. They break in and know the house is empty so they have some ideas of how to have some kinky and sexy fun. Casey is the instigator, bringing kinky toys and full of naughty ideas. Just as they are starting to get kinky and naked, the real estate agent walks in on them, shocked at what she sees. She is there to prep the house to be shown and is not expecting to find three naked girls. Well, if they want to have some kinky fun, she will show them what happens when they get a real spanking. They plead and apologize saying they only like light playful spanks, however, they are not in a position to argue and Miss Bernadette has meaner plans for them. Each naked girl gets spanked over her lap, then with the straps, paddles, and crops that they had brought until their bottoms are nice and pink. They all find this rather embarrassing watching each other being disciplined and the punishment ends once Miss Bernadette believes they have learned their lesson. Of course, Casey gets the last hard strapping since it was her idea!

This site is part of the Sarah Gregory Pass (click banner below for access)
Sandra Sanchez has been one of the most popular girls featured on this website over the years. She makes up part of the amazing archives that members get to view and watching this gorgeous East European beauty spanked in the various humiliating contraptions, or having her pussy strapped, legs splayed, is one of the sexiest sights to behold! Check out 2 punishments films following on from the other as her privates are well and truly tanned as she is stripped of her clothing and dignity during these discipline sessions.