Well, as the countdown to the wonderful event that is the FIFA World Cup 2014 in Braaaaaa-zil continues for the start in a couple of days… you can always rely on the Argie-English baiting… our teams may not even meet each other (I think we'd both have to make semi finals) but of course, Madame Presidente Cristina Fernández de Kirchner of Argentina (the world's sorest loser and woman in most definite need of a damned good spanking) has once again ignited ill feeling towards us Brits (or English as it is the only part of Britain being represented in this tournament) claiming once more that The Falklands (I won't mention the Spanish name of this group of British islands as it is not what the indigenous and legitimate population call it!) belong to Argentina. Get lost, you stupid mad cow! How dare you use your (admittedly) good football team to pull off this cheap stunt so I have made up my own image from that as you can see below!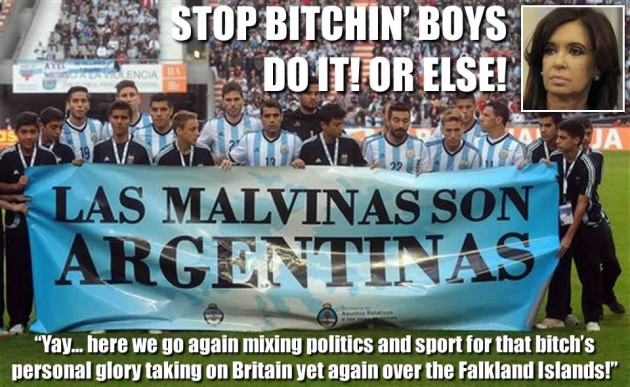 Of course, scandals and corruption go hand in hand with who gets to host the World Cup – arguably, the world's finest collection of journalists working for the esteemed Sunday Times have also caused a stir by quietly digging and investigating, as decent journos do… to suggest that there was rife corruption and bribery involved after the ludicrous award of giving the World Cup to Qatar (a real surprise) to host in 2022 beating off excellent bids from Australia (who I honestly thought would get it) and even the USA (I know they hosted it in 1994) but still… that still stands as the most watched tournament…  I of course still am pissed off at how FIFA treat England, we haven't hosted it since 1966 and could host it tomorrow without building new infrastructure if we had to, but still… who gives a flying fuck about the home of football, eh? So he is accusing the British press of being racist… oh do please shut the F*CK UP, Sepp Blatter… or Septic Bladder as I prefer to call him… something is rotten and trust me… those journalists WILL uncover and expose the FIFA bidding process for what it is, utterly corrupt. If it goes ahead, footballers will have to contend with playing as late as they can in Qatar as daytime temperatures in June/July reach over 50c (122f +) which is simply ludicrous!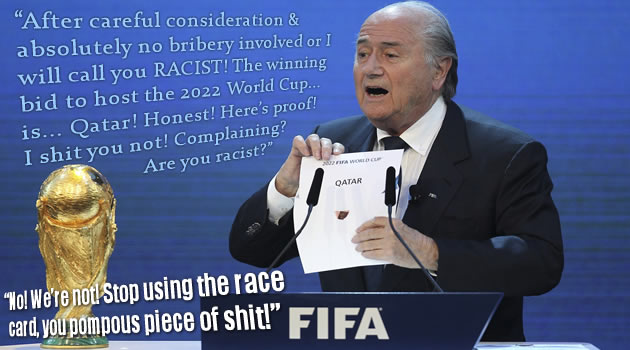 Anyway, enough of me ranting on… some of you won't give a flying fig about the World Cup… so I will get on with the reason you're really here… spankings! & LOTS of them! So I promise to make it up to you with a varied and interesting round of updates today. I promise, no corrupt FIFA officials or Argentine presidents were smacked on their bare bottoms for being exceedingly annoying and very naughty before bedtime! Pity… instead, we have gorgeous women baring their naughty rears instead!
I have missed 2 incredible updates at Spankedcallgirls.com with 2 ladies I like very much… ignored no more, let's visit my favourite Fonda group site as we see cracking debuts for both Joelle Barros and Pandora Blake #yay!
Pandora Blake's Undercharging Mistake
Pandora Blake doesn't really understand the exchange rate between pounds and dollars and has been undercharging. Courtney Shea is at the office to explain the difference and spanks Pandora to help her understand. Turnaround is the English way, so there is plenty of spanks with hand and paddle.
CLICK HERE TO VIEW THIS FILM IN FULL
As I mentioned, Joelle Barros makes her debut, this is the latest film update from earlier last week!
Joelle learns a spanking lesson!
Joelle Barros is the new girl who is naive and a bit of a prude. Veronica is tasked to teach her the way of the callgirl. But when Joelle shows her ignorance, Veronica uses spanking as a teaching tool. Joelle is a quick learner and gives Veronica a solid spanking as well.
Veronica gets a good whacking in this film, as you can see! CLICK HERE for the full film!
This site is part of the amazing value 5 Site Clare Fonda Pass
Giving you a combined monthly cost of these sites for a fraction of the cost!

********************************************************
I am a big big fan of Aleesha Fox, I know there are many others who feel the same, she's HOT… how apt that she turns up the temperature in this self spanking hot tub special that you can see exclusive to NorthernSpanking.com #mmm
Aleesha spends a warm summer afternoon in her hot tub, in her skimpiest bikini with some wine and her favorite toys for company. We watch from an (in)discrete distance.
See MORE of Aleesha's many films including this latest update from NorthernSpanking.com
**********************************************
Sarah Bright's own site has some beautiful girls getting spanked and this young thing makes her debut here after featuring at the sister site English-Spankers.com previously. It's a simple story and excuse for a spanking… webcamming naughtiness and getting caught!
Depraved Deception – featuring Belle Calder
This is what Sarah had to say about belle's appearance for her own site:
I sometimes really surprise myself, I found the very beautiful young Bell Calder some time ago but did not feature her on my own site, She did a couple of films for English Spankers. Well I thought I am not leaving it at that and I asked Bell if she wanted to come and make some more films and to my surprise she jumped at the chance. Now Bell is not a spanking model and the spankings she gets in my films really do get the message across. Her beautiful young bottom soon turns pink and then red under Mr. Sterns and then mine administrations. I do love the films I have made with her and I know you will love her.
 CLICK HERE TO VIEW THE FREE CLIP & ALL THE OTHER UPDATES!
****************************************************
One of the new site features at Spanked-in-Uniform.com takes us to a catholic school set up including nuns and teachers who don't escape any punishments when things go wrong behind the scenes… here we see the story of Sister Manuela getting an almighty hand spanking that God himself would be concerned about!
Sister Manuela – At the Bellview Catholic School for Girls #naughty
Bellview is a very strict religious school where only the very naughty of girls are sent to be reformed. The nuns, and the principal, believe strongly in the use of corporal punishment and hard hand spankings, birchings, strappings, paddlings  and the cane are handed out  frequently and severely.
Sister Manuela was called into the Headmaster's office because some of the parents had complained that she wears shoes and stockings that are not appropriate for a catholic school and she is a bad influence on the girls. Sister Manuela was given the option by the Headmaster. Dimissal or a sound spanking just like the girls get. She wisely chose the spanking.
CLICK HERE for this spanking niche and over 15 other types of uniform style spankings
************************************************
Finally… the conclusion to Sarah Gregory's very sexy girl on girl discipline session with Adriana Evans is up… and it is really hot. I had mentioned this before, the images below are vastly reduced in size from the original 1920×1080 HD screen images, but you get the idea, I should know, it was filmed on my cameras, looking good, eh? 🙂
Weekly Session – Sarah Gregory with Adriana Evans #schwiing
It's Adriana's regular session time and she shows up for the usual with Mistress Sarah. This consists of stripping down before straddling the spanking bench for a hand warm-up spanking followed by numerous leather implements. Next she is cuffed to the cross for some sexy strapping, paddling, caning, and flogging. This is a super hot and hard spanking video you don't want to miss!
See this film and more of Sarah's great punishment and erotic spanking site HERE
*************************************************
On a sad note, one of my favourite British comedians died earlier today, his loss to British comedy (I had grew up loving his anarchic style of  comedy) is massive: So if you're from America or further afield, you may not have heard of Rik Mayall, (he starred in many subversive British comedies of the 80's and 90's) … but here in the UK, everyone knew him or of him and would identify with his many characters from the last 30 years! Below was news footage from the BBC as they discussed Rik's life in  comedy… it's a sad void he has left – R.I.P. Rik Mayall, you will be missed by me and many of my countrymen! Goodnight.