OK, as some of you might know, I am a massive geek and love all things Sci-Fi – and especially the Star Trek franchise so I was really excited to see one of Mike's latest uniform additions at Spanked-in-Uniform.com which is loosely based Starfleet's finest of the Federation… However, this is NOT Starfleet in the future… but Earth Fleet (after all, the Dutch are now in Outer Space… in another alternative timeline, or something equally impossible and contradictory, lol!) Anyway… who can resist seeing girls getting spanked in those skimpy Earth Fleet uniforms? Let's beam up to the Disciplinary Ship Genesis… a place where no Earth Fleet cadets want to end up for long! Unless they are quadrupeds that don't need to sit down (OK, I'll shut up, I'm geeking you all out!!!)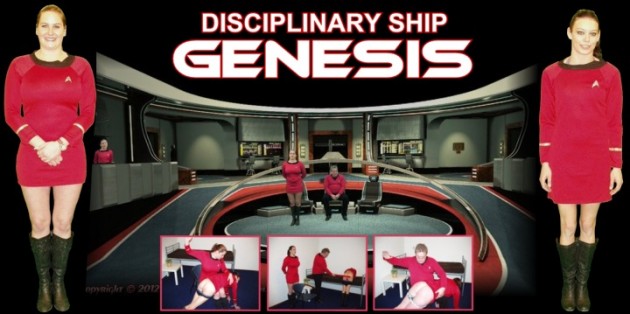 This is what the website says about the new series!
It is the year 2364 and Earth Fleet Command has decided that all females serving in Earth Fleet that have discipline problems, serve some time on the Disciplinary Ship Genesis. Commanding Genesis is the very strict Captain Rogers who runs his ship with an iron hand. Join us on her missions and see ensigns, Earth Fleet cadets and officers get rid of their discipline issues by means of well spanked red sore bottoms! To boldly spank where no man has spanked before!
In part one from the pilot episode we see Captain Rogers arrive on the Genesis while she is in spacedock. Lieutenant Betty & ensign Monique greet him at the airlock but almost  immediately the Captain notices Monique's hair is not tied up according to Earth Fleet regulations. He informs Lieutenant Betty to take Monique to her quarters as soon as the ship enters warp and to spank her soundly for this dishonour. & then she will get spanked too for not noticing an ensign with her hair loose. As soon as the Genesis was heading for the Uhura system at Warp 6, both Betty & Monique were having their bottoms soundly spanked and they were then introduced to the Captain's dreaded "Punisher".
See more of the Captain's Spank Logs of this new series HERE
Also featuring at Spanked-in-Uniform.com this week… the stunning Leandra!
Back to something more down to Earth at Mike's 50's Diner…
In part two of Leandra's painful evaluation she first gets a sound birching for serving the wrong flavour milkshakes a few times. After the birching she got a sound OTK slippering for not knowing how to make a proper banana split and lastly she had to bend over for a sound bare bottom strapping for being rude to a customer. She left with a very sore bottom!
Take a taster for yourself of the delicious Leandra's punishment – Full movie is Here