A NO BULLSHIT POST THIS EVENING…the wind is starting to pick up again tonight, another storm of immense proportions is fast approaching the south west of Britain as I furiously type this before I bore you with yet more moaning about the wettest weather in the history of mankind as our tiny part of our island disappears into the sea…
*gasp* – and so to some awesome spankings updates and news of my other blogs posts today! Starting with Punishedbrats.com – it's been some time coming but the return of Pixie to the studio, as spanker, was indeed most welcome. Any return was welcome  as it has been some time… however, Audrey should have been careful what she wished for… getting her amazing bubble butt spanked and punished hard over Pixie's lap. Check out these images below taken from the film: House Cleaning.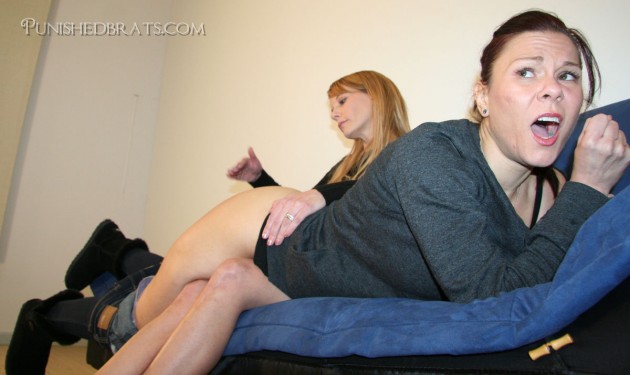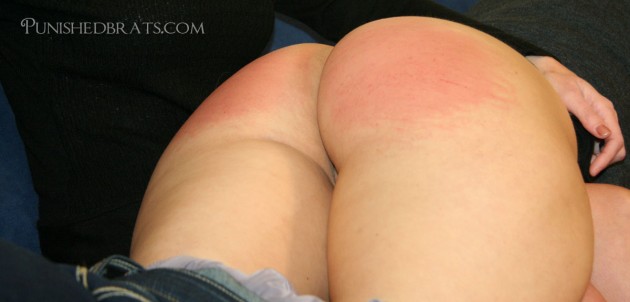 Audrey and Pixie are having a party. With the guest set to arrive shortly, Pixie can not get Audrey off of the phone and do some work in preparation for that night's festivities. After several warnings, Pixie knows just what her lazy roommate needs , a very hard spanking! After being thoroughly spanked, Audrey is left to complete her chores. With that sore bottom, she won't want to sit around on the couch anyway!
See the full movie & all the very latest updates HERE
***************************************************************
Stepping up onto the spanking stage next are 2 very naughty waifs that fall foul of Sarah Bright in a tale called "Granny's Dead" out now at English-Spankers.com
The home help is not too happy, she learns that the lady she is supposed to be cleaning for is dead and that her granddaughter Charlie is still drawing her benefits and enjoying the privilege of living in her house. Not only that she has moved a rather cheeky friend Lexie in with her. Lessons need to be taught and no time will be wasted. After making the girls remove their skimpy panties she starts by paddling Lexie on her bare bottom. She then puts the girls side by side and gives them a real swatting with the leather paddle. Despite their cry's of pain she continues till their bottoms are both bright red.
Watch the free HD Spanking Clip HERE
*************************************************
The stage is set and continues with this fight scene from last week having consequences at the House of Correction in this week's film update, which includes a full image set as usual with the HD film options at SpankingSarah.com when the girls are punished for fighting in the kitchen
It's a time of reckoning at the house of correction. Aunty Katie is not around but Sarah takes on the task of punishing Bow & Darcy for fighting in the kitchen and for making a mess of the baking. A nasty plastic spatula comes in very handy for whacking the bare bottoms of these naughty girls, despite their evident contrition Sarah knows that the only thing that will work is the administration of a lot of pain and humiliation. That's what she is an expert at dishing out
You can see the free movie preview trailer from this new film HERE
**********************************************
Brand new from FirmhandSpanking.com is a new girl, she is a stunning new addition to their site and you will LOVE her reactions and the spanking she gets in this F/F punishment by Dani Daniels (surely one of the sexiest young teachers around!) This new girl has quite the potty mouth on her, calling other girls "bitches" but she is soon regretting being so disrespectful! Welcome new girl Stephanie Murray in a great debut!
First hot spanking for senior Stephanie in school uniform
Beautiful athlete Stephanie Murray has a peach-shaped, creamy bottom due 400 smacks from Dani Daniels' hand in Private School! School uniform skirt up, panties down, cheeks bouncing furiously red, she says, "I think you missed a spot!" Attitude!
CLICK HERE to view the new preview video of schoolgirl Stephanie
****************************************************
Finally today, something a little different released at Spanking Server as gorgeous Ines, a long time model at this site gets a rather sexy and addictively watchable OTK spanking, the images below are taken from the movie clip you can view as part of the weekly updates!
Check out these hot girls and all the other naughty and severe spanking updates HERE
***********************************************************
As I mentioned earlier, I have also updated 2 other blogs with some great content not shown here today… got a few seconds then check out these 2 blogs as well… and do check them out on a regular basis as I intend to update them far more often and when I have time will be updating the designs to keep them fresh. Updates will be far more frequent… as you will see if you check out the previous recent posts too 🙁
CHEERGIRLS DANCERS & FRENCH MAID SPANKINGS
——————————————-
ARUBA! I want icecream & bath tub spankings!
*****************************************
Still here? Spot the photobomb! LOL!