Tales of my demise from that image I showed you yesterday are of course untrue… I had a great time earlier this week working with 2 new girls (to me) on a private custom shoot… I did a fun out take between a few films I was making to take this photo story… I broke up a fight between the 2 girls and as I was about to punish and spank them for their poor behaviour… they imagine getting their own back on me… hence my apparent demise at their hands! When I have time, I'll upload it to the members site… but I am rather busy preparing for my trip to America, I am going over early, well over a week in advance of the BBW Party in Atlantic City and spending time with Sarah Gregory at her place, so I will still be able to work in between at hers, but I would rather spend quality time with her, and she with me – so we are both frantically trying to ensure our sites have enough updates and such for us to update them with ease! The things we do, eh?
Don't forget that I am running the Freaky Friday bonus film update, I won't say anything here until Saturday if there has been any extra bonus film update, they are invariably short films and will be on top of the usual update expected on the Friday that they will appear! Hey… it's something for nothing, on top of my continued lower pricing and Trial Offer (check the sign up pages) for the full details of all that CLICK HERE!
As promised… another new girl to Triple A Spanking – aaaspanking.com this week is Adriana Evans – she appears in a film I loved making with her, having licence to use all manner of leather and wood across her bare bottom, including a tawse, 3 tailed strap and some heavy wooden paddles and a heavy thuddy hairbrush… all used with force that most girls would feel unable to take! It's harder than many films I have made, not everyone likes this, but I assure you it is HOT and Adrianna reacted beautifully, blubbing and so tearful at the end. She admitted to me afterwards that she loved filming this story and needed that cry… I was only too happy to oblige! Check out some images and screen shots from the movie below:
"I'm so Disappointed"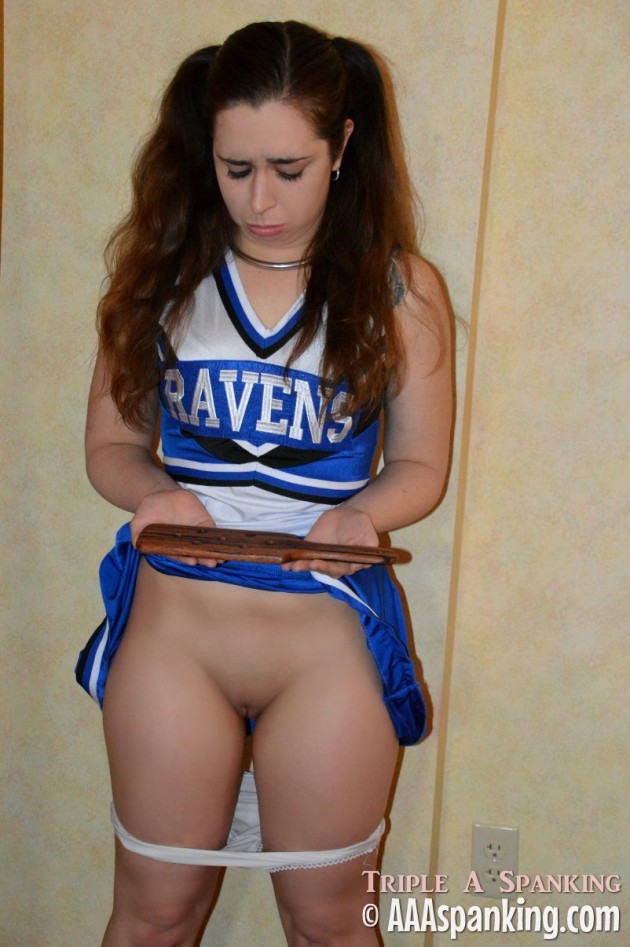 Adriana had been given more independence and the use of John's convertible on his insurance policy now that she was 21 years old. However, this freedom and his trust were tested when he received a warning from the police about her erratic driving behaviour and the fact that she had an open bottle of liquor in the car. They could find no criminal act but warned her guardian before she returned home when they checked the licence plate of his car. Adriana got back later from cheer practice and refused to admit what had happened which so disappointed John that he felt he had no option but to teach her a lesson about lying and dishonesty the only way he knew how! A series of ever more painful and humiliating strappings and paddlings until Adriana's tears were streaming down her face, proof that she certainly would try harder to avoid such nasty and severe punishments in future! This is her very first film released with our company and we are sure you will appreciate just what this amazing girl can take! She is sure to become a big hit with members.
Check out the FREE HD Clip HERE – the full movie will be available in MP4-1920x1080HD playback
This film will also be available at the Clips Store soon!

********************************************************
I will be back tomorrow with more updates at my sites and elsewhere… Goodnight!