In between the Spanking Awards that are taking place I thought I'd bring you a quick update (in 8 images or less today) of a few choice sites that I always enjoy viewing! No messing about today…. these are some of the latest updates to appear at the following sites and they are pretty hot whether you like hard discipline or the more traditional or even the hot sexy stuff… it's all featured here today!
Let's start with a period piece from a not too distant past – courtesy of Northernspanking.com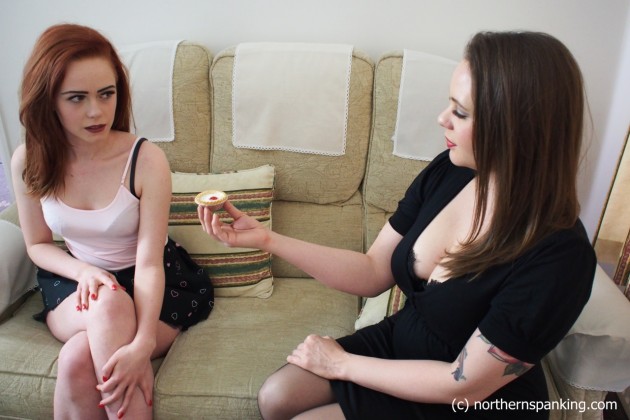 Aleesha is very protective of her husband or, more accurately, her husband's generous salary as a travelling salesman for a prestigeous pharmaceutical firm. It is 1980 and very recently a new sales assistant, Ella, has joined the firm and promptly turned all the salesmens heads. Indeed there is fierce competition to have her along as assistant on long business trips. There is concern among the wives. This concern is about just how those long motorway miles in the Ford Cortina (with its brushed nylon back seat) and those dull nights in the Trusthouse Forte (with their double-wide beds) are alleviated by having young, sexy, redhead Ella along for the ride.
As the senior wife, Aleesha determines to confront the little strumpet and invites her round to her executive home for coffee and tarts. This is what happens…

Some interesting updates this week from The Strand Group starting off with an instructional video for men and women on how to spank poor April May at English-Spankers.com
Kodders is a regular member of the Strand production team and now he wants to learn to spank ladies bottoms. We thought the best thing to do would be to get him alongside Sarah with a new model who was not used to being punished and then to train him. Well he did soon get into the swing of things. Once he watched Sarah rip open April's pantyhose and start to paddle her bottom he was eager for a try himself. He did quite well and so he went onto a more complicated lesson, spanking a lady in the diaper position. Wow, April certainly took to that and so did our two spankers. Good hard paddling in this film and it's quite rude to.

There is a new installment of Unladylike Manor
Out now at Spankingsarah.com featuring old fave Suzanne Smart
Another episode of Unladylike Manor after renting her maid out as a spanking model Lady Stern is annoyed that she did not get the money off the client and is determined to teach the maid a lesson. She makes her strip from her maids uniform to her undies then bends her over and paddles her bar e bottom till it is red and very painful. She is insulting and scathing as she beats the poor maid who in reality is more of a lady than Lady Stern.

There's a new update featuring the stunning Ashley Luvbug spanked as a daughter growing up!
Images are courtesy of SpankedSweeties.com
Ashley Luvbug was spanked pretty often growing up, by both her mom (played by Lana Miller) and her dad. She has come to enjoy spanking and shares her stories and takes some hard re-enactment.

I remember the next new film being released at Spanking Sorority Girls – This featured Sarah Gregory & Koko Kitten, this was when we last visited L.A. (good times!) Check this new spanking film (below)
Long time members Koko Kitten and Sarah Gregory square off in the kitchen as they each get a chance to spank each other with hand and a painful spatula. Who will win this power exchange? Which of the two disciplinarians can spank harder? Check it out to get the answers
This site and Spanked Sweeties are part of the best value Clare Fonda Pass – giving you up to 5 sites for a fraction of the combined cost! Check it out for yourself HERE


& Please do NOT forget to check back often as the top of the main blog will contain links (like below) to all the Spanking Awards Voting.