This weekend's spanking biz updates are now available in today's blog post! These are the latest or recent updates that I haven't covered… until now! So check out what's showing across "The Interwebz" right now!
First up is an excellent film we made last September featuring the hot and sultry Syrena (who was incredibly submissive) … she fought off the tears in this outstanding double performance from her and Johnny! Having had the pleasure of meeting her, I've since learnt that any film I have ever seen of Syrena never does her justice when you meet her in person. She has THE most amazing eyes that draw you in and is more beautiful face to face. Syrena is also a lovely girl who you can see at other sites such as realspankings.com or northernspanking.com – However, today's first feature is from Triple A Spanking and it's a cracker!
D-Day for Syrena – now showing at AAA Spanking
Syrena had returned late from a private spanking suite party she had failed to tell her boyfriend and dominant, Johnny, where she was. As she was Johnny's collared submissive, she should have at least had the courtesy of telling him where she might be and who with! he was worried sick! She arrived back to their hotel room to find him waiting for her. He wasn't angry, he was beyond that, he was just disappointed, so very disappointed! Now, of course, there were trust issues too. Syrena knew what was coming… it was to be her "D-Day". Her Discipline and Johnny's disappointment in her behavior. She was all marked from recent play (which he was not impressed about) and he told her that she was getting punished right there and then! Watch beautiful Syrena take a hard bare bottom hand spanking, whilst Johnny scolds her and reminds her that she needs to earn his trust once more!
She also knows what is coming, her bottom is already aching and feels on fire but she is told to lay on the bed and present her ass for his custom made "doubly thick" Reformatory Strap. She is so nervous, she feels ashamed and she knows this will hurt a lot! Her poor bottom is strapped heavily, each swat of leather follows through. Syrena is close to tears promising that she will do her best not to disappoint him again. This full length film also features bonus footage of her beautiful facial reactions during her OTK spanking. It is one film fans of Syrena will not want to miss!
Or if you prefer you can  download this full HD film as a one time download to keep at the AAA Clips Store, just click HERE or on the image below to see how!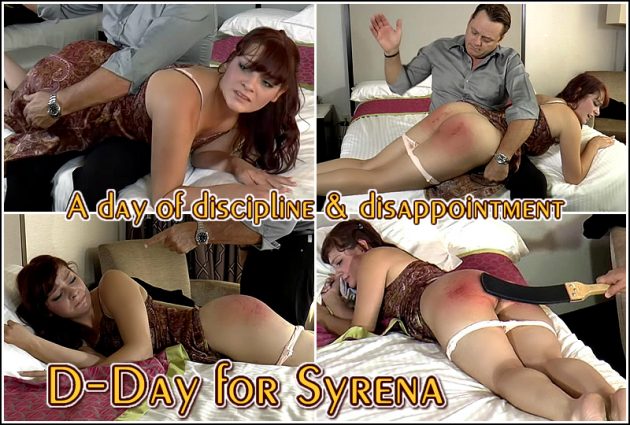 It's always nice to see self spanking films, especially when they feature girls that have never done something like this. Elle Bea is a good friend of Sarah Gregory & myself and she did this lovely hot self spanking film a few months ago. She lives locally to Sarah and just popped over and decided to make this… good girl! 🙂
NEW at Sarah Gregory Spanking – watch Elle's Self Spanking
In this custom film, Elle spanks herself with various implements in a POV style film. She uses a hair brush, leather paddle, and of course her hand. She gets into different sexy positions that show everything to the viewer! Don't miss the sexy self spanking film.

Finally, from FirmHandSpanking.com there is an ongoing Maid for Discipline series starring Amelia Jane Rutherford and Pandora Blake. It is proving quite popular with the "old guard" even if I am guessing it was probably filmed about 10 years ago so the quality of the camera work isn't great but nevertheless it is still proving hugely popular! This is the caning scene of Amelia. There are some quite hard strokes (even if they aren't always accurate from the caner… one stroke catches Amelia and her reaction is, as expected, very real and showing LOTS of anguish! Check it out (below):
Maid For Discipline – out now at Firm Hand Spanking
24 strokes of the cane, totally naked, for "immoral" Amelia Rutherford
Caught innocently nude in bed with her maid, Amelia is soundly caned still naked. Pandora Blake is forced to watch her new friend thrashed, knowing it's her turn next. Will Amelia be able to take the full 24 strokes? Will she run away with Pandora? Will Uncle Henry burst a blood vessel caning them in Maid for Discipline? Find out!