I placed this film at the Clips Store HERE in the best quality possible – I hadn't realized that it was never there for those people that like to choose the odd film… well, it is now! It was a great film, I liked the location and the punishment which was set in a believable circumstance where 2 schoolgirls were caught stealing from their classmates lockers. It has some mean scolding, embarrassment of strip searches and the punishment which included a frustrated slap in the face for Taylor from her annoyed Headmistress before both girls were ordered to remove their clothing for the humiliating part of their punishment side by side! OK, I'm a red blooded perv, so I get off to seeing this sort of punishment… and lovers of F/F content will enjoy this film immensely!
Locker Thieves – from AAAspanking.com
The girls have have been caught stealing other classmates cellphones from the lockers. A disgraceful act which would lead to a strip search & the offending items identified which sealed their fate. From smiles and arrogant laughter when they thought they had got away with their crimes… they soon faced a severe, shocking and humiliating punishment because this Headmistress was not afraid to slap her girls in the face when needed! & it sure was needed with new girl, Taylor! Both girls then realized just how much trouble they were in when they were both bent over with their white regulation knickers pulled down, bottoms quivering nervously high in the air as they took a variety of humbling thrashings beside each other designed to really teach them a painful lesson and make them both bitterly regret ever stealing!
CHECK OUT THIS FILM AS A ONE TIME DOWNLOAD IN HD MOVIE PLAYBACK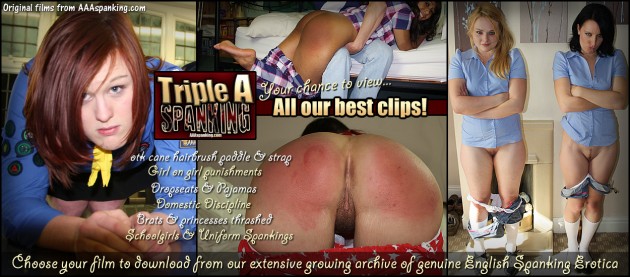 or view it as part of about 220 full length films with a very reasonably priced membership option (below)
*********************************************************
A brand new film is out later today… do NOT miss it… these 2 screen images (below) show you what's coming!!!
Jasmine & Sophie in "They Never Learn!"
******************************************************
I'm falling asleep now… stay tuned for news of the updates and more later today! 🙂