Hello everyone, I know that not many people look forward to Mondays, even more so after a holiday period and the vast majority of you all are back commuting and such. Myself? I actually like Mondays, it's the start of another week of spanking updates… and to be honest, as I work mainly from home I don't set aside holiday time in the strictest sense; weekends and holidays have never bothered me like some who want their precious downtime which I can understand. & with it being the new year (and most probably a lot of resolutions broken already) it was nice to visit Amber's site HERE and see that it's a had a little bit of a colorful makeover…
the orange theme is gone, now replaced with a primarily blue/azure theme and background. It's actually quite nice and clean… although I have always associated Amber Dawn with red since she is one of the sexiest redhead spankos known to man (and woman) kind! Still… visit her site and you get access to all areas where SpankAmber and AmberSpanks were different sites they have now been joined together as a super site with a vast collective archive with tons of bonus content too…
hard to believe that it was opened nearly 8 years ago now… wow! It seemed like yesterday when I had contacted her for the 1st time saying how much I loved what she was doing. I still do. Amber is one of those truly original spankos, who with her daddy, make great domestic and intimate spanking films which I have always got into from Day One.
There is A LOT of content – and so varied… a lot is quite sexual with her Lucky man (Daddy) and also features Amber playing and spanking some very sexy exclusive girls to her site… I was kinda hoping she might have made the trip to Vegas at the end of February when I would be there… but alas, it isn't to be. However… please do check out Amber's latest spanko plaything, Hollie Cakes (love the name) … images are taken directly from the movie!
Warning: Watching the tease show pictures & spanking of Hollie by Amber may cause Trouser Arousal & a need for some delicious Cream Horn cakes!
Introducing Hollie Cakes – strip tease!
****************************************
The spanking of Hollie is a simple storyline that we all love and know so well… Amber has a new maid, chosen by her man, in a tight skimpy and sexy outfit… and it's obvious why she got chosen! Hollie is stunning in her maid's uniform and Amber can't help but bitch at the girl less fortunate than herself. She dragged Hollie over her lap when she wasn't happy with her poor work, Amber spanked this sexy young thing solid for over 10 minutes, all the time getting off to what she was doing to this young babe. Hollie's cheeks soon reddened and speckled beautifully as Amber continued to spank and grope the girl's cheeks until she decided to watch her doing some humiliating walltime before letting Hollie resume her work! This film features a lot of split screen action as you will see from these video images.
Finally there is also a nice outdoor bonus movie of Hollie showcasing her bountiful assets in public as she strips off on the porch and displays her charms and freshly spanked bottom to the world! O-M-G! Check her out below… I think the "maid" might need to sweep the outside porch too, he he!
Images from the films are more explicit but I think you get the idea! Check out all of Amber's latest video releases, including this one with the lovely Hollie Cakes at SpankAmber.com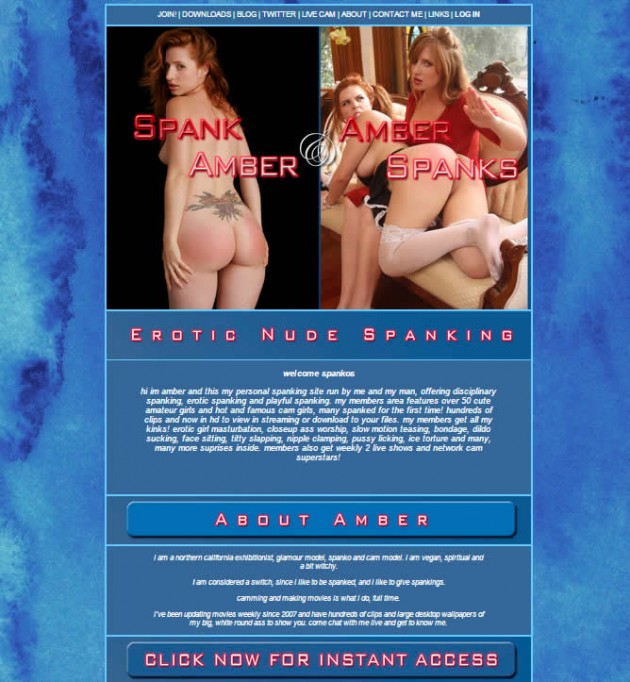 ***********************************************
& as it's a  New Year, I decided to start a new topic with a bit of fun which I will normally keep separate from main posts –  but if you have any suggestions (the more spanko and twisted/appropriate the better as you will see) then here is my out take on North Korea's number one chubbster leader, Kim Jong-un – featuring in " What did Kim see?" I should be safe for at least a week since Mr Obama kindly blocked Mr Jong-un's internet services… let's hope he doesn't do a Google search later, hehe!
What did Kim Jong-un see? #1