Hmm, well as I write this I hope all my American chums on the East Coast are safely tucked indoors away from Irene… I will never moan about our shitty summer weather again! Seriously though, I have family out there at the mo who were visiting friends in Long Island, who were then planning on meeting more family on the Delaware beaches/Baltimore area afterwards… um… oops! Plans are changed and they fly back next week from Newark… bugger!
So, to capture the awesome nature of Irene, I was going to put up a clip from Youtube, the "Goodnight Irene" song, an old classic, however, it is also the football anthem to a small club (giggle, any "Gas" supporters who read this will be murdering me since I support a basket case club in the same humble league as them at the mo…) anyway, enjoy the Goodnight Irene rendition as the fans who are playing away in a cup game behind the goal at Premiership club Fulham's Craven Cottage ground sing out loud and proud then have even more to celebrate as the underdogs won this game (I think)
Ah… that's why I love English football, the passion of the crowds!!! *sigh*
& so today to my spanking news updates and I'm starting with my own little site and the very latest film with a popular return of Kami Robertson as a naughty texting schoolgirl given a rather cruel and unusual punishment in detention!
This latest movie sees Kami in detention for stealing from the local shop. Mr Osborne had promised the owner that she would learn her lesson & pay back what she had stolen. However, Kami had been secretly texting at her desk instead of writing her lines when her phone rang giving her away much to the disgust of stern old Osborne. He read her damning texts about what she thought of it all. No matter, Mr Osborne had the perfect deterrant in the form of his trusty birching rod, a tightly bound collection of long treated hazel twigs tightly bound & far more painful & stinging than the cane and he intended to use this across her thieving hands & her bared bottom to ensure she wouldn't forget this detention in a hurry! There was no warm up or preparation, this was done quickly & severely without warning. Whilst Kami's hands were still burning, she was ordered to turn around, lower her knickers & bend over the desk for a cold birching which you will see she hated as the collection of twigs bit into her soft white rounded cheeks!
"The setting for this movie looked as austere as the images suggest! Not a place for any girl to flout a detention, least of all with Mr Osborne wielding such an implement!" Both Kami & I loved making this film, mainly because it was a first for us both… she had never been punished on her hands before, she had recalled… and I had originally wanted to strap her hands but when we saw the possibilities of this nasty bound birch, a few test swats off camera and her gasping " I think I can do this!" – well, the rest is shown here! (I can tell you this open palmed hand punishment really stung, Kami's bottom could take the punishment but she still had difficulty writing her letter of apology at the end… testamount to the painful thwacks given to her!
Hope you like this interesting schoolgirl punishment film
Now out to download at AAAspanking.com
***************************************************
There is also a nice double trouble punishment just released from Firmhandspanking.com that has real life twins Clarissa & Marissa Berkeley thrashed in their cheer girl uniforms! This is a start of a new series of films with 2 new girls at the (lucky) experienced hands of Earl Grey!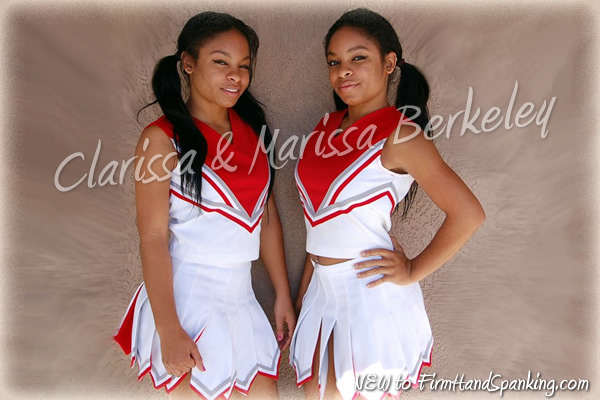 What can I say? OMG! Twins? For real? Yup! Firmhandspanking.com now have these 2 naughty girls in their clutches as a new series starts! Both girls are going to be punished in front of each other and this pair are going to be trouble as they just won't shut up! Earl Grey certainly has his work cut out as he attempts to bring order out of chaos! You can see the results of this unique new film and some HQ images taken from the movie below!
 Check out the FREE Clip of this latest punishment HERE
**************************************************
Hmm, I like to see cheerleader punishments so I'll stay with this as I bring you something a little different from Dallas, one of my all time fave spankers! Dallas is deadly with a paddle too, as you'll see below! He plays Coach Armstrong, reminding Jenny that she has to take "one for the team" – ah, that old chestnut, lol! She isn't keen, obviously… and wimps out but you can be assured that Dallas uses all his powers of persuasion to ensure she really does take it hard, and this clip is only a foretaste of what you can expect from the full movie, which is … um, awesome 🙂
Images and clip preview are taken from DallasSpanksHard.com
Some images from this punishment show off what happens to Jenny's delicous bottom!
I promise you won't want to miss Jenny's films – All located HERE
***************************************
I wasn't going to feature Clare's excellent Exclusive Education 6 again so soon, but since there are some amazing images of the classroom punishment and new girl Lilia Spinoza getting spanked by Clare in her cheerleader uniform, well… it was hard to resist! So just feast your eyes on the following, literally FEAST on these bottoms of all shapes, color and size… warning, please do not go blind at such delight! 🙂
You can of course see pretty Lilia in the multiple spanking punishments of the classroom, which is always a firm favorite for those that want to view the entire EE series… I hope Clare does persuade her to film again, she's a real cutie!!!
& of course the famous multiple bum shots never cease to amaze me, hope you like these with Lilia in the foreground
GirlSpanksGirl.com is part of Clare's Amazing value CLARE FONDA PASS (choose the sites you want!)
*************************
Have a good weekend and to all those facing Irene today and tomorrow, be careful! Chief.