With just one Quarter Final left to settle, my interest in the World Cup was given another blow by the sneaky Argies boring win over Belgium. I seriously doubt the Costa Ricans have it in themselves to pull out another performance tonight, but they are THE surprise team of the tournament making it this far… but if I were a "schpaaaankin' Dutchman" I'd be quietly confident at the time of writing. I basically don't care, I just want a team I know will make it difficult for the smug Agentines to make it into the final. Then I don't care who makes the final from this side of the group (as long as it isn't them, lol)… it will be good… so it's Brazil or Germany (personally one of those 2 will win this overall, I think) against either Argentina or the winners of tonight's game starting now (Netherlands/Costa Rica).
Well, that's enough football/soccer talk, I can see your eyes are glazing over… so feast your eyes on Dani's schoolgirl bottom in the very latest episode from my good Dutch schpaaanker friend, Mike… as the next installment of the Bellview Catholic All Girls School takes place…. see below!
Rude to her teachers! (this is part 1 out in full now)
Schoolgirl Danielle Hunt is in trouble. She was rude to her teachers and they sent her to the Headmaster. After a good scolding she received a long and hard spanking over the Headmaster's knee and she was put in the corner. He warned her that if she backtalks any of her teachers again, she will be severely caned! Will she obey? We shall see in part two….
Dani also stars in the latest episode from the new uniform spanking niche of "Law and Order" where she is paddled for littering… you can see what happened to her in this film (out in full) below:
Detective Ben brought in a young lady who was caught littering. She was eating some happy meal and when she was finished, she just dumped everything in the street. When Detective Johnson looked up her name in the computer, it came up that a year or so ago she was spanked for the same thing! Time for sterner measures. Detective Johnson took his heavy leather paddle, put the little madam over his knee and paddled her soundly!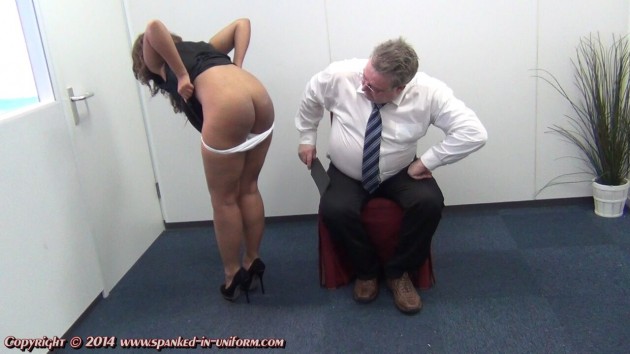 You can more episodes with Danielle Hunt across 17 different types of uniform spanking fetishes!
CLICK HERE FOR THE EXTENSIVE TOUR PAGES

******************************************************
Maybe Mike should do an orange uniform spanking? LOL!