Hi! Sorry I wasn't around sooner… I have been really busy and offline so not been on the net much at all until earlier today! The new film starring Zoe Montana is now out at my site and this is simply AWESOME! Fans of Zoe and those that want to watch somehting a little different, a bit edgy but consensual… take a look at this! We filmed it when we were at the Shadowlane Party a few months ago in Vegas… and Zoe was fine for us to do a film around cold caning, both her thighs which we knew would mark up… and of course her bottom. Zoe had already played a little but wasn't too marked up… I was a little nervous, if truth be told, as I knew if I messed up with the caning strokes then everyone at the party would see! I didn't bring any canes over with me (no room in my luggage) but I borrowed a heavy 14mm Dragon Cane from Johnny (aka FLApaddler on Fetlife) and both Dodgy Dave and Sarah helped me film this.
I had in my mind what we would do when we talked this through and agreed on 24 strokes and we'd do 6 at a time, reflect and continue… I also wanted Zoe to let us know what she was feeling, let the endorphins kick in and I wanted to keep her on edge as the final six strokes she knew would be harder… but I also mixed it up a bit and I realized instead of tapping her skin and giving her something to anticipate where I was aiming… I wanted to see how she'd process that if I tapped the bottom of her thighs and then hit her on the top (as most of the time she was unable to see exactly where I would be landing the cane). It was rather interesting and also I was very pleased with my technique… the caning strokes were hard and thuddy as agreed and nice and straight and pretty much every time, even when I nominated hitting her sweet spots… I got it right each time (phew!). That was pretty darned satisfying, I have to say!
The film ends with much aftercare, we had lotion on hand and this brought out the welts but soothed Zoe's aching skin. All in all, I really loved making this impromptu film… sometimes these unscripted adventures are just the best. I gave this film a high end production value… as there was tension and drama unfolding, there is music in the background to reflect this and I used split screens and various cam angles to capture Zoe's reactions – you can see the endorphins kicking in later on, it is rather awesome to watch back! I also used a few (not many as they can be annoying) "slo-mo" action shots where I thought it would enhance what was happening. The film is around 22 minutes in length and now available to members at AAAspanking.com for download. This film is also available to view in full from the Clips store and has been quite popular since it went up a couple of days ago, hardly surprising, I really think this film is fabulous.
This is all about Zoe and when she has finished discussing what we were about to do… the focus was always on her as this was Zoe's deal, she requested that we do this and, of course, I was more than happy to film this! I have a fair few screen images and a free link to the film, the HD1080 version is only available to members – or Clip Store downloaders! Enjoy! I have also included the official descriptor blurb of Zoe's caning so you know exactly what it was about!
Zoe's 24 Stroke Cold Caning
John had a blast playing with Zoe Montana at the last Shadowlane Party and this film collaboration took place when they agreed on what she wanted… a good hard cold caning session for which he just happened to have a heavy 14mm Dragon Cane to do the job. Zoe requested that the cold caning should be on her thighs too and they arrived at a round number of 24 strokes delivered hard and cold. This film introduces Zoe to the site followed by the canings which took place in groups of six. After each stroke, Zoe wanted to process that feeling and in this film, for the very first time, mood music was produced with background tension music too with various camera angles, split screens and a few "slo-mo" impact shots as her bottom and thighs showed signs of the cold caning. As Zoe anticipated and processed the strokes John changed this a little by randomly chosing a spot without tapping to aim beforehand, making this particularly edgy for Zoe who admitted it got more intense! This film also includes the scenes of aftercare, with lotion carefully rubbed into her sore welts as well as plenty of hugs. This is a totally unique and amazing film that admirers of Zoe Montana and good hard caning techniques will enjoy immensely.
Click image below to view this free clip – if it doesn't play in your browser or device CLICK HERE to view an alternative downloadable clip from the main site tour pages
View the FULL HD1080 film as a member at AAAspanking.com
Or view it as a special one time download at the CLIP STORE HERE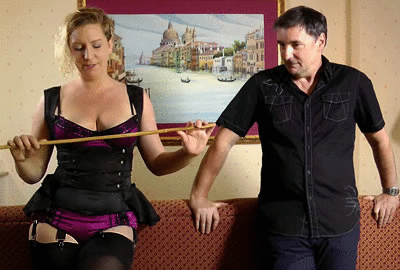 Now with over 225 full films – and we have another special Wheelbarrow Spanking Festival to look forward to next week with 3… "yes 3 films!" on top of our updates making it an awesome super week indeed! What with this film, the conclusion to the Amelia Jane Rutherford shower scene (which I promise you is worth the entry fee alone!) what else have I been doing this week? Oh yes, I managed to find how to make sure my European prospective members get the best deal from CCbill by turning off their preferential rates, so please… no more bleating, on a long term membership, this will save you money. Of course I shall monitor this and see if I get an increase in European sign ups now 🙂
& don't forget the extra incentives I have currently at the site – the Loyalty Membership scheme is one of my most popular and no other site has dared do this quite the way I have – rather than an annual sub, this gives you the freedom of joining long term but YOU decide when you want to stop, if at all… as you get billed every 3 months at the rate of an equivalent $11/month after the initial month's sign up. It rewards Loyalty… (and now this rate applies to Europeans/Asians/Oceana too without CCbill's rate fixings!) and I promise you I have some AMAZING films coming up between now and the New year I know you will all enjoy very much. I am getting excited thinking about what is coming!!! LOL
Signing off today, I found a couple of images taken of Zoe with us after the Shadowlane Party when she stayed with us (or Dodgy Dave's room, to be exact) when we were at the Elara Hilton hotel… chilling by the pool… you can clearly see the aftermath of Zoe's thigh caning marks and bruises about 5/6 days after the filmed event. I loved that she didn't give a flying shit who saw her marks, I was proud they were still there… it was a nice way for us all to relax and enjoy a moment of peace and tranquility. Of course, Zoe would be able to tell you far more naughtier stories of what she got up to in the evenings before her trip to San Francisco (when we all parted our ways at the end of that week), but I am a gentlemen… and we never spill the beans unless told to *wink*
Sarah & Zoe relaxing poolside…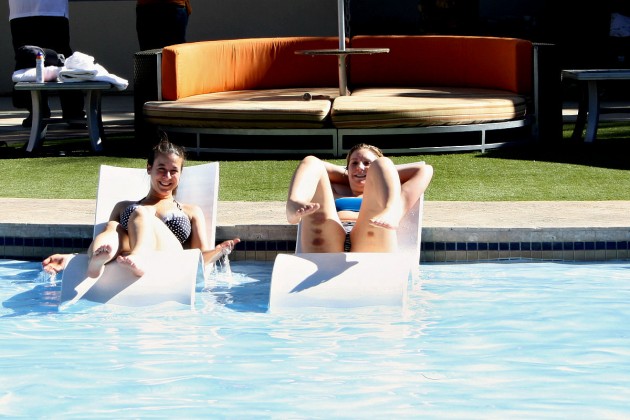 Zoe chills and checks her messages as I get a photo taken chilling by the pool with a well earned rest!
Hope you enjoyed this insight into an incredible film we made, please enjoy it and I look forward to bringing you more exciting news coming soon for members of AAAspanking.com
********************************************************
Lest we forget, it was Remembrance Day (or Veterans Day as it's called in America) on November 11th which was especially poignant here in Britain since it marked just over 100 years since the start of the First World War – in Britain alone an entire generation of young men were wiped out with the loss of over 880,000 lives! We respect and remember those that gave their lives in this and all the other conflicts since that dark time. In London, the poppy appeal has really taken off this year with a special display of ceramic hand made poppies planted by hand (over 880,000 of them representing every fallen  soldier from that first awful war). It has made an awesome tourist attraction as well as bringing awareness to this year's appeal!