I'm not much into Halloween, I've brought some treats so the little horrors don't come up with some nasty surprise with flour or eggs and I will no doubt be grumpy as usual…. however, before that day, and the 7 Billionth child is born (it's reckoned on Oct 31st – and I wonder if it will be a child in Libya or one of the other "Arab Spring" nations? You heard it here first from this ol' cynic) … so before I go on one… here are some of the latest offerings around and there's some bloody good stuff out there right now! Sit back and relax as I take you on a whirlwind tour of the spankings that are making this weekend for me, and hopefully… for you!
*******************************************************
Stunning popstar Danielle is going on a world tour in a few weeks and she contacted the Rockford School Of Dance to help her with her choreography and get her in shape. Right from the start she behaved like a real Diva and she soon got her bottom smacked and the warm-ups were achieved with the aid of a stinging riding crop. She was told to stop drinking Cokes but during her break she was caught drinking one anyway so her coach marched her straight into the office, turned her over his knee, and gave her a hard spanking on her world famous bottom!
Not long after Caroline was soundly spanked in part one, she was in trouble again. She was caught fighting with a few prefects while trying to run away. She was marched straight to the Headmaster's office and she got a sound tawsing. Then she did it. She called the Headmaster a "pervert" and tried to storm out. He caught her and gave her a hard 12 stroke St. Catherines style bare bottom caning and put her in the corner. She finally realised that she better behave for her 2 remaining semesters (or terms as we call them in England) at St Catherines or she will be spending them unable to sit down properly!
It goes without saying that you can check out MORE of Caroline and all the other niche uniform spankings that make this site a must see everytime – CLICK HERE
************************************************************
NorthernSpanking.com have their regular daily updates including the next anazing installment of their Wheatley Manor film with an original and humiliating further punishment for Niki at the breakfast table , stripped , wooden spooned and spanked she is then made to lie naked on the table as an impromptu platter for all manner of naughty cakes & desserts (yes, I like cake!) – in fact the good folk of Northern Spanking even provide us with a handy recipe for the various offerings! Anyway, back to the humiliation and further punishment which eventually makes Amelia crack under the pressure…. oh dear, I wonder who's getting punished next? Images below are from this 10th long play episode!
Click here to see MORE of one of the most original spanking productions ever made
Whilst at Nothern and their many updates, I had to bring you a few images to the concluding parts of the "Coach Caned Bus Blamed" film which also is included in an out takes video also relased this week… but as it co stars 2 amazing girls together, Irelynn Logeen and Zille Defeu (who I am REALLY developing a spanko crush on right at this minute!) it's more of an excuse for me to show you their red naked bottoms!
Another reason to visit NorthernSpanking for MORE!
What more is there to say about that film? Wow! & the spankings continue…
**************************************************
Missy Rhodes is a cute petite model that I've known Clare has used to great affect at her Naughty Diaper Girls website – she has those looks that make her perfect to be an adult baby diaper girl… however, it's fantastic that she is now appearing much more at Clare's spanking sites and where better than at SpankedSweeties.com to let us know a little more about her history in the interviews and then get to enact some true real life stories like this one below…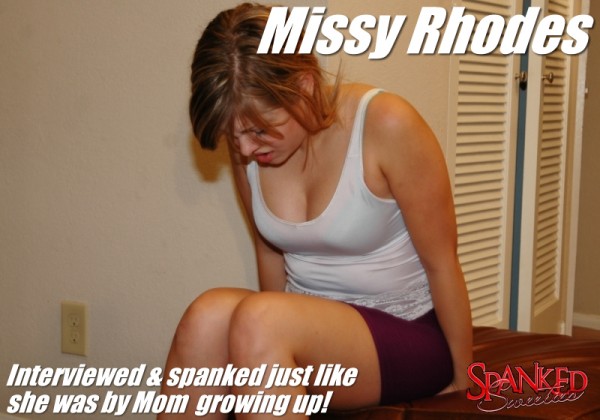 Missy Rhodes is such a sweet and sexy little hottie with such a pert bottom that it is quite exciting to find out that she was spanked growing up. Both Mom and Dad lectured pretty little Missy and took her over their knees. Missy had ber panties taken down by mom and her small and tight bottom got so read sometimes she even cried. Missy admits that spanking actually did teach her a lesson.
You can check out more of Missy 1st at SpankedSweeties.com
This site is part of Clare's now rather well known Clare Fonda Pass network – where you can get 3, 4 or 5 sites of hers of your choice for a fraction of their combined costing! Don't take my word for it, check out these movie galleries below which help prove the point that all this recent content can be grabbed at one place! Click any image below for the special freebies.
See how you can view all this and choose your preferred options HERE
*****************************************************
Chief's random image today comes courtesy of an ancient wall painting in the "Tomba Della Fustigatione " (Flogging grave) in the necropolis of Tarquinia from ancient times in Italy. Spanking has been around for some time 🙂
*******************************************
OK, back to the present day and into another site with their own multi pass options (which I'll cover later), but 1st I'm visiting RealSpankings.com which has had some stunning and severe spanking updates recently! However, I liked this movie (below) as it had Betty in her dominant role as she interviews and dishes out a punishment to the very pretty and striking blonde hottie called Summer. This was Summer's very 1st spanking on film which is why I'm highlighting this as I love seeing first timers…
Pretty Blond Summer is 23, has the cute and naughty surfer girl look, and based on her first shoot.Summer had some of the most detailed childhood spanking stories to share that Real Spankings have heard in a long time. It seems the tradition in her house was that when she was to be spanked, her step dad went upstairs and made a very big production about drilling a new hole in the large wooden paddle that they used for spanking. After the hole was added, she was called up, made to drop her pants, grab her ankles, and then received three hard swats on either her panties or bare butt. All punishments led to tears and left her bruised and sore. Her punishment profile on Realspankings gets way into the details.
Check out the very latest updates and movies at RealSpankings.com
**************************************
At their other sites as promied, here are a few images of what you can expect to find right now updated this week and I'll start with their schoolgirl themed site RealSpankingsInstitute.com
The girls are instructed to remove their uniforms and wait for instruction by The Dean (Michael Masterson). He makes the girls put on their missing ties from their uniforms. Ivy is told to kneel on the chair and bend over the table for a hand spanking, while Melody watches and waits her turn for the same humiliating treatment!
Below is another recent movie now released in full at this site and it has Danny catching Frankie chewing gum in detention. She is taken OTK and spanked on her bare bottom. She finishes detention with no skirt or panties, writing lines on the board! This is a classic OTK spanking film and does NOT disappoint!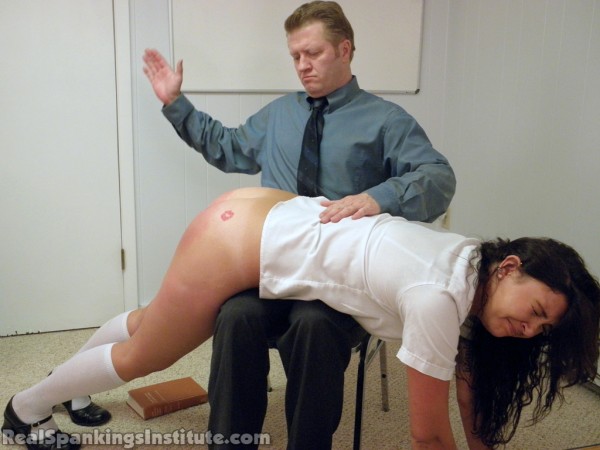 Now as I had mentioned something about a multi site deal at this network, you'd also get the chance to view all of Brandi's work stretching back 8 or 9 years and her site is STILL being updated twice a week despite her retirement years ago, such was the content they shot together…. and she will forever be known as Spanking Teen Brandi – images below are from the lastest movie update where her laughter in detention earns her the ruler across her bottom… and it is used with such force that the thing splinters… that HAD to hurt!
CLICK HERE to discover a way to view all the featured sites in the RSN (Real Spankings Network) for a fraction of the combined cost and see how many other sites you get with your one membership!
******************************************
I was going to finish here but I had watched a rather good film at FirmHandSpanking.com last night starring their brand new girl Kelly Morgan – what you get is a fine image set accompanied with the film of her very first bare bottom paddling, and they chose the PERFECT girl for their new facial reaction cams, she is so expressive… you just KNOW that those swats hurt like hell! Check her out below:
"Oh my God!"" Gasps pretty newcomer Kelly Morgan in her debut series, The Intern. ""That HURTS!"" The crack of a leather paddle 27 times across bare skin is a treat. So special that all 27 swats are shown on Reaction Cam too! She''s totally natural. Watch out for two fast sets of five… ouch!
See beautiful Kelly in her 2nd ever spanking film HERE
***********************************
Finally today… I hadn't realized that Sarah Gregory and Kat St James had been on holiday earlier this month, what's more, I did feel a little jealous that she was on the beautiful island of Aruba (it's off the coast of South America in the Carribean), I haven't had a holiday this summer at all, and after my crap week working all hours for a pittance whilst inflation and costs of living skyrocket… I wonder when I will be able to afford to go to an exotic location again. (I'm away visiting family in France for a short stay in a few weeks, but it will be up in the cold mountains… no sun there!) However, I'm not bitter, Sarah & Kat looked fab in their bikinis as you can see below… and what's more, they got to make a spanking film in their hotel bath tub, which has just been released on her site, and it's worth the entrance fee alone! Seriously, check them out!!!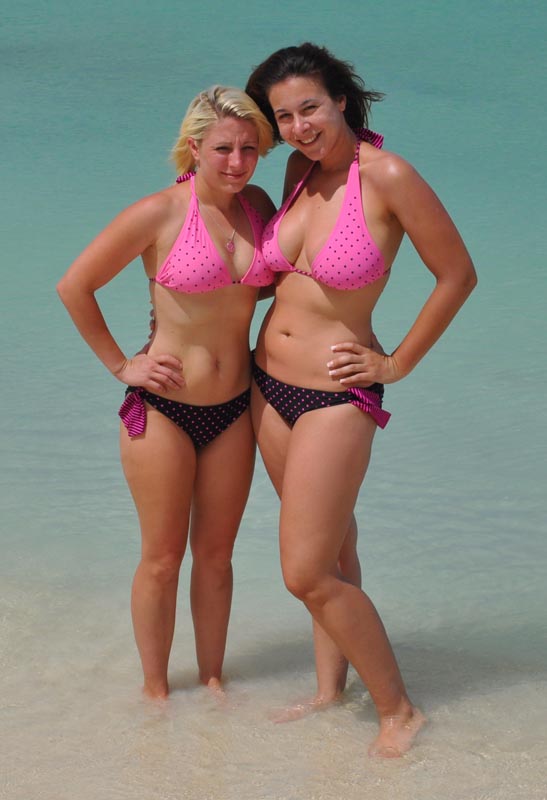 Sarah and Kat are on vacation in Aruba. Kat is trying to take a relaxing bath and Sarah wants to get in. Kat says she will let Sarah in if she pays the price. As Sarah gets in, she is pushed around to find herself bottom up and getting spanked. Apparently that was the price to get in. Sarah gladly takes her sensual spanking and then gives some back to Kat.
I love bath tub films… I'm sure you will too when the girls are as sexy as these
Click here to view MORE of Sarah's holiday shenannigans and spankings!
*********************************
That's it from me for now, back soon with a whole load of spanking and erotic punishments , once I've viewed the latest offerings! Have a good weekend, and I'll probably post some sort of  "anti-Halloween special", since I hate the way this "holiday" has become so over commercialised and exploited by large companies seeking quick profits from the public (including the one I work for, which I hate!)