Well well well… unfancied Baltimore only went & won the bloody thing in a game that had it all… 2 amazing touchdowns and a spirited fight back by the 49ers as well as Beyonce & Destiny's Child amazing half time performance … including my next Star Trek movie fix with a new special teaser trailer advertisement (which made me nearly pee my pants in excitement) – do I really have to wait until mid May for that? Damn! Oh, and even a floodlight failure to make it interesting too… Superbowl XLVII had it all. & with that, I give you the front of the Baltimore Sun's page (as some newspapers from various parts of the country begrudgingly put a small headline about the win… like the Boston papers *cough cough* since the Patriots lost out in their play off final… which did somewhat make me LOL a bit 🙂
& of course the fans went crazy in the Baltimore bars, I was in contact with friends and family over there and they had a GREAT time, wish I was there last night… but hey ho! This image kind of sums it up, I guess! & so enough of this nonsense, you've come here for more spanking updates, not to see me prattle on about some game of football, eh? … heh heh!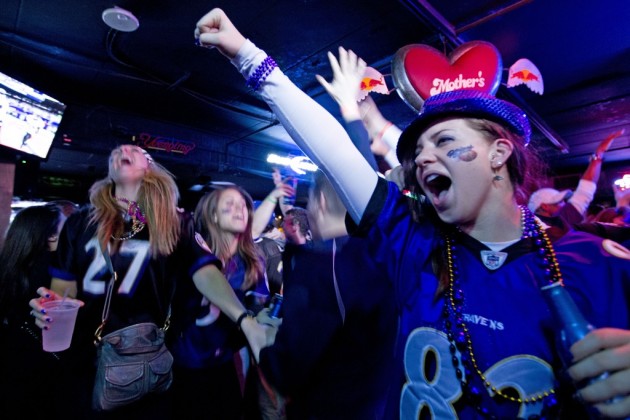 GO RAVENS!
& indeed I have retired to my Study, dimmed the lights selected my finest wine and cigar for some private viewing pleasure… I hope you enjoy these as much as I do! *inhale*
***********************************************
Mr Stern is the 1st lucky recipient today as new girl Krystal decided to try out for the Sexy Cleaning Company… will she pass the test as if she does she'll have to endure incoming hands across her pert behind as she cleans apartments and houses in that provocative costume affording easy access to getting her spanked! Images are courtesy of English Spankers – from their latest HD movie out now to download
Young Krystal comes to the Sexy Cleaning Company for an audition, she thinks it will be fun to go out and tease the guys with lots of looks up her skirt as she cleans for them. As you may know our guys are not so interested in the cleaning but do like to get a good look at a lovely bottom. The second part of her audition involves her being spanked, well why not and that's what she got, good and hard over the knee.
CHECK OUT A FREE HD SPANKING CLIP OF THIS LATEST FILM HERE
****************************************************
Pandora incurs the wrath of Thomas next when he comes home to a "Messy Kitchen" – I know how he feels as I had a similar problem recently with "Er indoors" who left the place in a right state only for me to get really annoyed and take her over my knee out of pure frustration! Thomas Cameron has other ideas, seizing a well known stinging kitchen implement… a wooden spoon (I have broken SO MANY of these across so many ladies bottoms… and no doubt I will continue to do so, lol!)
Pandora freely admits that she's spent too much time in her life daydreaming about spanking instead of tidying up! This is a classic domestic discipline fantasy with an implement you don't often see – and which Pandora herself has learned to dread. Pandora's wooden spoon spanking leaves her red and sore, and she's ordered to keep her bare bottom on display while she attends to the neglected kitchen.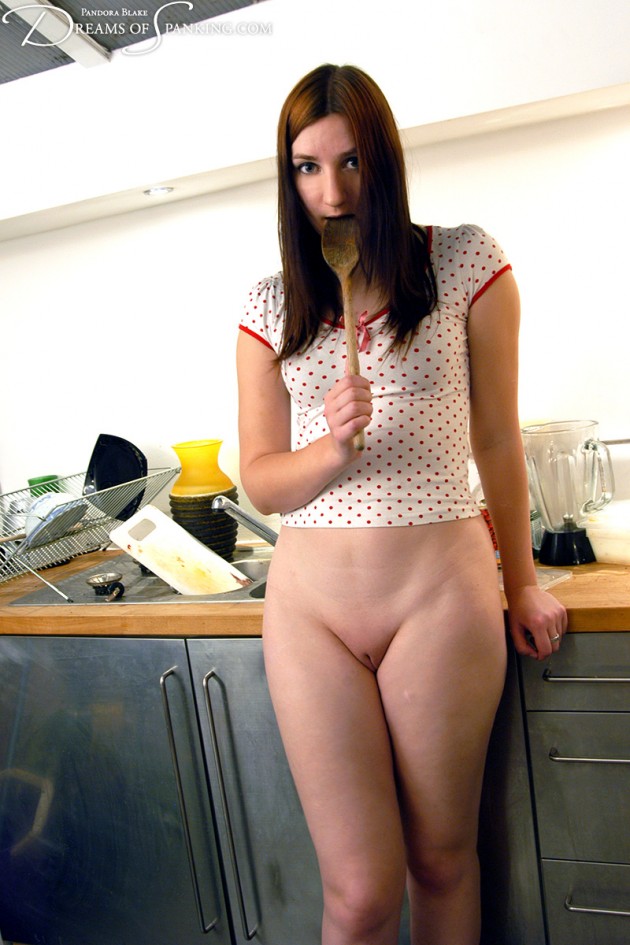 You can see a special FREE Preview of this punishment film HERE
****************************************************************
OK, finally for today… let's catch up with a couple of recent updates from Mike's Spanked-in-Uniform.com website as I spy yet another English import, Aleesha Fox, as a naughty schoolgirl (I can confirm she plays this rather TOO WELL, and of course gets what she deserves in the end) here it is no different, showing her thuggish side as she bullies classmate Monique before she is caught… and punished!
School bully Aleesha has been taken Monique's lunch money for a while now until she was caught by the headmaster. He dragged her upstairs to his office and severely scolded her. He put her across his knee and gave her a sound spanking. Then he told Aleesha to hand him the special hand cane and he caned her hands. Then she was bent over the desk for six of the best with the senior cane on her bare bottom. 
Check out this latest film and all the other uniform updates HERE
******************************************
Back tomorrow with early news of my next film which comes out Wednesday, teaser image is below 🙂
"Punished for masturbating" (that ol' chestnut)