Hello again… here are some more exciting and exclusive spanking updates for you all, most are fresh off the press, so to speak. A couple others are classics you probably haven't seen before but are typical of the sites I have featured so you have a great idea what each producer's films (shown below) are all about! Enjoy!
Amy's Caning for Credit Card Fraud
Starring: Amy Fox & Sarah Gregory
Gifted wild child, Amy Fox, has been sent to a special reformatory institute by her parents (at great expense) so that she can stay out of "Juvy" and continue her education. However, the institute has harsh methods of correction if any of the girls fall foul of the strict rules. In this case, Amy has gone beyond that, as she has been caught "up to her old ways," when she was discovered stealing credit card numbers… using them to make fraudulent online purchases. Her parents have given the principal, Miss Gregory, the means to carry out correction as she sees fit. Unfortunate Amy earns her first cold caning punishment for her serious infractions. Amy's sassy attitude soon disappears when the reality of this discipline takes place with her bent over the table, bottom vulnerable and exposed. The first 12 strokes are carried out with her panties pulled up, making them wedgied and feeling uncomfortable. Then the remaining 12 (after yet more withering and harsh scolding from the principal) are carried out with them down. Poor Amy loses what little dignity is left as these final 12 strokes really drive the point home. This cane is one of the most fearsome Miss Gregory possesses; A straight, knotless, dense Dragon Cane nicknamed "The Bequeathed" as it is so precious! The caning punishment is calculated and methodical, designed to elicit the maximum emotional response to the painful consequences of receiving 24 strokes… cold, from this most feared implement! The results speak for themself… Amy's poor bottom is welted and an angry red from the top of her bottom in uniform lines all the way down to her sore, burning backs of her thighs.
View all the latest films exclusive to AAA SPANKING
Riley Breaks in and gets Spanked Paddled Caned Birched and More
Starring: Riley Laroux & Stevie Rose

Cat Burglar Riley is caught by the lady of the house and must submit to a long, humiliating punishment. It starts OTK and goes to a hard paddling over a chair bottom stuck out. Then she bends over the couch wide legged and looks between her legs for 12 from a cane. The lady of the house tells her to take off her clothes, except her mask and gloves and report upstairs for the rest of her punishment. When Riley strips, she is told to undress, except for her mask, hat, boots and gloves. The lady of the house meets here in garters and thigh highs giving a very hard birching with a 6 rod birch across her bare ass. She gets on all fours and stick out her naked ass for 24 hard lashes on the bare. Then Stevie Rose climbs on her and gives her 5 bare pussy swats for cursing and finishes with 15 Penalty Swats on her bare and open butthole!  This is a very erotic and strict punishment from a beautiful redhead.
View all the latest films exclusive to WORST BEHAVIOR PRODUCTIONS
Sasha: Shackled & Paddled on the Bench
Starring: Sasha, Peter & Heidi
Sasha undresses and is shackled to the spanking bench by both Peter and Heidi. She is placed in a vulnerable position with her ass cheeks spread. She waits for him to begin the wooden paddling. Her unmarked bum soon reddens as the paddle hits her full force. Soon, her delicate cheeks are a deep blushing red from the assault on her backside. Sasha is released and allowed to reflect on her punishment during corner time… rubbing her perfect sore bottom.
See more beautiful East European girls exclusive to SPANKING SERVER
Spanked in Uniform series: D – Lucy's classic OTK
Starring: Lucy Lauren & Dodgy Dave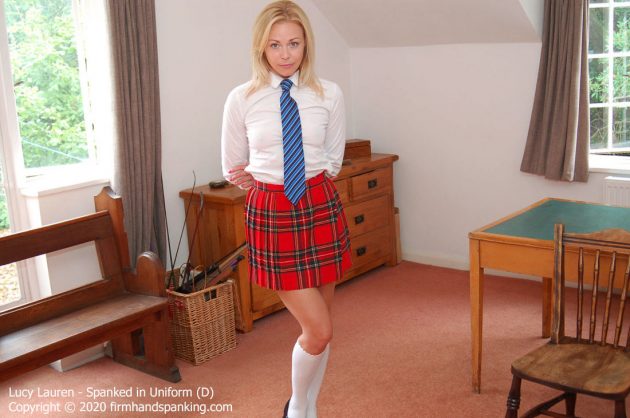 Spanked to the max in school uniform, panties pulled down: Lucy Lauren fantasizes about it…now she's experiencing being Spanked in Uniform. Lying over Philip Johnson's knee, plaid school skirt raised, panties pulled down, her bare bottom bounces beautifully as his hand teaches her the value of obedience and good behavior. The slow-motion replays of this brat's spanking are stunning!
View all the latest free previews on the tour pages of FIRM HAND SPANKING

Reverie is caught snooping
Starring: Reverie & Mr. M.
Reverie finds a box in Michael's closet and discovers that he had bought several canes as a gift for her. Having gotten into them without permission costs her and she receives an 18 stroke caning for her troubles.
See more of reverie and many other hard punishments at REAL SPANKINGS
This site makes up part of the best value REAL SPANKINGS PASS – Giving you access to 8 amazing sites in this network for an absolute monthly bargain… barely more than a monthly cost at many other websites! Check it out HERE to see what you would get!