We're promised an Indian Summer here in the UK… I remain skeptical… but hopeful, I guess. To be honest. weather patterns are changing here in my part of the world, we tend to have much milder and warmer Septembers and early Octobers than, say, 20 years ago. I like it… just as the leaves start to change, it is still possible to venture outside in a tee shirt! However, it won't be long, the nights are already drawing in… and my memories of lazing by the pool in 100f heat in Vegas are but a happy memory now. & by the time it is Halloween at the end of October, I will know that it is winter here… it's always cold then and only gets worse for the following months, lol! So here today, from my site, is the latest film – something I probably won't be doing much of in the UK until Springtime now… filming in the great outdoors! I love it, there's a sense of naked naughty freedom, so I try to film as much as I think I can get away with (the only other problem is the light as filming at certain times of the day is suicide for decent playback).
So to the update for today… it stars Lola Marie and Wynter Sky who think they are being clever by sneaking into my secret garden and sunbathing… it would have been ok but the girls always left a mess behind! Check out some sneak preview images from the film AND a free caning clip of Lola Marie and Wynter when I caught up with them! Incidentally, I had a heavy "Caneiac" Paddle which I used for the first time on these girls… they most certainly did NOT like it one bit! But you will!!!
Lola Marie & her friend Wynter Sky had been secretly using one of her neighbour's beautiful yards to sunbathe in as it had a special "secret garden" that they both loved to spend time in soaking up the sun's rays in private. However they always left litter behind and disrespected John Osborne's precious well kept yard so he had been trying to find out who had been causing this mess until today when he caught them both in their bikinis. He had already taken their mobile phones and other personal effects found not far away from where they were hiding out in the garden and you can feel the tension mount as he sneaked up behind them both. The girls were suitably embarrassed when confronted and they quickly submitted to his unique form of harsh and humiliating discipline when they knew he had their personal items too. They both took a caning and watched each other take a hard wooden paddling. He had also made them attempt to use this heavy implement on each other as part of their punishment so that they'd remember the consequences of using the place without asking for his permission. However, he just whacked them harder with it after they feebly used the paddle hoping they would avoid further pain and suffering. Enjoy this end of summer romp to see the girls given a good spanking and whacking with their tiny bikini bottoms pulled down, looking extremely vulnerable as John took full advantage of this delightful situation!
Check out the FREE HD Clip below
You can see MORE of this film HERE – & take advantage of the my offer giving you full access for under $15!

This film is already available in 3 formats of your choice to download IN FULL at the AAA Clips Store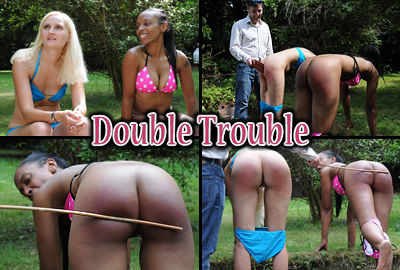 *************************************************
Ok, it's late, so enjoy the film, I rather liked this one 🙂