Well, it's nearly Xmas so I thought I'd pass on my good wishes to all our supporters and members… I have been away and travelling a lot in December and only really had time to ensure updates were up as normal at AAA Spanking and helping with the other sites that Sarah runs rather than writing any promotional blog posts. So better later than never… also please be aware of the special offer that I am running UNIQUELY from this blog for new members to AAA – check it out and click on the banner below.
It is a Loyalty Membership offer which means you'll pay $32.95 for the 1st month, and then the following month pay the same price for 3 MONTHS and every 3 that you'd remain a member after this. The longer you remain a member will mean the equivalent of paying just $11/month – now THAT is a heck of a deal!!!
As a special catch up, I have got you some promotional images and every image is clickable (go check them out). My Xmas present to you… and of course, DO check out the OFFER that is only around for a few more days (unless you purchase the ANNUAL membership that works out at the equivalent of $12.50/month on the normal join pages.)
Mothers instinctively know when their daughters are lying and Madame Samantha B is no different. When Lily is called to come down for breakfast, she feigns illness so mom comes up to see what is wrong. Of course, there is nothing the matter with Lily as she doesn't want to go to school that day. Mother assesses the situation quickly and mentions she will get the thermometer to check if Lily has a fever… the daughter is puzzled and discovers that Mom is serious, bring in a thermometer, vaseline, and wet wipes… "what the deuce is going on?", she thinks! Mom explains temperatures are taken rectally… Lily protests, but caught in her own web of lies she reluctantly presents her bottom for inspection and having the thermometer inserted rectally. This proves to Mom that she is faking and she grabs the nearby hairbrush next to Lily's bed insisting her daughter be punished for lying to her. What follows is a hard-hitting, bottom reddening hairbrush spanking that has Lily yelping out in pain. Her PJ bottoms are pulled down to ensure that a bare bottom punishment hurts the most! The lying daughter is left to contemplate her foolish actions… and she is still going to school that day with a very sore reminder that "Mom knows best!" This film features Lily's first-ever, and possibly only, rectal thermometer temperature taking scene!
Delta has been summoned by her boss, Johnny Lake, to his residence for a meeting out of hours. She knows he is upset about something… she is nervous, as she thinks she might know why he is so displeased with her! It is not long before he tells her that he knows she held a party at his place without asking. He is not so upset that a party took place, but rather the deception at how she organized it… hiding it from him. For Delta's boss, this is a matter of trust. He tells her that she has been a fantastic employee over the years and this deception has really hurt him. He even considers dismissal but in the end, gives her the choice at how he has dealt with things in the past… discipline! However, this time, not only will Delta be spanked on her bare bottom, he will cane her too… and he won't hold back. Watch Delta receive a humiliating scolding and mean hand spanking over the lap of her boss as her bottom turns a colorful, shameful red. Then she is bent over the couch, bottom stuck out, vulnerable and exposed. Delta is to be given some hard signature strokes of the cane from the boss, Johnny Lake which you will see in close up detail.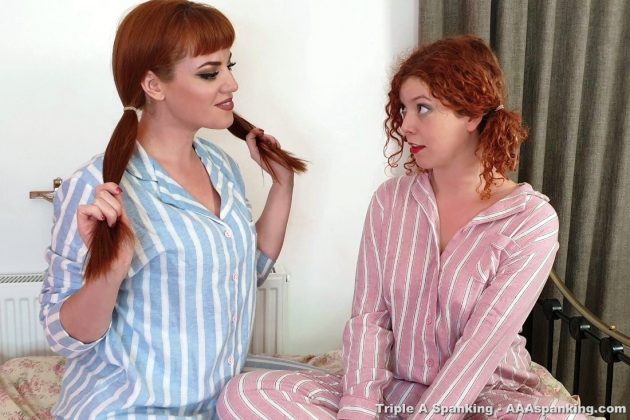 We are very happy to bring you another fantastic new girl to AAA. Please welcome Charlie Ten, who has a charming girl next door look, but don't let her innocent looks fool you. She has a hidden naughty, saucy side to her that is sure to get her into trouble, fortunately! Charlie has been invited over to Zoe's place for a sleepover… she is very happy as she has been furiously flirting with Zoe's daddy. This is something that spiteful Zoe has noticed and she is very possessive of her father… so this sleepover is a trap for unsuspecting Charlie! In their PJs, Zoe brings up the subject of said flirting and Charlie gets defensive but Zoe is a hot bully that always gets her own way. She decides to punish and humiliate this flirty slut with a hard hand spanking! Zoe is further shocked that Charlie isn't wearing any underwear as she pulls down her bottoms to smack Charlie's bouncing bubble butt an angry shameful red! Zoe is not content with spanking and scolding Charlie so she uses one of Charlie's slippers with the poor girl bent over (face down ass up) as the slippering proves quite painful. This is a Christian household, so Zoe reminds the dirty flirt that she should slipper her sore bottom whilst reading Scriptures with the help of Zoe's "pillow bible" for Charlie to read from! What an awesome debut for Charlie Ten opposite the inimitable Zoe Page, we are sure she will gain many more fans.
Or if you prefer, you can download any of the above featured recent movies as a one-time, full-length clip to keep and playback as often as you like via the AAA Clips4Sale store HERE – featured movies below are all MP4 (click on the images for the direct links to the description, preview and how to download the full HD clips) but there are also WMV and MOV versions available if you so wish…
MerryXmas from us all at AAA Spanking!