Finally, it is here… the fantastic film from AAAspanking.com – I just got the all clear from Sarah (she's out West at the moment visiting Dana Specht but managed to get this up) She told me that the film is now in the Members Area and active… as well as the affiliate info which has been done (I did that) for those that wish to promote this wonderful film… as I have been told it has already been selling on Clips4Sale as there is currently the full file download – and I am not surprised!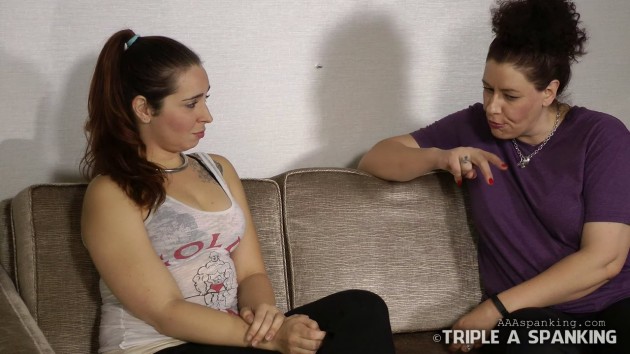 This film is quality, it has so much to offer… raw emotion, passion, defiance, power plays, struggle and of course a good hard OTK spanking on both tight gym pants and then Adriana's bare bottom. This is followed by the infamous mouth soaping scene which I just know will put C4S customers (interested in mouth soapings) into soapy suds Heaven… and then there's a mean nasty 50 licks with the leather strap to finish her off. Miss Chris was the hard put upon school coach who had to teach uber brat Adriana Evans some manners and to watch that swearing tongue of hers! I have some excellent preview pics direct from the long play film (approx 30 minutes long as I recall) including a free play clip for y'all! I also have some behind the scenes gossip on this as it contains a Blooper scene at the end… but it actually shows the emotion of Adriana as she was psyching herself up for what she knew was going to be a nasty mouthsoaping and we had to call "Cut" – poor Adriana… if looks could kill… she did that a lot in this film and I am not surprised!
Miss Chris and Adriana make an awesome pairing, I hope you like this… it is easily one of my favorite films ever to be filmed for AAA in almost 5 years… I hope that is praise indeed… and I can tell you that there are some equally stunning films coming very soon. Between you and me, I think AAA Spanking is producing some quality films (I know I sound biased), and that is in part to the way both Sarah and I have worked together. She is rightly proud of her stuff at her main sites and that has rubbed off at AAA too! Anyway… I'm waffling, enjoy! Here are the images…
Spanked Soaped & Strapped – starring Adriana Evans & Miss Chris
This is one of our most dramatic punishment films ever made. Lots of raw emotion, power struggles, defiance, severe punishments and their consequences. This could have been a straight forward punishment for Adriana Evans, but her big mouth got her into trouble with Miss Chris in no time at all. Representing the school away from home was a big responsibility so when Adriana had been caught in the hotel gym doing provocative exercises in front of others she was sent to Miss Chris to be dealt with. In no time Adriana was spanked over her tight gym pants but rather than leave the matter there she continued to fight back and her pants were pulled down so the spanking continued on her bare bottom. Then she swore, she continued swearing which infuriated Miss Chris so much that she marched her to the bathroom for one of the most intense mouthsoapings ever caught on film. You will be blown away by the anger, the emotion, the defiant struggle as that soap washed away Adriana's filthy tongue time and time again! Eventually Adriana realized she wasn't going to win and the final part of her punishment saw her take 50 strokes of the leather strap. Miss Chris is renowned as one of the hardest players out there, this was no exception. This is a must view film for those who love to see real brats get an almighty and humiliating punishment session they deserve, this is sure to become a classic!
Behind the scenes info: Adriana & Miss Chris filmed for all the SG Group sites… this was filmed in Vegas at the last Shadowlane Spanking Party, a great place to meet up. I wasn't sure if Adriana was coming, but after this performance, I am most certainly glad she did. She also performed in another favorite film of mine at AAA – (with Johnny Lake) as the hapless Brazilian secretary who messed up date order and he missed a client… as Brazil uses the same system as the rest of the world (lol) using Day Month Year unlike in The States… this has consequences which you can see in the FREE GALLERY HERE
Meanwhile… the mouthsoaping scene was intense, you know that already, but Adriana admitted that she got off on the severity and the way she was treated… to be fair her look she constantly gave Miss Chris was brave and foolhardy, and her poor behavior in the film earned her every stroke, every swat and every nasty tasting soap sud! Adriana also has a butt of steel, of course the punishments hurt, every girl will tell you that – but her healing powers are remarkable!
Check out the Freeplay clip below… this gives you an idea of what happened!
[jwplayer mediaid="43501″]
Hmmm, the sound didn't sync at the end but rest assured the HD1080 versions are fine!
CLICK HERE TO VIEW THE FULL FILM

Or visit the stores below for One Time Download options of the full film.
Oh… and for freetards like Blackie who hotlink my images and bleat about getting pirates to get him a free copy, you're lower than low… without sales or subscriptions, none of this would be possible for you to jerk off to! Try supporting the sites that make this content and purchasing a copy for yourself.