A futile attempt, I know, but I aim to catch up as best I can in between my hectic work schedule and travels, so while I have a few moments… please do go check out these rather awesome spanking sites that I have featured below for you today in a "blitz" of spankings and lots of images to gaze at! Feel free to support the sites, as without any of our support through memberships, these sites (mine that I am associated with, included) won't be around producing wonderful content like you see below! Thanks, and have a great day!
The Punishment Master – at English Spankers
Featuring: Emily Jane & Aegean
This is the first of a very evocative schoolgirl series with young Emily Jane back in her school uniform. The headmaster has no time for naughty girls and she has taxed his patience to the limit. He is determined that she will be taught a lesson and one she will not forget. A strict no messing spanking, over the knee, over her school knickers and then on her bare bottom. Real marks… real pain. A classic.


Learning About Discipline – at Northern Spanking
Featuring: Harley Havik & Apricot Pitts
Previously, Harley had been punished and was told to report back a week later. The week is up so I decided to show what happens when she returns to see Apricot… please do read on!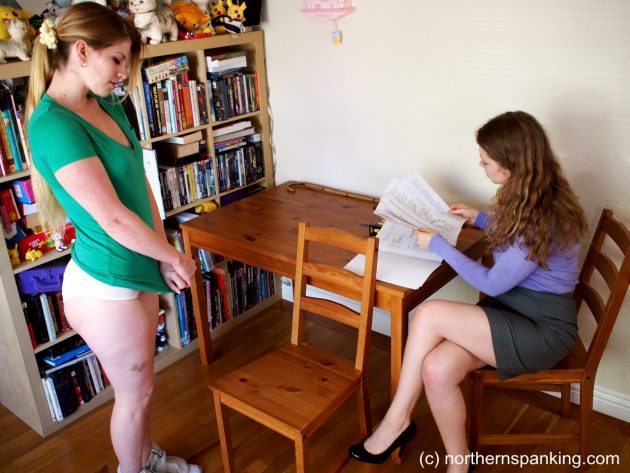 A week later, Harley is back in the office, proudly showing off her completed work and test scores. She has done much better this time, and she knows it, but without being told to, she takes her jean shorts down and stands to one side of the chair where Jane spanked her last time. She looks apprehensive, but not necessarily in a bad way. Jane agrees that Harley needs to be spanked again, for…um…encouragement to keep up the good work. There is chemistry and tension between the young teacher and her gorgeous student as Harley is spanked over the knee. Once again, she opens her legs to invite a more sensual touch and moans when Jane runs her hands over her luscious body.
When the spanking is over, Jane leads Harley to the bedroom. She tells Harley that since she has been such a good girl, she will get a reward. She does so by rubbing baby oil into her sore, red bottom. Harley moans and wriggles under Janes tender touch. Hopefully, she will be getting more spankings before the year is over.

Zooey's Sorority Spanking – at Sarah Gregory Spanking
Featuring: Zooey Zara & Sarah Gregory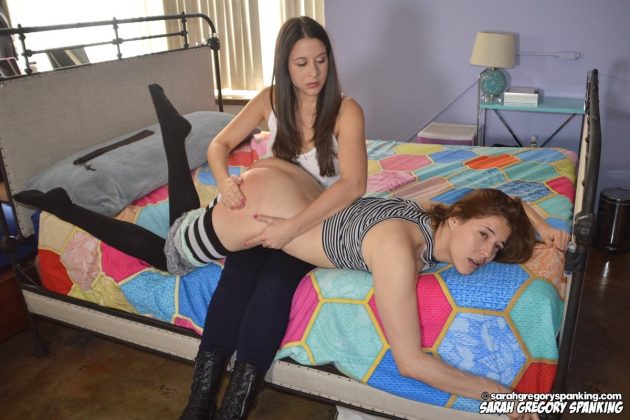 It was Zooey's job to set up the catering and the hall for the social. It is their turn to host and all the sororities and fraternities will be attending. Zooey has slacked off and not done this. Her irresponsibility will earn her a very hard spanking from senior girl Sarah. Zooey is spanked and strapped for her forgetfulness and lazy behavior.

Annabelle Spanked for Drinking – at Real Spankings
Featuring: Annabelle Lily & Michael Masterson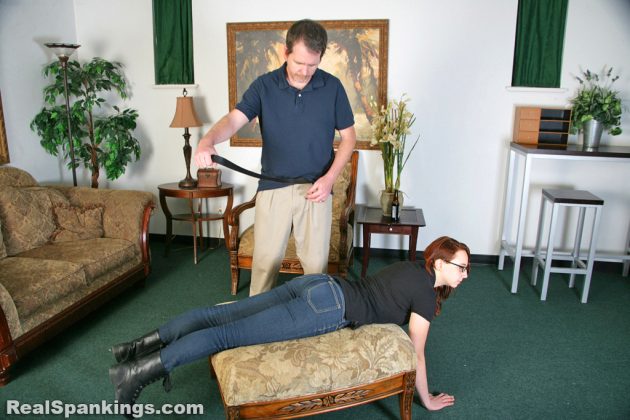 Annabelle has taken one of Mr masterson's beers withoput asking. She is laid out on the ottoman and is spanked hard ober her jeans with the belt then they are removed for a furious belting on her bare bottom!